In a country of few ICUs, why is one left unused in Jamalpur?
Jamalpur hospital shows how catastrophically mismanaged our health sector is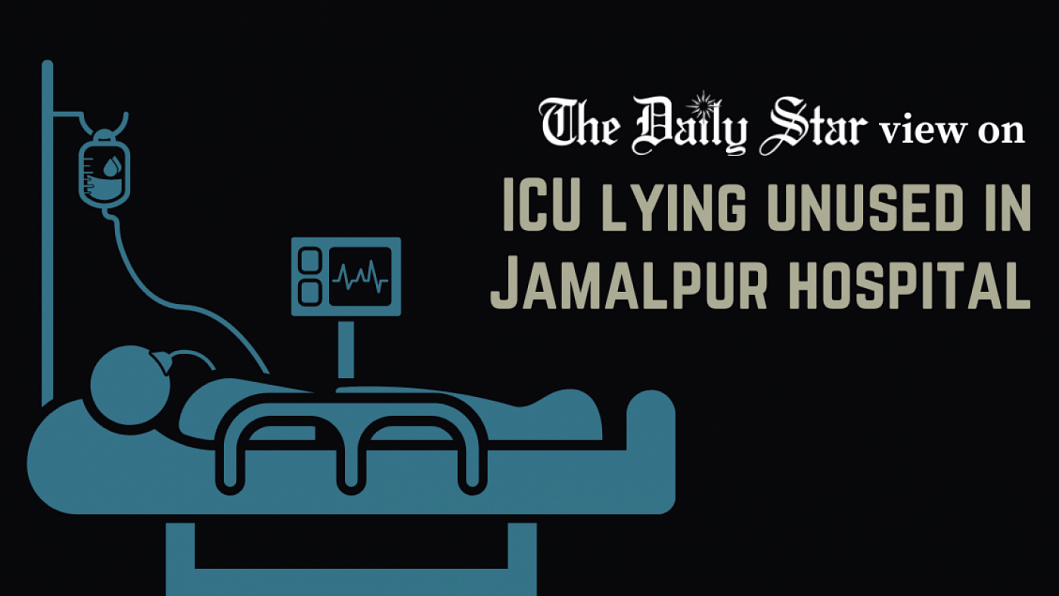 Words cannot describe the sheer imprudence of having an intensive care unit (ICU) fully equipped with modern equipment, only to have it sit idly for years, depriving critical patients of vital care. This is the story of Jamalpur General Hospital, where the ICU has remained locked since its inauguration eight years ago. From life support ventilators to monitoring facilities, the ICU has all the necessary life-saving equipment. But according to a report, all of that has been left to rot away in a display of utter negligence and disregard for public health. With patients being denied the use of the ICU, many are having to travel all the way to Mymensingh or Dhaka for the treatment that should have been readily available in Jamalpur.
Patients who require ICU treatment are already in a somewhat critical condition. For them to be forced to travel long distances when there is already an equipped ICU near them is criminal. What is most absurd is that, according to a member of the hospital's management committee, the ICU has remained inoperative due to a shortage of manpower, indecision and mismanagement. But how can anyone accept that justification for eight years, especially when lives of patients are at stake? This is, unfortunately, just an example of how catastrophically mismanaged our health sector is.
One may recall that the prime minister, three years ago, had ordered setting up an ICU in every district hospital. But as this newspaper reported recently, a Tk 512 crore project following her instruction, which was supposed to have delivered 10-bed ICUs in 43 district hospitals and 10 medical college hospitals by now, has seen very little progress so far. Project authorities are now seeking a deadline extension as well as an additional Tk 301 crore for completing the project!
If there was ever a time when we were truly going to appreciate the importance of hospitals having proper ICUs, one would have hoped that it would be the peak and post-Covid periods. The fact that even then our authorities have cared so little about setting up life-saving ICUs, despite all the support needed to do so being at their fingertips, is shocking. It really displays a different level of apathy altogether.
Aside from various other issues with our health sector, what this demonstrates is the quality and sincerity of people in charge of our healthcare system. Healthcare is an essential service, which means those making decisions in this sector must truly care for the health and lives of patients. This is clearly one place where we have failed to get the right people in. Nevertheless, we hope that those responsible for the shambles at the Jamalpur hospital will be held responsible, and the ICU now lying unused will be operationalised without delay. At the same time, the project authorities that failed to get the ICUs in district hospitals running must also be held accountable. It is time to consider a complete overhaul of our healthcare system, where establishing accountability will be the number one priority.