Every district hospital must have an ICU
Government should address lack of progress in project on setting up district-level ICUs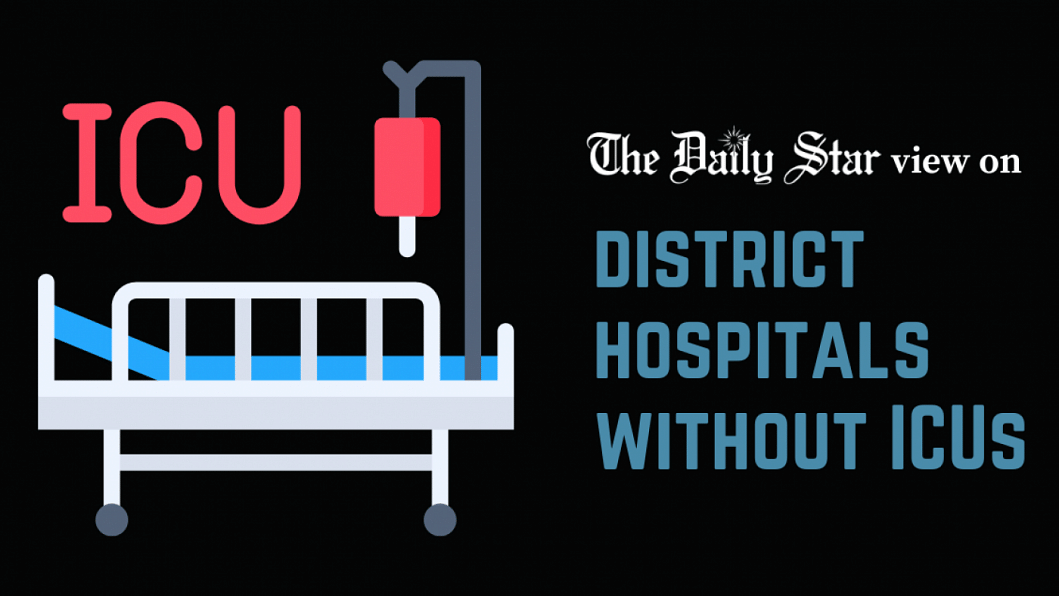 It is disheartening to know that a project undertaken to set up Intensive Care Units (ICU) in district hospitals has seen little progress even as it nears its deadline three years on. If executed with the same zeal that it was initiated with in April 2020, the Tk 512 crore initiative would have delivered 10-bed ICUs in 43 district hospitals and 10 medical college hospitals by now. Instead, as per our report, not one of the facilities earmarked under the project yet have a functional ICU. This is totally unacceptable.
Government projects missing deadlines at the expense of inflated bills may have been normalised in Bangladesh, but not all projects can be treated similarly. The ICU initiative was meant to fill a big void in Bangladesh's health sector where district hospitals hardly have any ICU, forcing patients to seek life-saving treatment in faraway hospitals braving an arduous journey. Often, we come across reports of critically ill patients dying in ambulances while on their way to Dhaka or other divisional centres. So when the PM ordered setting up an ICU in every district hospital in early 2020, it was seen as a response as much to the then-raging pandemic as to a crisis that long predated it, and one had hoped that project officials would be sincere in following it through given its huge potential impact.
The extent of their failure becomes clear when you consider that only facilities that already had the infrastructure suitable for ICUs had been chosen under the project. The ground was already prepared. Why the long delay then? When approached for comments, the project authorities conveniently cited difficulties in opening letters of credit (LC), the devaluation of taka against the dollar, and supply-chain issues caused by Russia-Ukraine war. These problems alone cannot account for the fact that they couldn't operationalise a single ICU in three years. Experts say that ICUs are not difficult to set up. The most crucial aspect of it is the oxygen bank, which can be created within months. Overall, it shouldn't take more than two to three months to launch the operation of an ICU.
The only plausible explanation for the delay then is negligence and indifference to public suffering. One cannot also rule out corruption in procurement and other aspects of the work, with the project authorities now asking for an additional Tk 301 crore fund to complete it. The question is, how long must citizens suffer for the indifference, incompetence and corruption of officials and those associated with our largely unaccountable government projects?
We urge the planning ministry to investigate the failure of the ICU project before any request for deadline/budget revision is entertained. Those responsible for its lack of progress must be held accountable. For critical patients, an ICU makes the difference between life and death. So the government must take urgent steps to get the project back on track, and ensure that all 64 district hospitals are properly equipped to serve critical patients.