Another free thinker murdered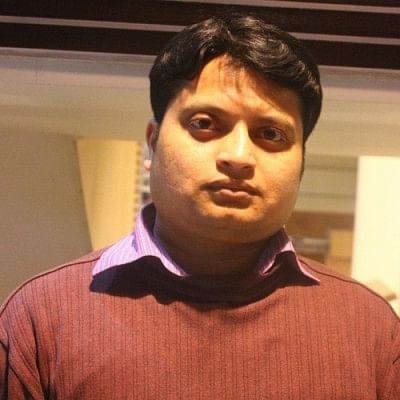 Blogger and an
organiser
of local Gonojagoron Mancha, Ananta Bijoy Das, was killed in Sylhet this morning in
continuation
of
attack
on free thinkers of the society.
The murder comes in persistence of the recent killings of free thinkers Avijit Roy and Oyashiqur Rahman earlier this year – which have been blamed on fanatics.
Ananta Bijoy was killed at Subid Bazar area in Sylhet city around 9:00am this morning, Sylhet Metropolitan Police Commissioner Kamrul Hasan told The Daily Star.
Four assailants intercepted him, chased him down and stabbed him indiscriminately all over, a Gonojagoron Mancha activist sought anonymity to tell our Moulvibazar correspondent.
"Ananta died on the spot," he said. "Ananta was an organiser of local progressive publication outlet Jukti (logic) and a relentless writer on science."
Ananta, 31, was son of Rabindra Kumar Das at Subid Bazar area and an employee of Jauwa branch Pubali Bank Limited in Sunamganj, local Mancha spokesperson Debashis Debu said. "He was also actively involved with the politics of Bangladesh Chhatra Union."
Ananta Bijoy was also a writer in the Muktomona blog site, founded by slain writer Avijit Roy – who was murdered two and half months ago after he came home from abroad.
Meanwhile, Gonojagaran Mancha brought out a procession on the Dhaka University campus today, while the Sylhet unit of the platform called a six-hour hartal in Sylhet division from 6:00am from tomorrow, protesting the murder.
Gonojagaran Mancha brings out a procession on the University Of Dhaka campus today, protesting the murder of blogger Ananta Bijoy Das.

Posted by The Daily Star on Tuesday, 12 May 2015
CHASED DOWN AND KILLED
Ananta Bijoy had just got out from his home, located in Subid Bazar, this morning.
Four assailants gave him a chase from Subid Bazar area, Gousul Hossain, officer-in-charge of Sylhet Airport Police Station, said. "They caught up with him by the side of a nearby pond."
"They stabbed him indiscriminately and left him lying there around 9:00am. Severy injured, Bijoy was lying there for about 20 minutes before locals rushed to his aid."
He was declared dead after taken to Sylhet Osmani Medical College and Hospital.
Protesting the murder, activists of Gonojagoron Mancha in Dhaka will bring out a protest procession and hold a rally at Shahbagh in the capital around 4:00pm, said a press release issued.
In the press release, the Mancha activists also condemned the killings of the bloggers and free thinkers and blamed the murder on government's failure to arrest attackers on free thinkers.
THIRD FREE THINKER KILLED THIS YEAR
Threatened with death multiple times before, blogger and writer Avijit Roy was brutally hacked dead at Dhaka University premises on the night of February 26, days after he came back to the country.
He and his wife Rafida Ahmed Banna were hacked with machetes from the rear near TSC after they got out from Ekushey book fair allegedly under the nose of law enforcers. Banna survived.
Police are yet to make a headway in this case but al-Qaeda unit of the Indian subcontinent claimed responsibility of the killing in a video message.
Barely a month after the killing, blogger Oyasiqur Rahman was hacked to death in broad daylight on March 30. Two attackers caught red handed confessed their involvement and that of others.
Free thinkers have been repeatedly targeted by extremist groups throughout Bangladesh and it appears that the trend set in the past on handling such issues is discouraging.
Victims of those attacks were in the likes of poet Shamsur Rahman, writer and intellectual Humayun Azad, bloggers Asif Mohiuddin and the slain Rajib Haider.