Qaeda unit behind Avijit killing?
Rab, police doubt reported claim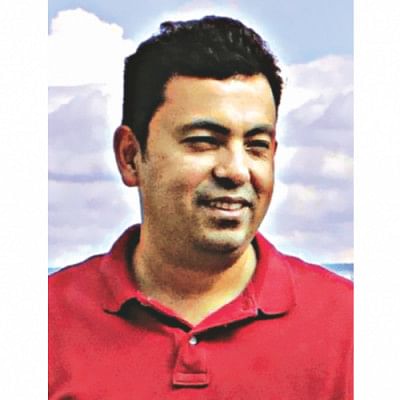 Al-Qaeda in the Indian Subcontinent (AQIS) has claimed responsibility for the murder of writer-blogger Avijit Roy, AFP reported citing a US website that monitors extremist groups.
In a video posted on jihadist forums on Saturday, AQIS leader Asim Umar said his organisation carried out the attacks on Avijit and "other blasphemers" in Bangladesh and Pakistan, according to the website of SITE Intelligence Group.
Police and Rab said they were yet to be sure about the authenticity of the post.
Bangladesh-born US citizen Avijit Roy was hacked to death on the Dhaka University campus on February 26 while returning from Ekushey Book Fair with his wife Rafida Ahmed Banna, who was also badly injured in the attack.
Hours after the killing, its responsibility was claimed from a twitter profile named Ansar Bangla-7.
Talking to The Daily Star last night, DMP Joint Commissioner Monirul Islam, who is leading the murder probe, said they were studying the AQIS claim.
During their probe into the Avijit murder, he said, they had found involvement of a rising militant outfit called Ansarullah Bangla Team (ABT).
Monirul said ABT and Ansar Bangla-7 are actually the same organisation. And of all militant groups in Bangladesh, ABT is the "closest relative" of al-Qaeda.
The official earlier had said ABT followed the ideologies and organisational structure of al-Qaeda to become an affiliate of the global terror organisation.
In September last year, al-Qaeda launched a new branch to "wage jihad" in South Asia to invigorate its waning Islamist extremist movement.
A-Qaeda chief Ayman al-Zawahiri then said the new chapter would take the fight to Myanmar, Bangladesh and India.
Rab's Intelligence Wing Director Lt Col Abul Kalam Azad told The Daily Star that they are verifying the AQIS claim, but there was no doubt that religious extremists had killed Avijit Roy.
Asked whether al-Qaeda has any organisational activities in Bangladesh, Rab's Intelligence Wing Director Lt Col Abul Kalam Azad, refused to make any comment.
Mufti Mahmud Khan, director at the Rab's legal and media wing, too said it couldn't be certain the claim was correct.
"We are not sure," Mufti Mahmud told AFP when asked if Al Qaeda was behind the deaths of Avijit and two other bloggers -- Ahmed Rajib Haider and Oyasiqur Rahman Babu.
The attack on Avijit was strikingly similar to that on two other bloggers -- Ahmed Rajib Haider and Oyasiqur Rahman Babu. All three were hacked to death by machete-wielding attackers, and their writings had angered Islamist fundamentalists.
After the 2013 murder of Rajib, seven ABT members were arrested and they confessed to the killing.
In March this year, two madrasa students were caught soon after the killing of Oyasiqur. Police are now probing if the duo had any links to the attack on Avijit.