Blogger Avijit Roy hacked to death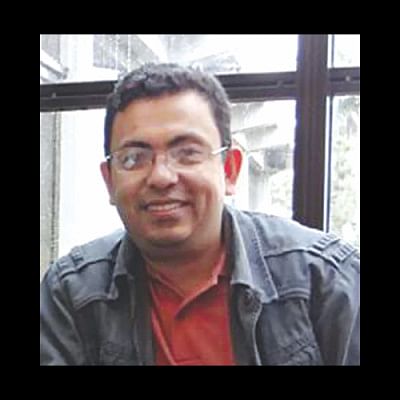 Unidentified assailants killed writer and blogger Avijit Roy and badly wounded his wife Rafida Ahmed Banna on Dhaka University campus last night after the couple came out of the Ekushey Boi Mela.
The incident happened around 8:45pm on the footpath along Suhrawardy Udyan near TSC.
Two attackers hit Avijit, 42, with machetes from behind, making gaping holes in his head. They also hacked his wife when she tried to save him. Banna, 40, suffered injuries in the head and lost a finger, said Sirajul Islam, officer-in-charge of Shahbagh Police Station.
The couple were taken to Dhaka Medical College Hospital where Avijit died around 10:20pm. Banna, herself a writer and blogger, is being treated there in a critical condition.
The OC said they recovered two bloody machetes and a bag from the spot, and were working to identify the killers.
Witnesses said law enforcers and people were around when the attack took place, but no one came forward to resist or catch the attackers even as Banna screamed for help.
Avijit, son of Ajay Roy who taught physics at Dhaka University, used to work in the US as a software engineer. He had been threatened many times by Islamist fundamentalists, said family members and fellow bloggers.
"His writing drew the ire of religious fanatics," Baki Billah, a blogger, told The Daily Star. 
Shibli Noman, assistant commissioner of Dhaka Metropolitan Police, said the attack bore the hallmarks of those usually carried out by Jamaat-Shibir men and militants.
"It also looks similar to the attacks on Professor Humayun Azad and blogger Rajib Haider. But whoever they are, we'll trace them," he told this newspaper. 
Early today, a twitter account named Ansar Bangla 7 posted a bloodied photo of Avijit and Banna, saying: "May be its Avijit Roy's bloody wife Husband's Head. #Beheaded He was a top Target 4 last 3/4 years." 
Avijit is well known for his books "Biswaser Virus" (Virus of Faith) and "Sunyo theke Mahabiswa" (From Vacuum to the Universe).
He had come to the country on February 16 to attend the book fair where three of his books have been published this year. He was to fly back to the US on March 4, said his younger brother Anujit Roy.
Last year, Rakamari.com, an online bookstore, was forced to remove Avijit's books from its list following threats by Shafiur Rahman Farabi, a fundamentalist blogger.
Farabi was arrested for posting provocative comments on his Facebook page supporting the killing of blogger Ahmed Rajib Haidar in Mirpur on February 16, 2013. He was later released on bail.  
Police found involvement of Ansarullah Bangla Team, a militant outfit, in the killing of Rajib.
The attack on Avijit resembles the one on noted writer Prof Humayun Azad and bloggers Rajib Haidar and Asif Mohiuddin, said Koushik Ahmed, another blogger.
According to him, fundamentalists were behind all these attacks.
Prof Humayun Azad was hacked by assailants on February 27, 2004, when he was coming out of the Ekushey book fair.
He later died in Germany while undergoing treatment.