Blogger killed in city again
2 suspects caught; second such murder after a month triggers condemnation, termed 'wake-up' call to govt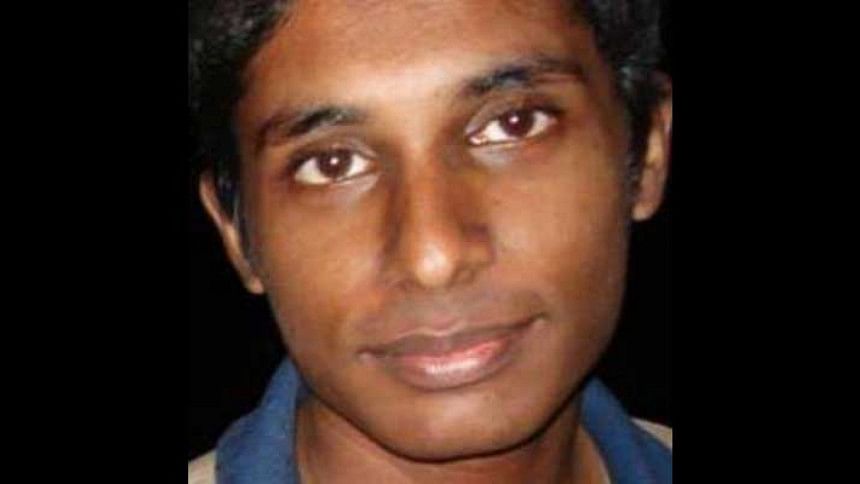 Barely a month after the brutal murder of Avijit Roy, another blogger and online activist was hacked to death in broad daylight yesterday.
Oyasiqur Rahman Babu, 27, was attacked by three cleaver-wielding youths in the capital's Tejgaon Industrial area around 9:00am.
Two of the attackers were caught by the public and handed over to police. Both madrasa students, they confessed to the killing during primary interrogation.
The motive behind the murder appears to be "ideological differences", said Biplab Kumar Sarkar, deputy commissioner of Dhaka Metropolitan Police (Tejgaon division).
A staunch critic of religious fundamentalism, Oyasiqur was active mostly on Facebook though he used to write in Bangla blogosphere. 
Immediately after his killing, social media was abuzz with condemnation.
Some, however, seemed trying to justify the brutal act by labelling him as "anti-Islam". 
Oyasiqur, son of Tipu Sultan of Ramganj in Laxmipur, worked at a travel agency in Motijheel.
Yesterday morning, as he was going to office, the three youths, who had been lying in wait, attacked him in an alley near Dipikar Mor in Begunbari, some 30 yards from his house, police said.
With two gashes in the throat and four in the face, he was brought dead at Dhaka Medical College Hospital, hospital sources said.
People, including some hermaphrodites, chased the three for about a kilometre and caught Zikrullah, a student of Hathazari madrasa in Chittagong, and Ariful Islam of Darul Ulum madrasa in the capital's Mirpur. 
"I was taking breakfast at a restaurant. Suddenly a woman shouted out, 'Robbers are killing a man! Save him!'" a local told this correspondent. He rushed out of the restaurant and saw people in pursuit.
Police are now looking for the third attacker, identified as Taher by the two detainees.
Law enforcers recovered a meat cleaver from Ariful's haversack and two more from the spot, said DC Biplab.
According to his friends, Oyasiqur was known to Bangladesh-born US citizen Avijit Roy, a writer and blogger hacked to death on February 26 on Dhaka University campus. Avijit's wife Bonya too was severely injured in the attack.
Protesting Avijit's murder, Oyasiqur updated his Facebook profile and cover photo using texts -- "#IamAvijit" and "WordsCannotBeKilled".
His Facebook posts often triggered backlash for his freethinking and stance against religious bigotry, said his fellow online activists. 
However, the two detained youths, aged about 19, said they took part in the killing without even knowing Oyasiqur or reading any of his write-ups. They just acted as per instruction of a person called Masum, who recently graduated from a madrasa.
Talking to The Daily Star at Shilpanchal Police Station after the arrest, the duo said Masum took them to the Hatirjheel area on Sunday afternoon, showed Oyasiqur's house and briefed them about "the mission".
"Masum showed us some writings and a photograph of the person. He asked us to come to Dakkhin Begunbari at 9:00am when the man comes out of his house for office," said Zikrullah.
"Accordingly, we carried out the attack with cleavers."
DC Biplab Sarkar, who interrogated the two, said Masum might not be the real name. "However, we are trying to trace him and his other accomplices."
He added, "The attack is similar to that on bloggers Avijit Roy and Rajib Haider. Similar types of weapons were used in the attacks."
The official suspected the group or persons behind Oyasiqur's murder might have links to those involved in earlier attacks.
He said the attackers and the mastermind communicated using symbolic messages online. "They now work in small groups and one group is not known to others."
In a similar fashion, blogger Ahmed Rajib Haider was hacked in February 2013 and outspoken writer Prof Humayun Azad in February of 2004.
Last night, Oyasiqur's brother-in-law filed a murder case with Shilpanchal Police Station, naming four -- Zikrullah, Ariful, Taher and Masum.
CONDEMNATION
European Union Ambassador to Bangladesh Pierre Mayaudon has condemned the killing, reports UNB.
Over a month after the killing of Avijit, this vile aggression again calls for the EU to reiterate its strong attachment to freedom of expression, which constitutes an essential element of a democratic society, he said.
In a message, the envoy expressed his condolences to the victim's family.
Dr Anisuzzaman and Sultana Kamal said the assailants have got the courage to go wild since there have been no firm and inclusive steps after the killing of Avijit.
In a joint statement issued on behalf of "Bangladesh Rukhe Darao", they said if the government does not take tough measures, the exercise of freethinking might be vanished from the country.
Also condemning the killing, Prof Syed Manzoorul Islam said, "The government is not very proactive. They are being reactive most of the times."
Rights body Ain o Salish Kendra in a press release demanded a fair probe to find out who were behind the killing and the purposes behind it.
In a statement, Amnesty International said the horrifying murder must be a "wake up call" to the authorities on the need to create a safe environment for journalists and activists to express their views.
"How many more bloggers will have to be attacked before action is taken?" asked Abbas Faiz, Bangladesh Researcher at Amnesty International.
In the evening, a torch procession was brought out in Shahbagh area, mostly participated by youths and online activists and members of political student organisations.