Uttara gas fire: After kids, father dies
Mother's condition 'critical'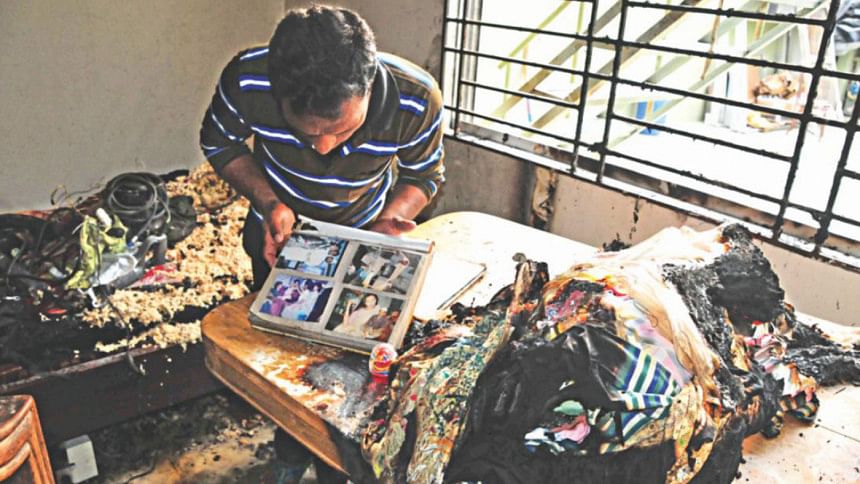 Father of five members of a family, who were burnt in a gas stove fire at their Uttara house, succumbed to his injuries at Dhaka Medical College Hospital (DMCH) this evening.
Earlier yesterday, his two sons – one aged just one year and another one 14, died of the burn injuries from Friday morning fire.
Deceased Mohammad Shahnawaz, 50, a maintenance engineer of American embassy, breathed his last at 5:55pm at the burn unit of the hospital with 95 percent burns, said Dr Partha Sarkar Pal, residential surgeon of DMCH.
Over an hour before his death, US Ambassador to Bangladesh, Marcia Bernicat, visited Shahnawaz and his wife at DMCH.
Condition of Sumaiya Khanam, Shahnawaz's wife, who suffered 90 percent burns, is critical, said Dr Samanta Lal Sen, chief coordinator of the burn units across the country.
"She (Sumaiya) cannot see anything today," Shahnawaz's brother Md Quamrul Ahasan told The Daily Star.
Meanwhile, the bodies of their sons Sharlin Bin Newaz, 14, and his one-year-old brother Zayan Bin Newaz were taken to their maternal grandfather's house in Barisal today for burial.
Their second child, Zarif Bin Newaz, 9, was released yesterday after primary treatment.