Post-student protest: 51 cases filed, 97 arrested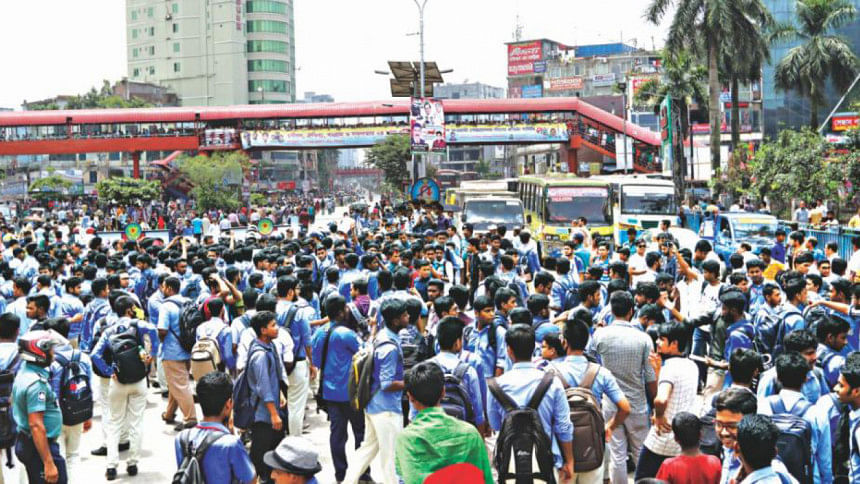 Until now, 51 cases have been filed in capital Dhaka and 97 people arrested in a massive crackdown since the student protests in Dhaka demanding safe roads.
Dhaka Metropolitan Police (DMP) made the information public today, saying the arrestees all had helped roll rumours on social media, thereby instigating protests.
Among these cases, 81 were arrested in 43 cases filed under penal code and Special Power Act, Masudur Rahman, deputy commissioner (media) of DMP, told The Daily Star.
Protests flared across Bangladesh on July 29, when two college students were run over in Dhaka – becoming victims of the unruly transportation sector of the capital.
Since then, students took to the streets for eight days in a row – besieging the capital and blockading the streets for hours – before things rolled over to violence in the end.
According to the information released by police, 14 cases were filed with Ramna Division, one with Lalbag, two with Wari, six with Motijheel, two with Tejgaon, five with Mirpur, nine with Gulshan, four with Uttara and eight with other police stations.
Among them are 22 students of private universities, internationally famed photographer Shahidul Alam, and a local actress Qazi Nawshaba Ahmed – all behind bars.
It is to be noted though, local international calls have been placed to the government for stopping arbitrary arrests and releasing the detainees – all of which were unheeded.
The arrest of photographer Shahidul Alam drew the most condemnation, most widely from the international quarters. All of them urged to release the famed individual.