Protests flare up
Police beat up students demanding justice for death of two in Sunday's road accident; Road blocks severely disrupt traffic in the capital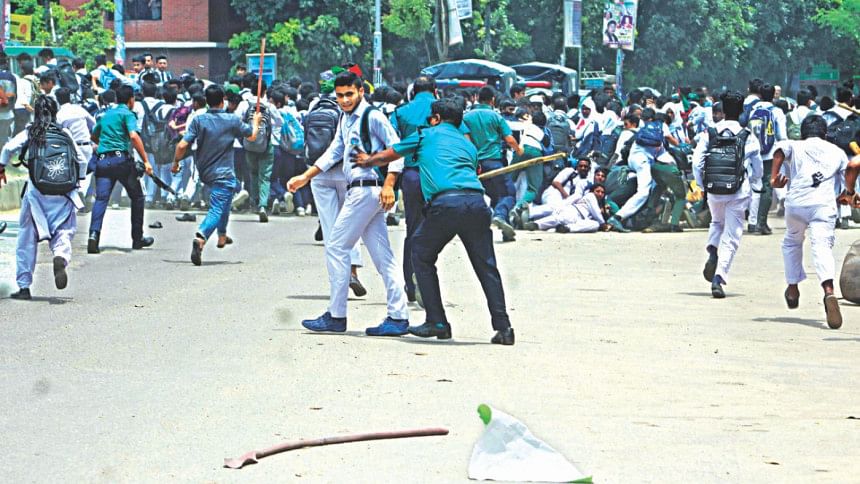 Law enforcers beat up dozens of students in different areas of the capital yesterday, as several thousand school and college students took to the streets demanding safe road and justice for their two peers killed in Sunday's road crash.
At least 20 students, some of them female, were injured in Kafrul alone as police baton-charged them in efforts to clear the roads. Several other students were injured in Uttara and Science Laboratory area in police beating.  
A video clip doing rounds on Facebook show the white uniform of a student is covered with patches of blood all over. The Daily Star could not verify the video.   
Angered by the law enforcers' action, the agitated students torched at least three buses in Uttara and at Science Laboratory Intersection.
They also smashed glass and windshields of around 50 vehicles during the protest that rolled into its third day with more and more students of different educational institutions joining in.
They want a safe road, student-friendly transport system and exemplary punishment of the bus drivers involved in the accident on the Airport Road.
They also demand resignation of the shipping minister, or at least an unconditional apology, for his remarks with a smiling face about the accident that left two students of Shaheed Ramiz Uddin Cantonment College dead and at least nine others wounded.
Dia Khanam Mim and Abdul Karim Rajib were killed on the spot when a Jabal-e-Noor bus ploughed through a crowd while competing with another bus of the same company. It was later revealed that a third bus was also involved in the race.
All the three drivers -- none of whom have professional driving licences -- were arrested on Monday, police said.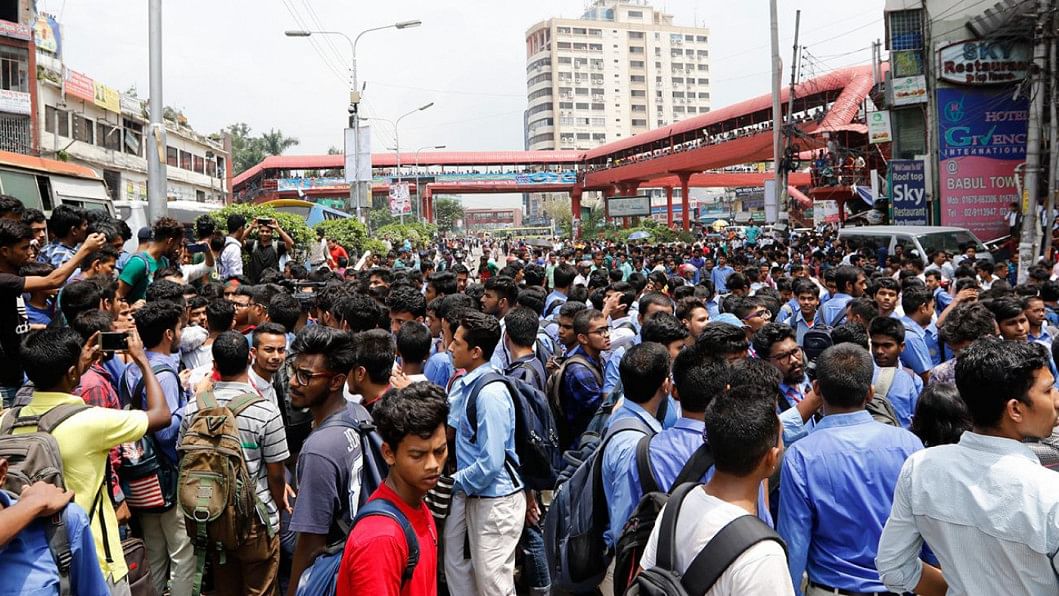 Protesting the deaths of their fellows, students took to the streets at Farmgate, Science Laboratory intersection, Mirpur-1, Mirpur-10, Mirpur-13, Uttara, Motijheel, Rampura, Nabisco intersection, Sher-e-Bangla Nagar and Shyamoli in the morning amid huge presence of law enforcers.
Traffic system collapsed across the city due to the demonstrations, causing much trouble for office-goers and other commuters. Also, some transport operators did not run their vehicles, resulting in a shortage of transport.
Normalcy returned around 5:00pm.
Police first swung into action near BRTA office in Mirpur-13 around noon as a couple of hundreds college students gathered there to press home their demand, witnesses said.
As the students marched towards Mirpur-10, police intercepted them and beat them up, they added.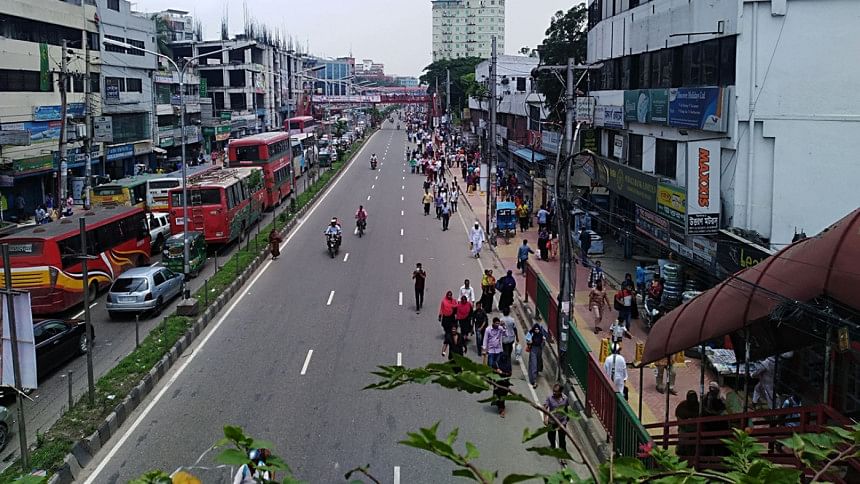 A number of witnesses said they saw blood oozing from the wounds of the head of a student and from the hand of another.
In response, the students vandalised at least five vehicles, mostly buses.
Around 700 students, including from City College, Dhanmondi Ideal College and Birshreshtha Noor Mohammad Public College, took position at the Science Lab intersection blocking Mirpur Road for about two hours from 11:45pm.
Students vandalised and then torched a bus there.
Some of their placards read: "Children's corpses on father's shoulder -- how many more?"; "We want justice"; "Step down shipping minister immediately"; "We don't want 4G, we want to return home safe".
All roads connected to the intersection were closed and no vehicles were allowed in except for ambulance.
As the students stood their ground, some 150 police tried to disperse them.
Being chased by police, students threw brickbats and vandalised a number of vehicles while leaving the area through different points. Pieces of broken glass were seen from Science Lab to Shahbagh. At least 20 vehicles, including a police SUV, were vandalised in the area, witnesses said.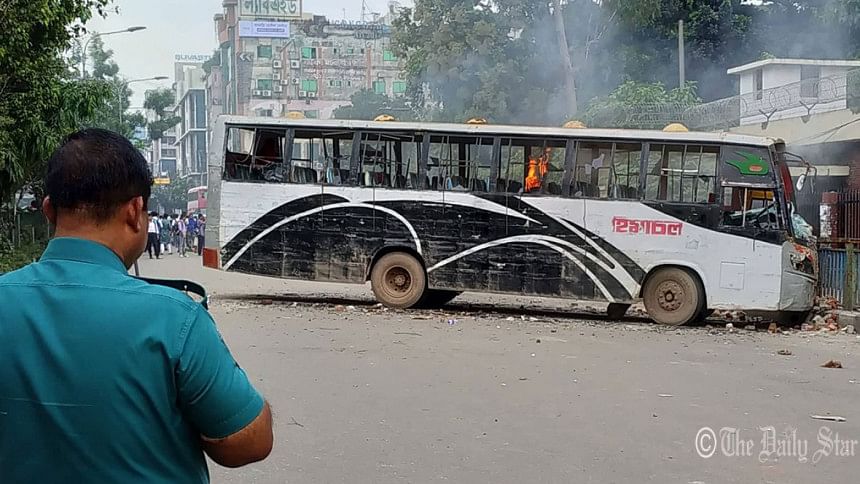 Two City College students and a Dhanmondi Ideal College student were detained from the area on charges of throwing brickbats. They were released later. However, police seized their mobile phones, the students said.
Police also tried to detain another student there, but some journalists prevented the cops from doing so.
Asked about the police action, Maruf Hossain Sorder, deputy commissioner of Dhaka Metropolitan Police (Ramna division), said, "Police drove them around 2:00pm by blowing whistles but did not apply any force."
In Uttara, several hundred students from different educational institutions of Uttara, Tongi and even from Gazipur took to the street and blocked both sides of the highway near Jashimuddin Road area since 11:30am. They only allowed ambulance and vehicles carrying hajj pilgrims to pass through, witnesses said.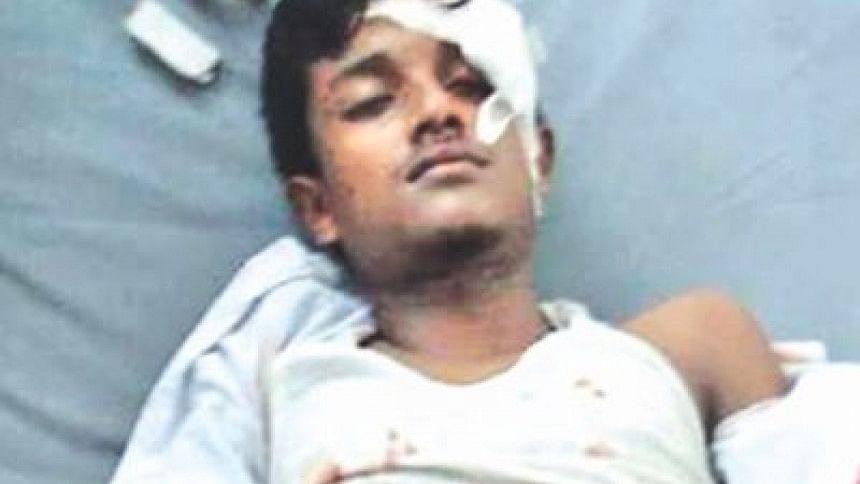 As police tried to persuade them to free the road, they agreed to leave the road at 4:00pm. But at 3:40pm police tried to move three buses through the road which infuriated the students, who then vandalised the buses.
Police and Rab members charged baton on the students who retaliated by throwing brickbats, leading to a clash for around half an hour that turned the Jashimuddin Road area into a virtual battlefield. A policeman was injured when hit by a piece of brick.
Students torched two buses and vandalised several others in the area.
Nur-e Azam Miah, officer-in-charge of Airport Police Station in Uttara, denied that law enforcers used any force. He instead blamed the students for the situation. 
Students of Government Science College, Tejgaon Government Boys High School, Sher-e-Bangla Boys High School, Notre Dame College, Government Science College and Rajarbagh Police Lines School and College also took part in the protest, blocking the road near their institutions.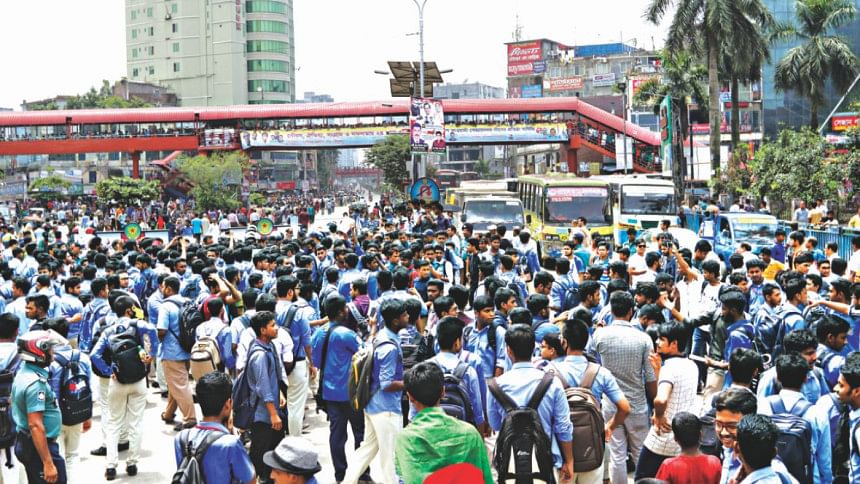 CONDITION WORSENED
The bleeding student seen in the video on social media was later identified as Ahad Ali, 19, of Shaheed Police Smrity College.
He had lost sense immediately for excessive bleeding from the head. He was first taken to a local hospital and then to Dhaka Medical College Hospital, his classmates said.
"We later shifted him to the Square Hospital for better treatment," Shikder Shamim Hossain, officer-in-charge of Kafrul Police Station, told The Daily Star last night.
A doctor at the emergency unit said Ahad's condition worsened and that he was being treated at the Intensive Care Unit.
FOUR PRODUCED BEFORE COURT
Rab arrested five people -- three drivers and two helpers -- over the accident and handed them over to the police on Monday. 
"They told us that they had nonprofessional driving licence for light vehicles such as microbus and car. But they could not show even those," said Kazi Shahan Haque, officer-in-charge of Cantonment Police Station.
The cantonment police produced two drivers and two helpers before a Dhaka court yesterday, seeking a seven-day remand in a case filed over the death of the two students.
They are drivers Jubair and Md Sohag and helpers Md Ripon and Md Enayet.
The court will hear the remand petition on August 6.
Masum Billah, the driver of the bus that hit the students, was not produced before the court.
Asked why, sub-inspector Riad Ahmed of Cantonment Police Station, said Masum was in the custody of detectives, who are now investigating the case.