Traffic chaos heaps misery on commuters
Operators take buses off the city roads, long routes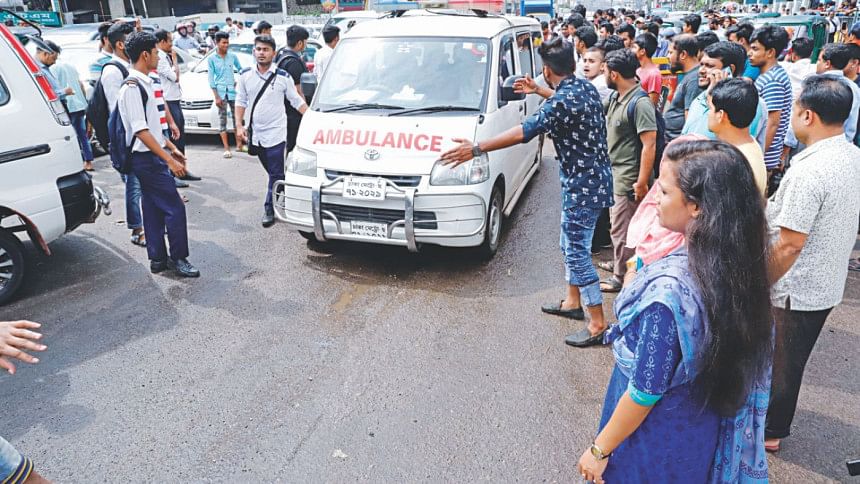 It was around 1:45pm yesterday.
With his left leg in a plaster cast, Sharif, 25, tightly held onto his brother Selim and limped in front of Kurmitola General Hospital in the capital.
After walking on the Airport Road for nearly 45 minutes, the two brothers somehow managed to board a pick-up and left for their home in Gazipur.
Sharif, who works at a factory, had just been released from the hospital where he was admitted on Wednesday. He had broken the leg as the shutters of a shop fell on it.
The brothers' ordeal is only a snippet of the public suffering on the city roads yesterday as thousands of students took to the streets for the fifth straight day, demanding safe roads and justice for their two peers killed in Sunday's road crash.
Commuters and those who went out for emergency works were the worst sufferers as almost no public transport was available after 10:00am.
Those who travelled in other modes of transport like CNG-run auto-rickshaws, cars and microbuses got stuck in traffic for hours as different important roads were blocked by the protesters.
Many moved in rickshaws paying exorbitant fares while many others had to walk for hours to reach their destinations.
Masud Khan arrived in the capital from Bogra yesterday for a job interview today. He had to get down from his bus near Uttara because of jam.
"I have been walking from Uttara to reach my uncle's house in Mohakhali," he told this correspondent near Banani intersection around 10:30am.
Abul Hossain, 70, along with his wife arrived at Kurmitola General Hospital around 5:00am for kidney dialysis. After the dialysis ended around 10:00am, the elderly couple went to the nearby bus stop. They waited there for nearly four and a half hours but did not get a bus to return home in Badda.
Later, the couple managed to board a pick-up which would go near the Airport. The couple believed they would get a bus near the airport and the vehicle would take them home.
"We have been coming to the hospital for the last three years but never faced a situation like this," Abul told The Daily Star while waiting at the bus stop.
Tapan Chandra Das, who works at a private firm in Farmgate, said he had to walk for hours to reach his office from Kanchpur Bridge area.
Many passengers were seen walking along with their luggage to and from the airport.
Sohel Rana, a man from Mymensingh who was going to board a Malaysia-bound plane, was seen entering the airport premises with a heavy bag on his head.
He told The Daily Star around 1.30pm that he walked from the Uttara House Building area.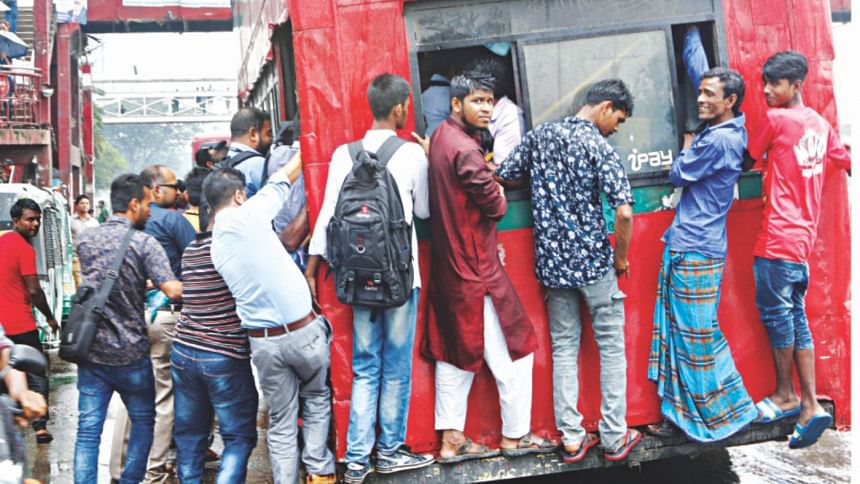 Abdul Hossain, another man on his way to Malaysia, said he walked to the airport from Banani.
An official at the flight operations department at the airport said all flights arrived and left on schedule.
Meanwhile, many bus passengers were found waiting at Gabtoli. No long route bus left the Gabtoli terminal after 10:00am.
Bus staffers said they did not operate buses on long routes due to a dearth of passengers and road blockade by students at different places. However, night coaches might run as usual, they added.
In Chittagong, commuters in different parts of the city suffered immensely as many public transport remained off the streets. People had to walk to their destinations.
Shaheeda Begum, mother of a five-month-old baby, reached Dampara from EPZ area in four different modes of transport. Protesting students stopped the vehicles and checked their papers at different points.
"I had to walk a long way carrying my baby. However, I am in favour of this protest. I don't want my child to grow in unsafe conditions," she said.
Meanwhile, leaders of transport owners' associations in different districts have suspended operating buses.
Mymensingh District Transport Owners Association stopped running buses and trucks to Dhaka on security grounds, said Bikash Sarker, secretary of the association.