6 Jabal-e-Noor buses seized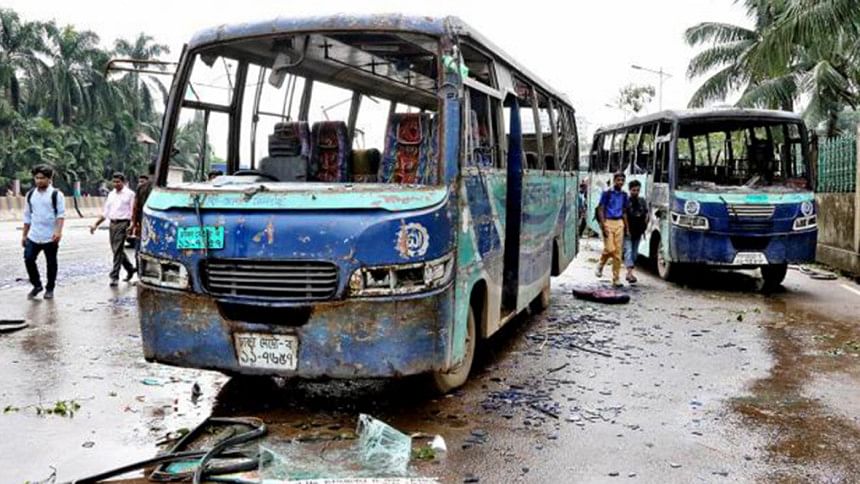 Law enforcers have seized six buses of Jabal-e-Noor Paribahan from different parts in Dhaka as those vehicles did not have fitness certificate and registration papers.
Members of Rapid Action Battalion (Rab)-1 and Rab-4 seized the buses after conducting operations in different parts of Dhaka.
Chowdhury Monzurul Kabi, commanding officer of Rab-4 said, all the six buses did not have any fitness certificate and registration papers.
"That's why Rab-4 seized three vehicles, all of which are of Jabal-e-Noor Paribahan," the Rab official added.
The other three buses of the same company were seized by a team of Rab-1, for not having necessary papers, Chowdhury Monzurul Kabi also said.
The Bangladesh Road Transport Authority (BRTA) on August 1 cancelled the registration amid public outrage of the two buses of 'Jabal-e-Noor Paribahan' involved in the Airport Road accident.
On July 29, two students of Shaheed Ramiz Uddin Cantonment College – Abdul Karim alias Rajib Uddin and Dia Khanam Mim – were run over during a competition between the two buses on Dhaka Airport Road.
The two buses were immediately torched, and what followed was a wave of Dhaka-wide protests by the students in demand of justice for their fellows and road safety.