July 29 Deaths of 2 Students: Culpable homicide charges brought
Police submit charge sheet against owners, drivers and helpers of 2 buses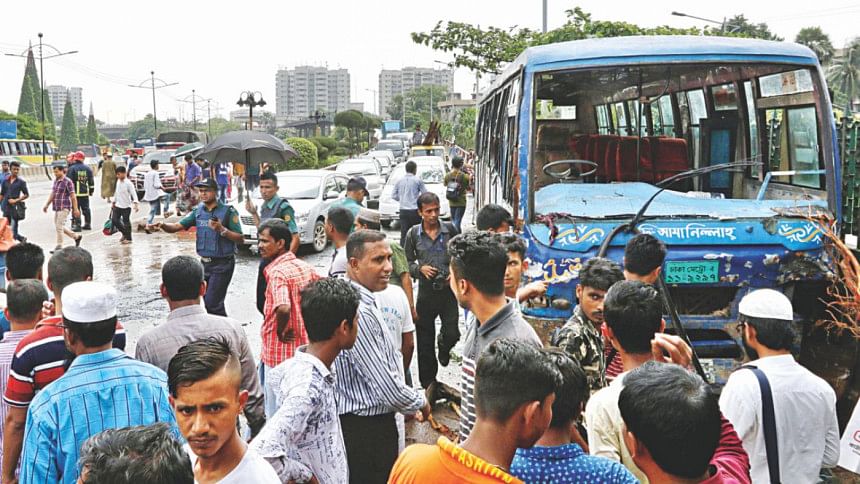 Police yesterday brought culpable homicide charges against the owners, drivers and assistants of the two Jabal-E-Noor Paribahan buses that allegedly raced each other moments before one of them ploughed into a crowd killing two in the capital's Kurmitola on July 29.
Inspector Kazi Shariful Islam of Detective Branch of police submitted the charge sheet to the Chief Metropolitan Magistrate's Court in Dhaka.
Two college students were run over and killed and 12 others injured when one of the two buses ploughed into the crowd.
Culpable homicide is an act which results in a person's death. If proven guilty, one may face sentences of up to life in prison, according to section 304 of the Penal Code.  
The deaths of Abdul Karim alias Rajib Uddin, 18, and Dia Khanam Mim, 17, triggered nationwide student protests for safe roads.
"It is a positive move that the owners are charged … We always say that the responsible persons, whoever they are, should be brought to book," noted road safety campaigner Ilias Kanchan told The Daily Star.
The six charged by police are bus drivers Masum Billah and Zobair Hossain Sumon, their assistants Enayet Hossain and Kazi Asad and bus owners Shahadat Hossain and Jahangir Alam.
Of them, only Kazi Asad and Jahangir Alam have not been arrested yet.
The bus owners were charged with culpable homicide for appointing drivers who did not have licence to drive heavy vehicles, the charge sheet said.
The accused are also facing charges of being negligent and voluntarily causing simple and grievous hurt. The charges were primarily proved and they should be brought to trial, the charge sheet said.
The charge sheet will be placed before the court on September 13.
Police also sought arrest warrants for Asad and Alam and attachment of their moveable and immoveable properties.
Of the rest of the accused, Masum, Sumon and Shahadat gave statements before magistrates admitting their guilt.  
Talking to reporters at the media centre of Dhaka Metropolitan Police, DB Additional Commissioner Abdul Baten said investigators gathered a lot of evidence and hoped that the accused would be awarded the highest punishment.
Dia's father Jahangir Alam filed the case with Cantonment Police Station.
Following the widespread student protests, the government and transport owners and workers took several measures to improve road safety, but deaths on roads continued.