4 drivers, helpers of Jabal-e-Noor on 7-day remand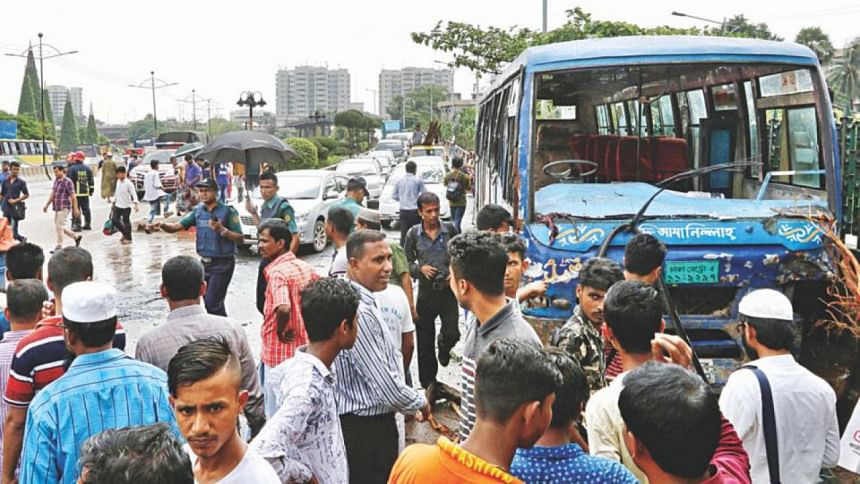 A Dhaka court today placed the two drivers and two helpers of Jabal-e-Noor Paribahan on a seven-day remand each in a case filed over the death of two students of Shaheed Ramiz Uddin Cantonment College in a road accident on Airport Road on July 29.
The bus drivers are Jubair and Sohag Ali and two helpers are Md Ripon and Md Enayet.
Additional Chief Metropolitan Magistrate Md Kaisarul Islam passed the order after Inspector of Detective Branch of police Qazi Shariful Islam, also the investigation officer of the case, produced them before the court with a 10-day remand prayer for each of them.
On the other hand, defence lawyer for the four submitted two separate petitions seeking bail along with cancellation of the remand prayer saying that his clients were not staff of the buses.
The defence lawyer also said that the four were not even on the buses.
After hearing both the sides, the magistrate rejected their bail prayer and placed them on remand.
On July 29, two students of Shaheed Ramiz Uddin Cantonment College – Abdul Karim alias Rajib Uddin and Dia Khanam Mim – were run over during a competition between two buses of Jabal-e-Noor Paribahan on Dhaka's Airport Road.
The two buses were immediately torched, and what followed was a wave of Dhaka-wide protests by the students in demand of justice for their fellows and road safety.