Justice for Shahidul Alam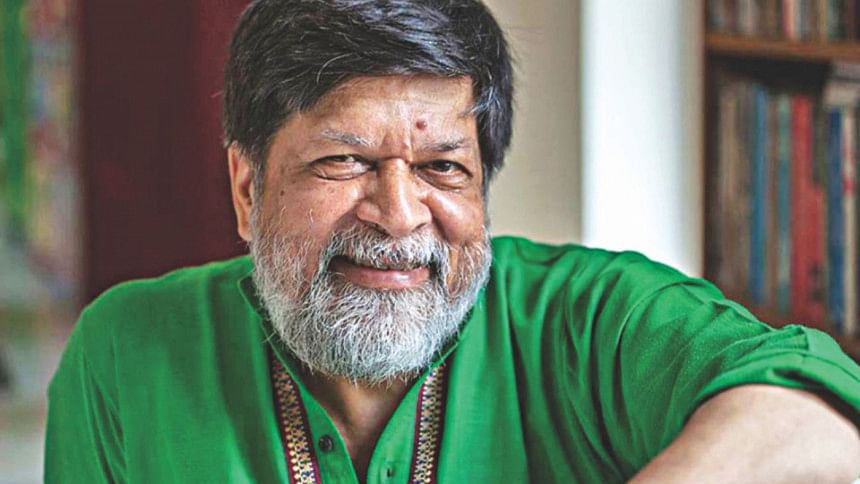 Who is this man whose arrest has sparked outrage and condemnation from global bodies and media, including Amnesty International, Committee to Protect Journalists (CPJ), PEN International, SAMDEN (South Asia Media Defenders Network) and publications such as the Guardian, The Washington Post and many South Asian media?
He is one of the most respected photographers in the world. Very few Bangladeshi of his profession has reached his present global stature. His pictures have been published in almost all the global newspapers and magazines in the world. He is among that elite corps of global photographers who is regularly hired by the most renowned global publications to do assignments in various parts of the world. The Guardian (London) while carrying news of his arrest (Aug 6) wrote "his photographs have been published in every major western media outlet, including The New York Times, Time Magazine and National Geographic in a career that has spanned four decades." Only those in the world of professional photography can really appreciate the honour and prestige of getting published in the media of such renown.
In the national sphere, Shahidul Alam has done far more than anyone else in advancing professionalism in our photojournalism. He had trained hundreds of press photographers and brought thousands into this profession as students of photography through his personal example and inspiration. It is, perhaps, only because of him that many Bangladeshi photographers today aspire to get published in global publications and win international awards that would have been only in the realm of idle dreams but for him.
He set up the award-winning photo agency called Drik that has brought Bangladesh in the map of global photography. His school, Pathshala, is now the most renowned photography school in South Asia and considered one of the finest in the world, bringing foreign students and guest teachers from many parts to our country. He has set up the Bangladesh Photographic Institute and the South Asian Institute of Photography to promote photojournalism. Both Drik and Pathshala he set up in his parental property sacrificing his personal affluence for his social commitment.
One of his most successful creations was Chobi Mela, a regular international photographic exhibition that brought submissions from all over the world and many of the world's best photographers to Dhaka, making the Bangladeshi capital a global hub of international photographers, with a special effort to highlight World Press photos. Started in 2000, the theme of the first Chobi Mela was "The War we forgot" staging one of the most successful photo exhibitions of our Liberation War and the genocide.
For his extraordinary talent as a photographer, he received the Harvey Harris Trophy in 1983, Mother Jones Awards for documentary in 1993, Andrea Frank Foundation and Howard Chapnick Awards in '98, Shilpakala Padak in 2014, Lifetime Achievement Award in 7th Dali International Photo Exhibition in China in 2017, and Lucie Foundation Humanitarian Award this year.
In addition to being a photographer, he is a writer, curator and activist for social justice. In 2007 he published two books called "Nature's Fury" on earthquake in Kashmir and "Portrait of Commitment" a book on HIV/AIDS in South Asia. His book "My Journey as a Witness" was described by John Morris, former picture editor of Life Magazine, as "the most important book ever written by a photographer".
He has a PhD in Organic Chemistry from London University. He is a Visiting Professor at the Sunderland University UK and UCLA, USA. He is also is a Guest Lecturer at Harvard University, Stanford University, and Oxford University.
A man of very simple lifestyle, always attired in his trademark rubber slippers, kurta-pyjama, a pouch tied around his waist with personal papers and a backpack with laptop, always biking to work through Dhaka's chaotic and dangerous-for-bikers traffic.
His love and pride for Bangladesh is as much, if not more, than his love and pride for photography. Through his art, he depicted Bangladesh, in all its facets of her beauty and challenge, poverty and resilience, joy and tragedy, especially her indomitable capacity to overcome all vicissitudes.
He did, and will continue to do, far more to bring Bangladesh's achievements to global attention than many state funded efforts put together.
And this Shahidul Alam was dragged from his home at night, not given a chance to meet any member of his family, bundled into a microbus, blindfolded - as if they had captured a terrorist -, tortured according to his statement in court, and produced before court after 21 hours of his internment denying all his fundamental rights till his court appearance. For a person of values and ethics, humiliation is by far the "unkindest cut of all". Those who forced him to walk barefoot did not know that a pair of rubber slippers was all he needed.
He is a man driven by values of social justice and fundamental rights for the common people. It is his professional interest that naturally drew him to the unique event that was being staged by the students and it is the students' call "We Want Justice" that probably made him go live on Facebook to tell the world what he saw.
A person spends his whole life building a professional reputation -- in this case global -- and does everything through his craft to serve the country and then one day his few comments appear to be "against". Then all hell breaks loose, resulting in the worst treatment in practice. His excellence in profession, his patriotism, his sincerity, his honesty, his integrity, his commitment to uplifting members of his profession, his lifelong love for his country -- all amount to very little.
Within a few hours, a world renowned professional is in the dust. But definitely not in the eyes of those who know him, have seen his work, have been touched by the generosity of his character and remotely know of his love and pride for Bangladesh.
We hope he will be spared further nightmare of remand and get the justice that he and every law-abiding citizen deserves.