Lifetime Achievement Award for Shahidul Alam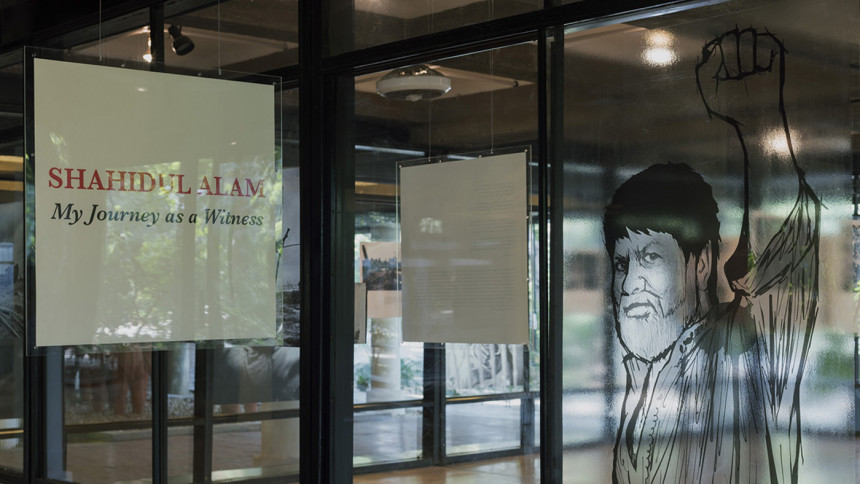 Internationally acclaimed Bangladeshi photographer Shahidul Alam has been conferred the "Prof. Satish Bahadur Lifetime Achievement Award" by National Institute of Design (NID), India.
Alam, who is currently in jail in a case filed under the section 57 of ICT Act, was honoured for his outstanding contribution to media education in South Asia, according to a press release.
Indian curator Ina Puri, also a friend of Alam, received the award on his behalf on Friday at the awards ceremony of the fourth edition of Alpavirama Asian Short and Documentary Film Festival, organised by the NID in Ahmedabad.
The five-day film festival, which showcased 76 films from 18 countries, also exhibited some of Alam's selected photographs.
In her speech, Puri said Alam is a voice of resistance and hope, of deep intellectual engagement and brave practical commitment.
"For the past many weeks, we have all been wracked with worry for him. This award and the overwhelming support of intellectuals around the world are strong votes for freedom of speech and expression," she added.
Alam, who identifies himself as a social activist, has been an unrelenting torchbearer of the underprivileged and oppressed in Bangladesh in their slow march towards a genuine awareness of their rights, and improvement of their social, cultural, and economic conditions, said Rishi Singhal, a faculty member of Photography Design at NID Gandhinagar.
His book "My Journey as a Witness" has been described as "the most important book ever written by a photographer" by the former picture editor of Life Magazine, John Morris, Rishi added.
The 63-year-old photographer and journalist, was picked up by law enforcers from his Dhanmondi flat on August 5.
Police charged him with "spreading propaganda against the government", following a Facebook live video and an interview to international news channel Al-Jazeera where he criticised the government during the protests for road safety.