No bail yet for the 22
Arrested during last week's road safety demo, these pvt university students sought bail at least twice
The private university students arrested on charges of vandalism and attacking policemen during protests for safe roads have repeatedly been denied bail in the last one week.
All 22 students appealed together for bail on August 7 and August 9 and got rejected. Four of them sought bail again on Sunday and eight others yesterday.  But their prayers were turned down again.
However, the ones who attacked protesters and journalists with sticks and machetes remain untouched.
Similarly, quota reform leaders are languishing in jail while those who assaulted and injured the reformists have faced no consequence.
The 22 students of East West, North South, Southeast and Brac universities were arrested on August 6 following clashes between students and police aided by alleged ruling party men.
The eight denied bail by a Dhaka court yesterday were arrested in two cases filed over vandalism and attacks on police.
Dhaka Metropolitan Magistrate Pronab Kumar Hui passed the order after their lawyers moved two separate petitions seeking bail.
The eight students are: Rashedul Islam, Mushfiqur Rana, Hasan, Zahidul Haque, Nur Mohammad, Saber Ahmed, Shihab Shahriar and Shakhawat Hossain.
On Sunday, four other students were denied bail by the same court.
On Thursday, Dhaka Metropolitan Magistrate Satyabrata Sikder denied bail to 22 on completion of their two-day remand.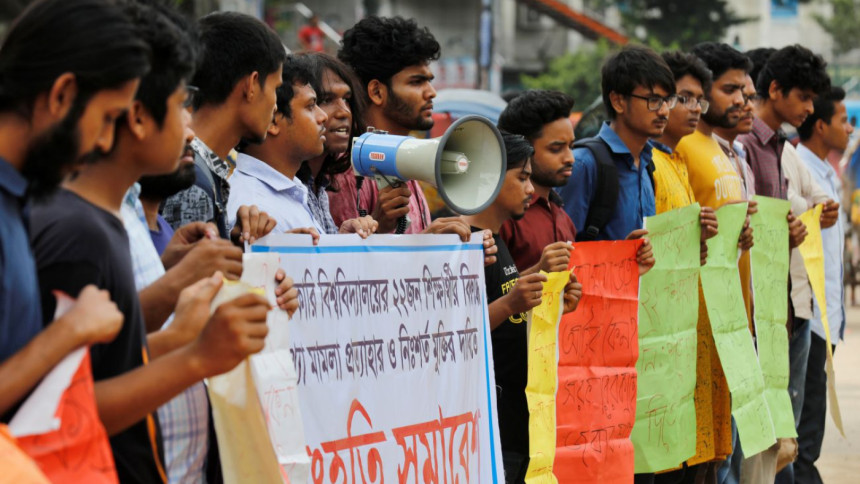 Their bail petitions were also rejected on August 7.
A total of 41 people, including the 22, have been arrested in 29 cases filed under the Penal Code over clashes in the capital during student demonstrations for road safety.
At least 20 others, including several students, were arrested in nine cases filed under section 57 of the ICT Act on charges of spreading rumours, propaganda and fake news over the protest.
Six of the cases were filed with police stations in Dhaka and one each in Chittagong, Sirajganj and Bogra.
Alleged ruling party men who attacked road safety demonstrators and journalists were not accused in any of the cases.
The complainants of the 29 cases filed with 16 police stations mentioned that the attackers were unknown students and many of them were in school or college uniforms during clashes.
The case documents state that some of the accused were infiltrators.
During the widespread demonstrations that followed the killing of two college students by a speeding bus on July 29, alleged ruling party men and law enforcers attacked protesters in areas including Jhigatola, Dhanmondi, Science Laboratory intersection, Uttara and Mirpur.
Many of the attackers wore helmets and carried sticks, sharp weapons and firearms.
Meanwhile, Inspector General of Police Mohammad Javed Patwary yesterday told a press conference that he instructed Dhaka Metropolitan Police to scrutinise video footage and other information to identify the attackers.
During the quota reform movement, alleged Bangladesh Chhatra League activists attacked demonstrators at least 18 times since May. Around 75 students of four universities were injured, but none of the attackers were sued or arrested.
Some of the injured were arrested or allegedly driven out of hospitals.
The BCL men, who attacked Rajshahi University student Toriqul Islam with hammer, sharp weapon and bamboo sticks, were indentified. But they were not arrested.
Seven quota reformist leaders are now in jail.