Not held over viral video
DMP official says about arrest of quota activist Luma; Buet student named in case against Faria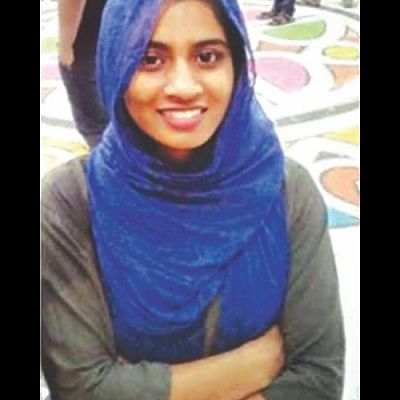 Police yesterday said they did not arrest quota reform leader Lutfun Nahar Luma in connection with a viral video clip where a girl is seen spreading rumours over the recent student protest for road safety.
"We arrested her for some provocative posts she uploaded on Facebook during the movement," Najmul Islam, additional deputy commissioner of DMP's cyber security division, told The Daily Star. 
"Media reports that Luma was arrested over a Facebook live video posted on August 4 are not correct.
"Cyber security officials did not arrest her suspecting her to be the girl seen in the video clip … she was also not arrested for her involvement in the quota reform movement."
In the clip, a girl, in pink attire and her face covered with a scarf, was seen spreading rumours that some students were being raped and killed inside the office of the ruling Awami League.
Days later, law enforcers picked up Luma, a student of Eden College and a joint convener of quota reform protest, from her grandfather's house in Sirajganj. She was shown arrested in a case filed with Ramna Police Station under the controversial section 57 of the ICT Act.
A Dhaka court placed her on three-day remand on Thursday.
Some ruling party men have uploaded posts on Facebook, claiming that the girl in the clip, in her pink attire, was Luma.
Earlier, Luma had participated in a quota reform movement rally, wearing a similar dress. A few media outlets reported that she was arrested as the dress matched with the one worn by the girl in the video.
Asked, ADC Najmul said, "If she [Luma] had been that girl, we would have definitely filed a separate case [against her]".
He said they were yet to identify the girl seen in the clip. "We are investigating".
The ruling party men also alleged that Luma is a niece of Mufti Hannan, one of the country's most dreaded militants.
At a press conference in the capital on Friday, Luma's family members, however, said the allegations were baseless.
At the same programme, quota reform movement leaders alleged that Luma was arrested only because of her involvement in the quota reform protest.
In a Facebook post uploaded on August 7, Luma said: "I have been out of Dhaka for more than a month. I can't recall ever posting any nonsensical status. They are trying to trap me just because I was involved in a justified movement."
Meanwhile, a female Buet student has been named as suspect in the case in which woman entrepreneur Faria Mahjabin was arrested on Thursday. The case was filed with the capital's Hazaribagh Police Station under section 57.
Besides, Dhaka Metropolitan Police (DMP) yesterday disclosed the arrest of a youth named Khaled Saifuallah, 23, in a case filed under section 57.
He was arrested in the city's Sabujbagh area on Thursday and was placed on two-day remand, according to DMP news portal.
With Khaled, at least 27 people have been arrested under the controversial section on charge of spreading rumours on social media over the student movement for road safety.
FARIA 'SPREAD RUMOURS': RAB
Faria, 28, owner of Nerdy Bean Coffee Haus in Dhanmondi, had circulated a prerecorded audio clip for spreading rumours on social media platforms during the road safety protests, according to Rab.
"She made this prerecorded statement… audio file… and she circulated this audio file over the Internet," Rab Director General Benazir Ahmed said at a briefing at the force's media centre in Karwan Bazar yesterday.
"The woman, as a graduate in computer science, knows how to do it," he said, claiming she did it deliberately. 
According to the Rab boss, Faria did it in an attempt to "take the country to the edge of destruction".
At one point, Benazir played the audio clip before the journalists. In that clip, a woman is heard saying that some of her employees had seen three bodies during the movement. 
The Daily Star, however, could not independently verify the authenticity of the clip.
Meanwhile, Sub-inspector Majedul Islam of Hazaribagh Police Station, investigation officer of the case, claimed that Faria had shared the clip with Jannatun Noor Bismee, 27, a master's student of Buet, on Messenger. Jannatun has been named as a suspect.
Faria told investigators that Jannatun used to frequent her coffee shop, said police sources, adding that both the suspects were from Khulna.
The SI said they found Jannatun's mobile phone switched off and that they were looking for her.
Since the student demonstration began on July 29 bringing Dhaka to a standstill, more than 100 people, mostly students, have been rounded up in 53 cases in the capital alone over "causing violence and spreading rumours", according to Dhaka Metropolitan Police.
Twenty two private university students who are among the arrestees have repeatedly been denied bail by courts.
Apart from all these arrestees, many road safety and quota reform protesters were detained, interrogated and then released upon taking undertakings.
Police said they have gathered details about a hundred social media accounts which "incited violence" centring the movement.
On July 29, school and college students began an unprecedented movement demanding concrete government steps to improve road safety following the deaths of two of their peers in a road crash in the capital.
Since then, students took to the streets for eight days in a row -- blockading streets for hours -- before things rolled over to violence.
The protesters came under attacks by the police and alleged ruling party activists on August 4 and 5.
However, police have failed to arrest any of those who beat up and injured dozens of students and journalists during the movement.