Bashundhara battlefield
Students of 2 pvt universities clash with cops, outsiders; at least 40 injured
An armoured personnel carrier slowly rolled down the street. Behind it came about a hundred policemen -- some wielding sticks and many shotguns and teargas guns.
Moments later all hell broke loose with shell after shell fired at the other end of the road where hundreds of students carrying sticks and brick chips were chanting slogans.
Thick smoke engulfed the area, leaving people with burning eyes and choking while the students were running into alleys only to regroup again.
Tyres were burning right in the middle of the streets. A black microbus came out of the North South University (NSU) with three or four students inside -- all bleeding from pellet injuries -- and sped towards Apollo Hospitals.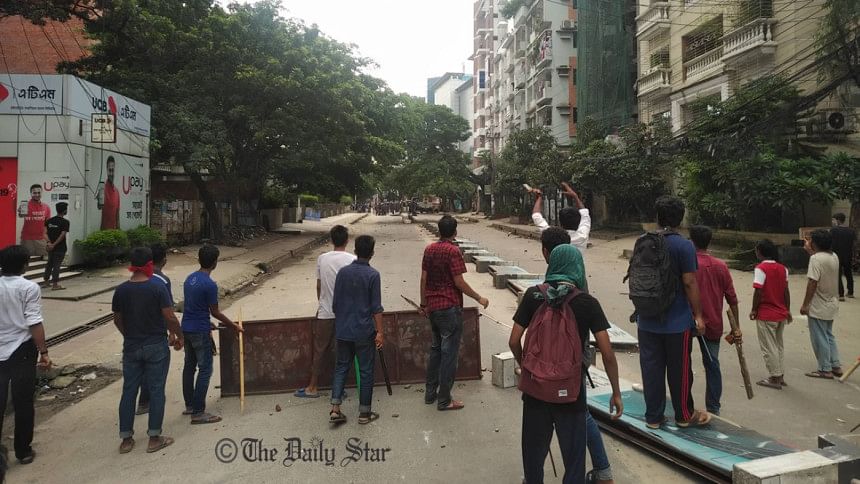 These are scenes from Basundhara residential area, otherwise a quiet neighbourhood where people take evening walks and children play on the streets in the afternoon. But it wore a different look after 12:30pm yesterday as over a thousand students fought pitched battle with police.
Some 40 injured people, mostly students, were rushed to Apollo Hospital, according to a doctor at its emergency department. Some passersby, policemen and street children were also hurt during the clash.
Earlier in the morning, police swooped on the students of East West University (EWU) who had waged agitations at Rampura in solidarity with the countrywide student movement for road safety. Subsequently, a group of outsiders equipped with iron roads and sticks pounced on the students.
Under attack, students and teachers alike took shelter inside the campus at Aftabnagar with police and stick-wielding youths parading past their gates. The students and the youths outside exchanged brick chips until about 4:00pm.
Police also took action to foil a demonstration of Dhaka University students, demanding safe roads and protesting the ongoing attacks on road safety demonstrators. They charged batons, fired teargas shells and used water cannon at Shahbagh injuring at least five students.
Following the daylong violence, the EWU authorities announced closure of the university for the next two days citing unavoidable circumstances, suspending all examinations and evening classes. The university will reopen on Thursday, a notice said.
On the same grounds, Independent University, Bangladesh (IUB) announced deferment of final examinations of Summer-2018 semester which were scheduled to be held from August 5-8. The exams will be held on August 27-30, according to a notice.
However, classes will remain open at the NSU as per the schedule, Nazmul Ahsan Khan, proctor of the university, told this newspaper.
The Daily Star called Bhatara, Badda, Shahbagh police stations for comments of officials concerned last night but none answered the phone.   
For the last two days, the city saw brutal assaults on students who have been staging unprecedented demonstrations for concrete government steps to improve road safety since two of their peers were killed in a road crash on July 29.
Around 11:30am yesterday, at least 500 students under the banner of "Dhaka University" brought out a peaceful procession from the Raju Memorial Sculpture on the DU campus.
After parading through different streets, they advanced towards the Shahbagh intersection at 3:30pm. A group of police men deployed there since morning tried to obstruct them and a scuffle ensued.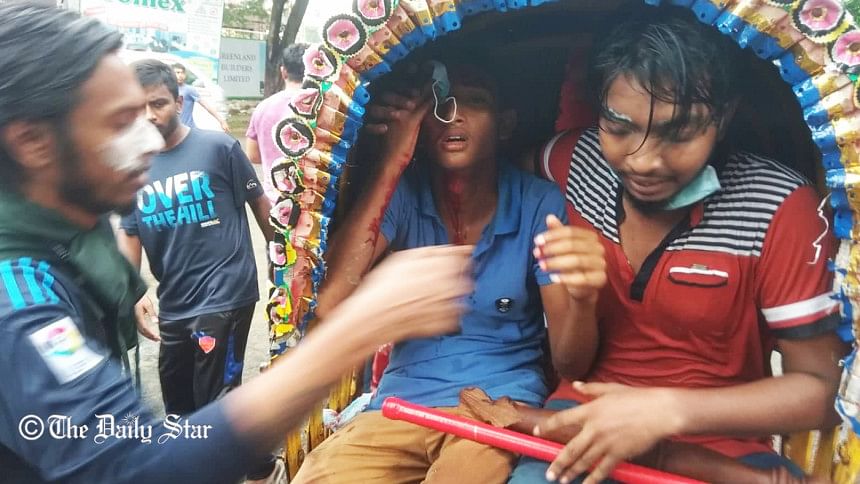 The law enforcers then started firing teargas shells, prompting the students to throw brickbats leaving a police official named Imanul Haq injured, said the witnesses.
Police then began using water cannon and charging batons on the students and drove them away. Six of the protestors were detained from the spot at the time and two of them got released later.
Talking to the reporters, Maruf Hasan Sardar, deputy commissioner of Dhaka Metropolitan Police (Ramna zone), said, "Police lobbed teargas shells to disperse the protestors as they were holding a rally blocking the road."
Abu Raihan Khan, a DU student who took part in the protest, said, "We told them [police] that we would return to campus after marching through the intersection but they obstructed us and started to fire teargas shells."
A group of Chhatra League activists were also seen following their procession at different spots of the campus being split into small groups, reports one of our correspondents.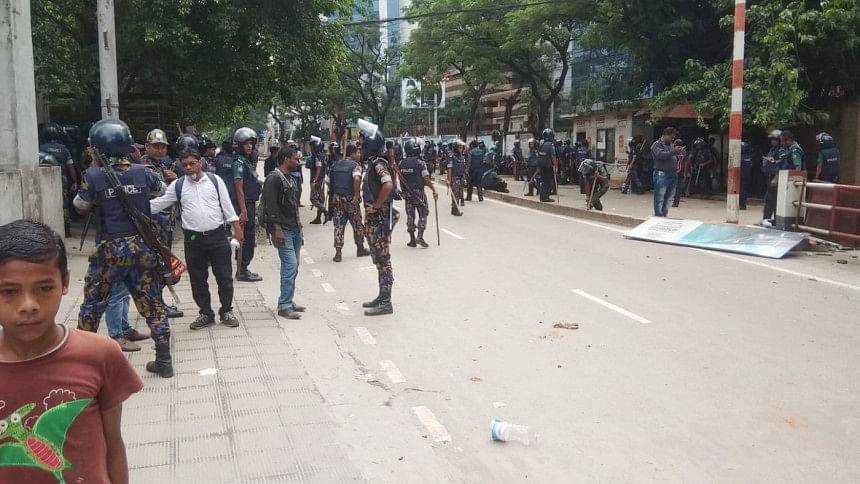 NSU
The NSU students yesterday started to gather near their campus around 10:30am to protest the Jhigatola attacks on demonstrators by alleged ruling party men on Saturday and Sunday.
But the situation changed fast after the news of attacks on the EWU students reached there. Several hundred students of NSU and IUB started agitations and tried to take position in front of the main gate of Bashundhara residential area around 12:30pm.
A gang of unidentified youths brandishing sticks swooped on the protesters, triggering a clash. Police also swung into action and chased the students, fired several hundred rounds of teargas shells and rubber bullets.
Students responded by throwing brick chips, knocked down the road dividers, put up barricades with whatever they could use -- logs, bricks and even rickshaws -- to stop the advancing policemen.
According to witnesses, the students were asking law enforcers in loud voice to stop the outsiders, also saying they have no conflicts with police. But police allegedly did not pay heed to their call and sided with outsiders instead.
Shouting slogan against Chhatra League, a pro-government organisation, the students advanced towards the policemen and stood face to face near the Grameenphone office.
Police fired more teargas canisters. A boy, aged hardly 15 and not a university student, bled profusely being hit with a shell.
Several students were seen bleeding and rushing back inside the campus after being injured in the clashes. Chase and counter-chase took place until 5:00pm, according to a reporter.
Residents of Bashundhara phoned this newspaper saying police were conducting a raid in the area looking for students as of 10:00pm.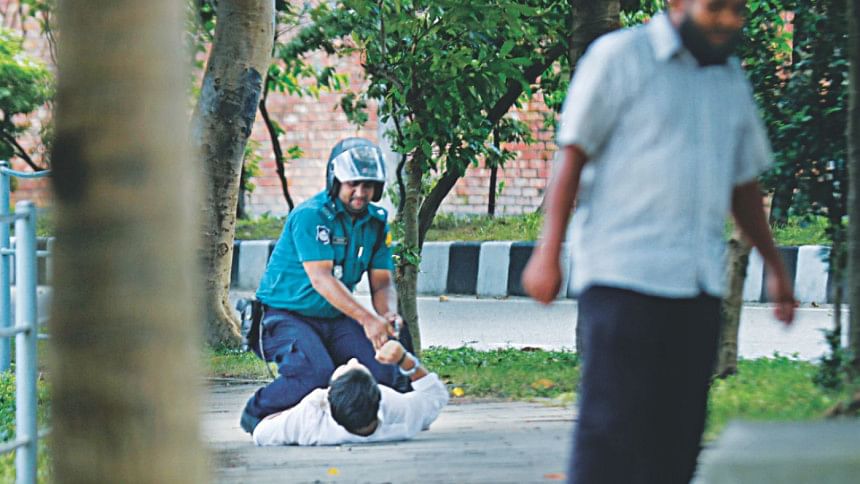 EWU
Students of EWU thronged Rampura-Badda road around 11:00am protesting the Jhigatola incidents and demanding road safety. 
The clash began as police tried to disperse them by lobbing teargas shells and subsequently a group of unidentified armed youths attacked them.
Chase and counter-chase took place between the students and the armed youths with pebbles raining down on both sides. At one stage, the students took shelter inside their campus at Aftabnagar.
The youths, who according to the students and locals were mostly transport workers and ruling party men of the area, then began to hurl brick chips into the campus. The students retaliated from the rooftop.
Many of the attackers were children aged from 12 and 15, some even wearing lungi. Many were helmeted while some had faces covered with scarf.
Police did not attempt to drive away the armed youths; rather, they charged teargas canisters into the campus, witnesses and students said.
Students alleged that some of their peers were injured as the armed goons beat them up.
A reporter of The Daily Star saw some students being assaulted by some armed men during the agitations. Journalists from media outlets were being deterred to take video or photo and threatened with attacks.
A female reporter of the Prothom Alo was manhandled by some youths while covering the event at the EWU. They also snatched her mobile phone.
Nasrin Akhtar, the journalist, was also taken to Badda Police Outpost where some female police officials allegedly hurled abusive words at her. She was released 15 minutes later.   
The protesters and other students who came to the campus for attending classes and exams were trapped inside the campus until a "vacation" began around 4:00pm following a meeting between police and the EWU authorities.   
When the students were stranded inside, many guardians were seen waiting nearby the campus and requesting police for safe evacuation of their children.
Soon after the news of EWU attacks spread, a group of students from Ahsanullah University of Science and Technology (AUST) headed for Aftabnagar.
Police baton-charged them in Hatirjheel area. Later, a team led by Faruk Al Hafiz took position in front of the AUST campus in Tejgaon Industrial area.
During a visit, a reporter of this paper found that Faruk and Abdur Rashid, officer-in-charge of Tejgaon Industrial Police Station was interrogating two AUST students just outside the campus.
Police took away their mobile phones and started checking photos and Facebook messenger. Asked about the checking, Rashid said, "Who are you to ask?"
Though he showed his ID card, some policemen misbehaved with the correspondent and asked him to leave.