Long lines at BRTA
Sudden rise in number of service seekers as vehicle documents being checked by students on streets
A huge number of people are turning up at Bangladesh Road Transport Authority's (BRTA) office in Mirpur for driving licences and fitness certificates, creating a huge gathering there, with agitating students checking vehicle documents last few days.
From lawmaker to police, from government officials to general public -- all thronged the BRTA office, putting a huge pressure on the officials there. Many of them went there to get driving licence, while many others for its renewal or fitness certificate or registration.
A BRTA official said the number of service seekers increased one and a half times in the last few days. He however claimed BRTA's special drive was also a reason behind it.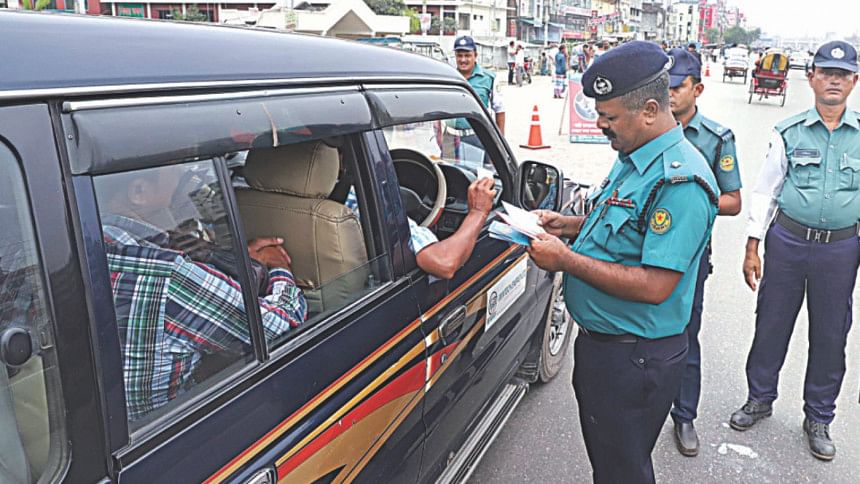 The country was rocked by an unprecedented movement for road safety after the deaths of two college students in the capital on July 29. Thousands of students took to the street every day and assumed the role of traffic police, checking driving licences and fitness certificates and seizing the keys of vehicles without valid papers.
In the process, they found several police vehicles, including one belonging to a deputy inspector general of police, without valid papers. They even intercepted vehicles of ministers for violating traffic rules.
During a visit to the BRTA office yesterday, more than a thousand people were seen waiting on the premises since morning. There were long queues before the counters to deposit the necessary charges.
Abdul Hadi, a driver of the shipping ministry, went to renew his driving licence, which expired three months ago, around 10:00am but could not deposit the money in two and a half hours.
Md Shohel also went to renew his diving licence, which expired one year ago. "I wanted to renew my licence when I would get free time. But the current situation has led me to come here today. Actually, I did not get time from my owner to renew it, but he has asked me now to do it immediately."
This correspondent talked with policeman Khaleq. He said, "I bought a motorcycle a few days ago and have come here to collect all my documents today as the situation is not good."
Altaf Ali, a Jatiya Party lawmaker from Bogra, went to the office to fix his issues. Validity of his tax token expired on July 16.
"I have come here to be clear about my dues… I came to know from the [deputy] director that I have a due of around Tk 1.33 lakh including income tax with BRTA and I will pay [the due] today," Altaf said.
Asked if the students movement prompted him to do so, he said, "No, I have come here to do my personal work."
Nur Islam, employee of a photocopy store on the BRTA premises, said, "The number of people [service seekers] is more than three times today."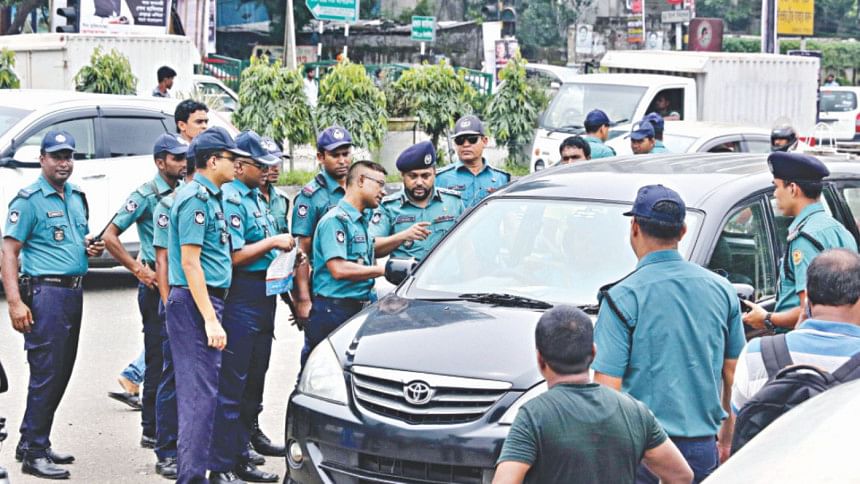 Ali Ahsan Milon, assistant director of BRTA, said they normally issue 140 to 150 driving licences every day, but in last few days they had to issue up to 230 licences a day.
They usually renew 50 to 55 driving licences every day, but the number shot up to 80 to 90 now, he added.
"As the office opened after the weekend today [Sunday], the number of service seekers has increased," he told The Daily Star.
He added they usually issue 800 to 900 fitness clearance certificates daily, but the number has shot up to 1,200 to 1,400 now.
Asked if only 10 inspectors could inspect such a huge number of vehicles before issuing fitness clearance, Milon said, "Our workforce is inadequate compared to the number of service seekers. We provide services beyond office hours.
"I think more number of service seekers are coming here due to the ongoing movement and our special drives [against traffic rule violators]," he observed.
Masud Alam, deputy director of BRTA, said it is a good sign that a huge number of people are coming to update their documents.
The Prime Minister's Office on July 31 directed the Dhaka Metropolitan Police and BRTA to take legal action against under-age drivers and those who drive without valid documents.
The BRTA published advertisements on different newspapers asking people to renew fitness, licence, route permit and other documents; otherwise it would cancel registration and route permit of vehicles and cancel licences.
Meantime, four mobile courts of BRTA conducted drives in Dhaka and surrounding areas yesterday and filed 111 cases against same number of vehicles for traffic rules violation. The courts also realised more than Tk 1 lakh and gave jail terms to three drivers for not having licences.