DU students block Shahbagh chanting 'We Want Justice'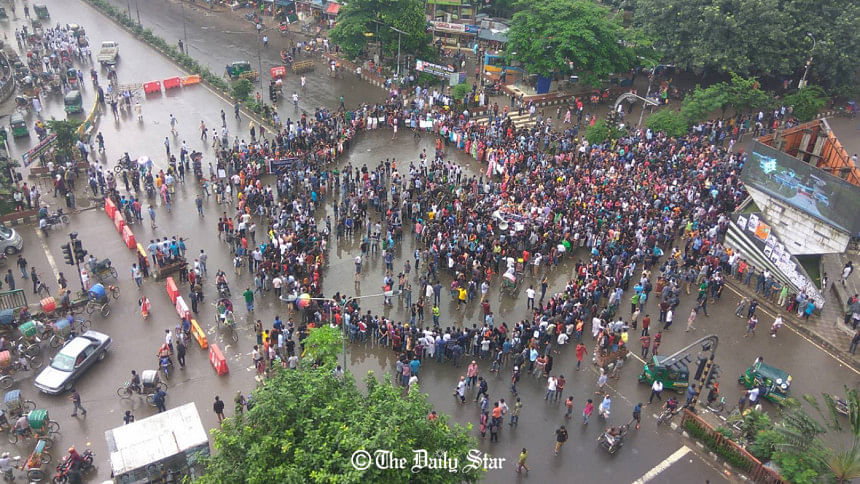 General students blocked Shahbagh intersection in Dhaka this morning for around one and half hour as they took to the streets protesting attacks on students by law enforcers and Bangladesh Chhatra League activists at Jigatola in Dhaka's Dhanmondi yesterday.
The students began the demonstration around 11:00am and enforced blockade at the intersection before moving towards Science Lab intersection around 12:30pm, leaving the Shahbagh intersection clear for traffic movement.
Several thousand students, including over a thousand of Dhaka University (DU), gathered at the busy intersection in the capital around 11:00am and enforced the blockade, chanting the slogan "We Want Justice".
Students of Bangladesh University of Engineering and Technology (BUET) and Dhaka Medical College (DMC) also participated in the demonstration.
The students staged the demonstration in solidarity with the ongoing nationwide protests by students of schools and colleges following the death of two college students at Dhaka's Airport Road on July 29, reports our journalist from the spot.
The students demanded safe roads and justice for those killed in road accidents.
They also demanded resignation of Shipping Minister Shahjahan Khan, also the executive president of Bangladesh Road Transport Workers Federation, over his remarks after the deaths of the two college students.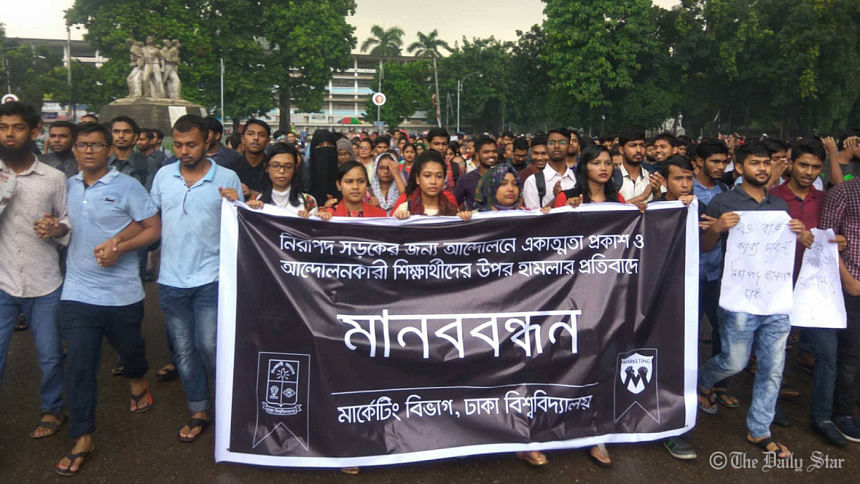 On Sunday, July 29, a bus of Jabal-e-Noor Paribahan ploughed into a crowd waiting for a bus on Airport Road at Kurmitola, killing Dia Khanam Mim and Abdul Karim Rajib, students of Shaheed Ramiz Uddin Cantonment College, and injuring at least nine others.
When reporters asked him about the deaths caused by two racing buses, he grinned and said, "A road crash has claimed 33 lives in India's Maharashtra; but do they talk about it the way we do?"
The comment drew flaks from people of all walks of life and the minister came under criticism for his "irresponsible and insensitive remark" in the social media.
The minister has also been blamed for the government's failure to manage the unruly transport sector of the country as he is popular among the transport workers and has often stood in favour of the workers on various issues.