Stop violence on protesters, journalists
EU envoys call for probe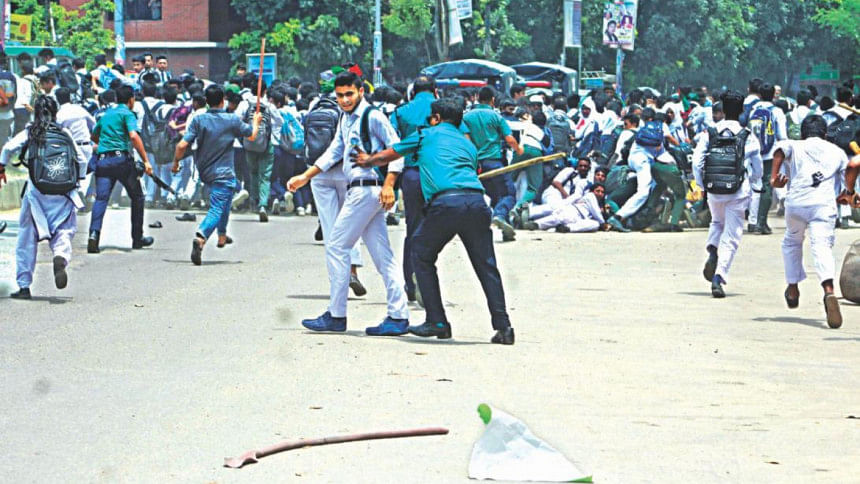 The European Union has called for an immediate end to "disproportionate violence" against peaceful student protesters and journalists.
It also demanded an investigation for holding the perpetrators accountable.  
"Incidents of unlawful or disproportionate violence or action against protesters, journalists or others need to stop; those that happened must be investigated and perpetrators must be held accountable," EU heads of mission in Dhaka said yesterday.
A joint statement by nine EU envoys said the school children's protests highlighted fears over road safety in Bangladesh.
"The government's recognition of the need for action is a welcome step and we, therefore, expect further government action to address this without delay," read the statement signed by the envoys of the EU, the UK, Denmark, Spain, France, Italy, Germany, Sweden and the Netherlands.
The United Nations, the US, Canada, Sweden and Norway also have voiced concerns over the crackdown which rights groups say is part of a wave of repression across Bangladesh in the run-up to the national elections likely in December.
The Human Rights Watch yesterday said, "Instead of prosecuting those responsible for unlawfully attacking student protesters demanding road safety, Bangladesh authorities are arresting students and targeting activists and journalists who are highlighting the abuses."
According to numerous witnesses, members of the ruling Awami League's student and youth wings, Chhatra League and Juba League, have attacked the protesters with machetes and sticks, read a statement of the rights group.
Eyewitnesses and journalists also reported that in some areas police stood by while children were beaten up by Awami League supporters, some of whom wore helmets to hide their identity. Some perpetrators were identified when the attacks were caught on camera, it said.
Also yesterday, Japan Foreign Minister Taro Kono, who arrived in Dhaka on a brief visit, said his country expects the current student protests to calm down peacefully.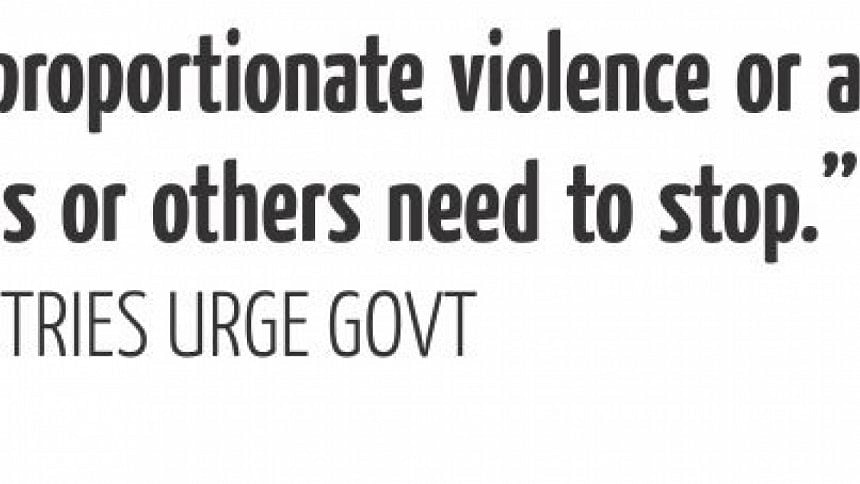 The diplomatic missions here are also worried over the safety of the children and young people following reports of violence caught up in the protest, said diplomatic sources.
Meanwhile, the UN urgently called upon all parties to keep everyone -- including children and young people -- safe from any kind of violence.
"…of course, we would encourage the Government of Bangladesh, as well as all Governments, to respect the rights of the media," Farhan Haq, deputy spokesman for the UN secretary-general, said in response to question on current student protests and attacks on the media, at a press briefing in the UN Headquarters, New York, on Monday.
UN Secretary-Genera's Envoy on Youth Jayathma Wickramanayake, who is now on a visit to Bangladesh, yesterday tweeted: "My visit to Bangladesh couldn't have been more timely! Talking about #SafeSpaces4Youth I admired the resilience of young ppl demanding #RoadSafety & called on the government & other actors to end violence immediately & ensure the safety of young ppl expressing their concerns."
Minister for Foreign Affairs of Sweden Margot Wallstrom in a twitter statement on Monday said, "Concerned about the violent scenes in Dhaka, Bangladesh in recent days. Call on all concerned to remain calm and to respect the right of peaceful protests."
The high commission of Canada to Bangladesh has expressed concern over the violence against peaceful student demonstration and called for action against the attackers.
"Norway deeply regrets recent outbreaks of targeted violence against peaceful, student-led demonstrations in support of safer roads in Bangladesh," Royal Norwegian Embassy in Dhaka said in a statement shared in its official Facebook page yesterday.
Amnesty International called for Bangladesh to "end the crackdown on the student protesters and people speaking out against it".
Omar Waraich, the group's south Asia director, said, "The students have a right to peaceful assembly and physical security."
The international media gave wide coverage of peaceful student protests and violent attacks.
Leading media outlets, including The New York Times, CNN, BBC, The Guardian of UK, Global News of Canada, Aljazeera, Deutsche Welle, Gulf News, NDTV, Times of India, The Indian Express in their reports said Bangladesh struggles to contain mass road-safety protests, international concern and how a tragic traffic accident over a week ago has triggered mass protests by students who have taken to the streets to demand that authorities improve road safety.