Journalists to lay siege to home ministry
Protest in Dhaka, elsewhere; they want arrest of attackers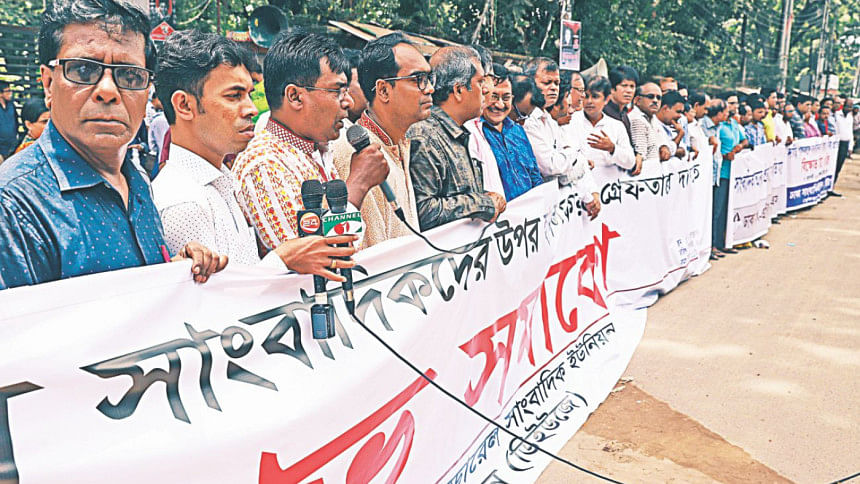 Journalists yesterday said they would lay siege to the home ministry on Thursday demanding arrest of those who assaulted journalists during the student demonstration for safe roads.
Factions of Bangladesh Federal Union of Journalists (BFUJ) and Dhaka Union of Journalists (DUJ) at a rally at the Jatiya Press Club yesterday said if the attackers were not arrested by Thursday, they would march towards the Prime Minister's Office and submit a memorandum.
Many journalists were attacked while covering the clashes between demonstrating students and alleged ruling party activists between July 29 and August 7.
Journalists of several print and electronic media on Tuesday gave the government a three-day ultimatum to arrest the attackers. The demand was not met.
Addressing yesterday's rally, Molla Jalal, a BFUJ faction president, said journalists across the country were agitated and concerned over their safety.
Journalists will also submit a memorandum to the home minister on Thursday, he said.
He added that the community did not want to be antagonised by the home ministry.
Shaban Mahmud, a BFUJ faction secretary general, alleged that the administration provided the attackers safety.
"The home minister has assured us of arresting them, but instead of doing so, he is making a joke of it," he said.
The government asked journalists to prepare a list of the attackers, which is the job of the government agencies, not the journalists, he said.
President of a DUJ faction Abu Zafar Surjo said, "Let us do our job. Don't make us take to the streets."
Journalist leaders, including Sohel Haider Chowdhury, Syed Ishtiaque Reza, Abdul Mojid, Barun Bhoumik, Dip Azad, Saiful Islam, Sukur Ali Shuvo, AKM Shahidul Haq, Shahadat Hossain and Kajol Hazra, spoke at the rally.
Journalists also demonstrated in several districts yesterday with the same demands.
Meanwhile, Information Minister Hasanul Haq Inu at an event in Kushtia's Bherammara yesterday said the attackers would be brought to justice.
Inu said he had discussed the matter with the home minister.
Also yesterday, Home Minister Asaduzzaman Khan told reports in Comilla that he ordered the law enforcement agencies to identify the attackers by going through video clips, reports our correspondent.
Around 40 journalists, including four of The Daily Star, were attacked by iron-rod- and machete-wielding youths allegedly belonging to the ruling party while law enforcers watched.
A number of global media watchdog condemned the attacks.