'Spreading Rumours': 3 more students held under sec 57
So far 97 detained in Dhaka alone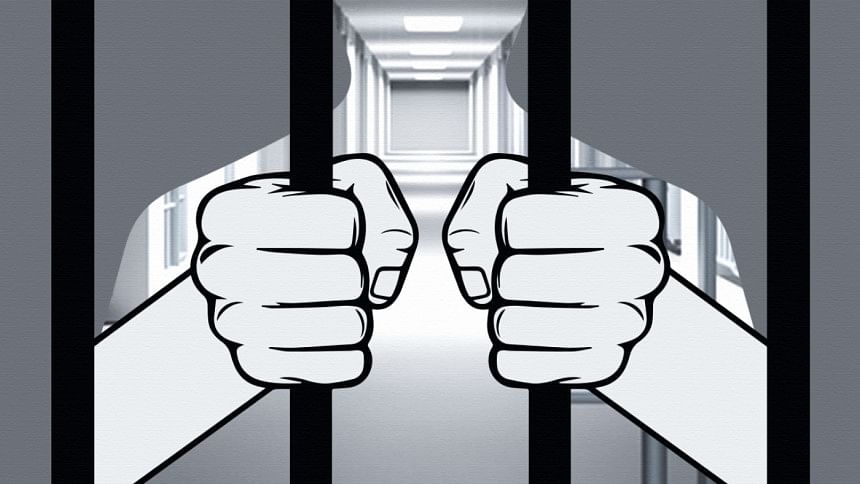 Three more students were arrested yesterday, in the latest actions against quota and road safety protesters, although police have yet to arrest any of the thugs who attacked demonstrators and journalists during the protests.
The three were held under the controversial section 57 of the ICT act over "spreading rumour and sharing provocative posts" on social media.
Eden College student and quota reform leader Lutfun Nahar Luma, 21, was picked up from Sirajganj in a pre-dawn raid. Nazmus Sakib, 24, a student of the University of Liberal Arts Bangladesh (ULAB), was held from the capital while Ahmed Hossain, 19, of Jamia Nuria Madrasa, from Kamrangirchar.
Since the student protest for road safety began on July 29 bringing Dhaka to a standstill, at least 97 people, mostly students, have been rounded up in 51 cases in the capital alone over similar charges, according to Dhaka Metropolitan Police.
However, police have failed to arrest any of those who beat up and injured dozens of students and journalists. Some of the fiercest attacks took place on August 4 and 5. Victims and eyewitnesses said the attackers belong to the ruling Awami League and its affiliated organisations, including Chhatra League, something the AL has denied.    
In many cases, such attacks happened in front of the police, as seen in videos and photos published in the media. In other cases, police and the attackers, some wearing helmets and carrying sticks, metal bars and machetes, were seen launching joint attacks on the protesters.  
Police acted similarly during the recent quota reform movement. Since June, they arrested at least 11 quota reformists, seven of them are in jail now. Mysteriously, not a single of those who attacked the reformists has been arrested.
Apart from the arrests, many road safety and quota reform protesters were detained, interrogated and then released upon taking undertakings.
Public and private university students took to the streets demanding reforms in the quota system in civil service job in April. Currently, 56 percent of the civil service jobs are reserved for various quota holders, including 30 percent for freedom fighters' children and grandchildren.  
Then on July 29, school and college students began an unprecedented movement demanding concrete government steps to improve road safety measures following the deaths of two of their peers in a city road crash.
They came under attacks by the police and alleged ruling party activists on August 4 and 5.
The government and the ruling Awami League claim some vested quarters tried to capitalise on the student protests and create unrest by spreading rumours.
In the end, however, it is the students who are paying the price. 
On Monday, police chief Javed Patwary skirted a direct reply when journalists asked him why police were not arresting those who beat up students and journalists.
"Some incidents may take one hour [to investigate] and some others may take days," he said.
He added that, on his instructions, detectives were working to identify the attackers.
TWO REMANDED
The organised crime team (cybercrime unit) of the Criminal Investigation Department, which arrested Sakib and Ahmed yesterday, said the two "spread rumours and shared provocative posts on social media to instigate violence and unrest" during the student protests.
Police did not specify what exactly they wrote on social media. The two were placed on a two-day remand. 
During the road safety movement, at least 16 people were arrested under the ICT law over similar charges in eight cases filed with different police station in Dhaka, according to the DMP news portal.
Noted photographer Shahidul Alam and actor Qazi Nawshaba Ahmed are among them. They are now in jail.
Police said they gathered details about a hundred social media accounts which "incited violence" centring on the student movement for road safety. 
Police also arrested 81 people in 43 cases, including 22 private university students, over violence during the road safety movement. Many of them face charges under the special powers act.
The 22 students have been repeatedly denied bail by the courts.
QUOTA REFORM LEADER HELD
Luma, a joint convener of quota reform movement's central committee, was arrested from her grandfather's house in Belkuchi upazila of Sirajganj around 4:30am.
Sirajganj Police Superintendent Tutul Chakrobarti told The Daily Star that she took an "anti-government" stance during the quota reform movement.
She was brought to Dhaka for interrogation, he added.
Luma's cousin Rubel Hossain said she went to her grandfather's home on Eid vacation.
"Police suddenly raided the house and arrested her," Rubel added.
Earlier on Tuesday night, detectives picked up Sheikh Tasnim Afroz Emi, a master's student at Dhaka University, from Shamsunnahar Hall area over "provocative" Facebook posts. She was released about four hours later.
According to the DB, Tasnim had posted "political status" on Facebook over the quota reform movement and some recent issues, which were "provocative and violent".
Soon after her release, her Facebook account was found blocked.
Ever since the quota reformists started fresh programmes to press home their five-point demand on June 30, they had either been attacked by alleged Chhatra League men or got arrested.
Alleged BCL men attacked quota reformists at least 18 times since April, injuring around 75 students of four universities, according to media reports.
Some of the injured were reportedly driven out of hospitals before their recovery. Later, they took treatment in various private hospitals in utmost secrecy to avoid police harassment.
Fearing further attacks or arrests, many of the injured protesters are living outside campus or are hiding.
They have also remained inactive on social media.
At present, seven quota reform leaders are in jail. They are joint conveners of the platform Rashed Khan, Faruk Hasan, APM Suhel, Tarikul Islam, Moshiur Rahman, Jashim Uddin and Ratul Sarker.
All of them were shown arrested in four cases filed by the DU authorities and the law enforcers over vandalising the vice-chancellor's residence and obstructing police in doing their duties.
A Dhaka court will hear their case again on August 27.
In a latest move, the quota reformists on August 12 threatened the government with tougher agitations if their three-point demand, including unconditional release of their leaders and exemplary punishment of the attackers, is not met by August 31.