Road Safety Protest: No bail for 22 pvt univ students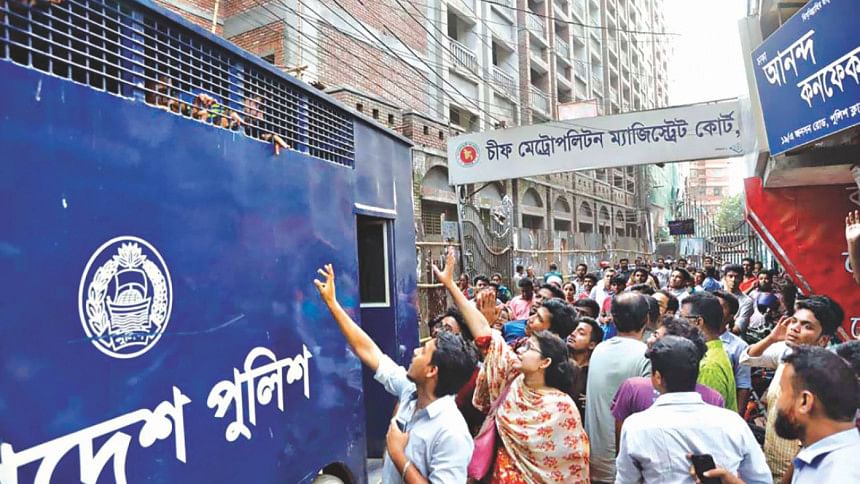 A Dhaka court yesterday denied bail to the 22 private university students who were arrested in two separate cases filed over vandalism and attacks on policemen during the road safety movement.
Dhaka Metropolitan Magistrate Satyabrata Sikder passed the order after police produced the students before the court on completion of their two-day remands.
The investigation officer said they were verifying information which they gathered from the students and until the investigation was completed, they would remain in jail.
During yesterday's hearing, the defence lawyers told the court that their clients were being harassed by being falsely implicated in cases, although their names were not included in the first information reports.
The lawyers also said policemen beat them mercilessly and showed them arrested in the cases. 
On August 7, another Dhaka court had placed the students on two-day remands each in connection with the two cases. The arrestees are students of East West University, North South University, South East University and Brac University.
THREE MORE ARRESTED
Law enforcers arrested three more people -- two in Dhaka and one in Bogra -- for allegedly trying to create anarchy in the country by publishing fake news and spreading rumours on social media over the student movement for road safety.
In Dhaka, the cyber crime team of DMP arrested Yousuf Chowdhury, 40, chief executive officer of online news portal 'Zoom Bangla' and BUET student Daiyan Alam, 22.
Yousuf was picked up for allegedly inciting the peaceful safe roads movement by publishing "illogical and irrelevant" photographs and news of police, Najmul Islam, additional deputy commissioner of Cyber Crime Monitoring team of DMP told The Daily Star.
"Zoom Bangla has been practicing yellow journalism, which is against the basic norms of journalism, for a while now," Nazmul said, adding that Daiyan, a first-year student of BUET, was arrested for allegedly playing a role in turning the ongoing student movement into a violent one through spreading rumours on social media.
The two have been shown arrested in two cases filed in Ramna Police Station on August 1 and August 5 under section 57 of the ICT act.
Yesterday, a Dhaka court placed the duo on a one-day remand after police produced them before it and sought a 7-day remand.
DMP will strictly continue its operation against spreading rumours online, the ADC said.
Elsewhere, Bogra police arrested a student of Govt Azizul Haque College from the district after conducting drives starting from evening till midnight on Tuesday.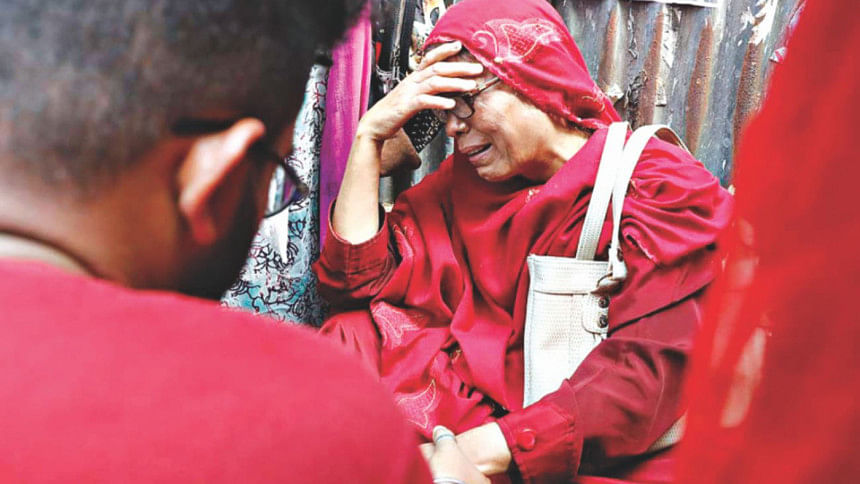 Arifur Rahman Zahid, 22, an undergraduate student of Botany department of the college, was detained by Shibganj police, said Mashiur Rahman, senior assistant superintendent of police (ASP) of Shibganj Circle.
He was arrested for allegedly posting content against the prime minister, road transport and bridges minister, home minister and spreading rumours on the recent safe road movement through Facebook, the ASP said, adding that he was shown arrested in a case filed with Shibganj police station.
With them, at least 20 people have been arrested under section 57 of the Information and Communication Technology (ICT) Act.
The 20 were shown arrested in nine cases -- six with different police stations in Dhaka, and one each in Chittagong, Sirajganj and Bogra districts.  
Cybercrime unit officials said they were trying to arrest more of those responsible for propagating fake news and rumours and they were being identified using their social media IDs.
Besides, they have also written to the Facebook authority to remove some users' accounts.