Road Safety Movement: Halt 'arbitrary arrests', try attackers
HRW urges Bangladesh govt, calls for release of detained protesters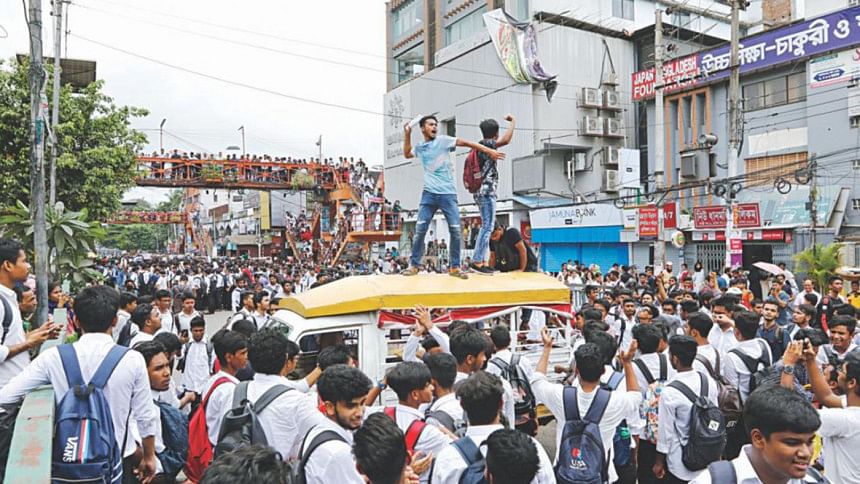 Human Rights Watch yesterday urged the Bangladesh government to halt "arbitrary arrests, prosecute those involved in violent attacks, and immediately and unconditionally release people it has thrown in jail just for speaking out".
Brad Adams, Asia director of the international human rights watchdog, in a statement alleged that the government led by Sheikh Hasina "appeared unable to tolerate criticism after Awami League supporters attacked protesters with machetes, sticks, and metal pipes and was apparently desperate to shut down dissent".
The HRW said the Bangladesh authorities detained dozens of people by tracking them on their social media accounts for criticising the government over a violent crackdown on peaceful protesters.
"The recent wave of arrests, targeting student protesters and journalists, has created an atmosphere of fear, putting a serious chill on free speech."
Citing the recent detentions of renowned photographer Shahidul Alam and actress Quazi Nawshaba Ahmed, the rights watchdog said nearly all such arrests have been made under section 57 of the ICT Act.
"The vague and overly broad law has been used repeatedly over the years to stifle criticism. Bangladesh authorities had earlier recognised that the law is misused and stated that the government has no intention of curbing free speech. Instead, Bangladesh authorities have done just that."
Thousands of students took to the streets after a speeding bus killed two students on July 29. The protesters called for safer roads, accountable governance, and the upholding of the rule of law but were met with teargas and rubber bullets from security forces and violent attacks by supporters of the ruling Awami League, read the HRW statement.
After police stood by while government supporters beat up the student protesters, the authorities moved quickly to stifle any condemnation of the violence. Dhaka police have been conducting block raids in the city's residential areas where many university students live, it added.
Students told HRW that police have been going door-to-door, raiding houses, and checking phones for communications related to the protests.