JU students stage demo demanding release of fellows
RU students bring out torch procession on campus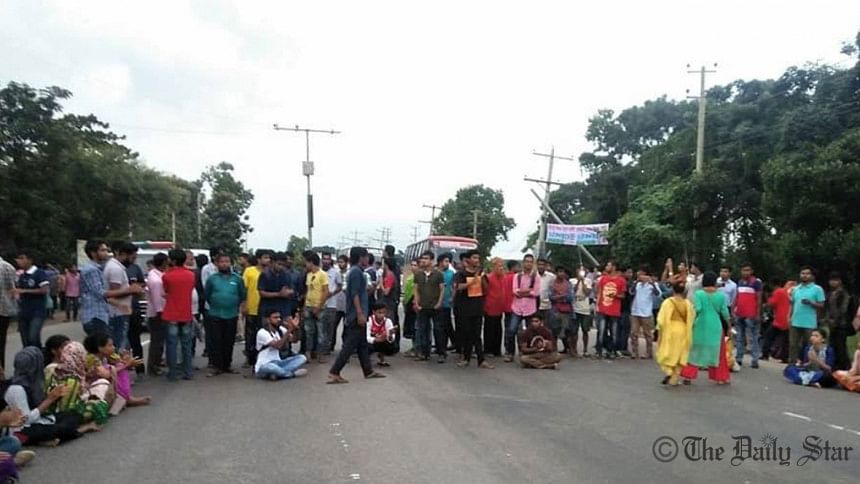 Hundreds of students of Jahangirnagar University (JU) today brought out a protest procession demanding the release of four JU students from police custody.
The students brought out the procession at 5:30pm and later blocked Dhaka-Aricha highway for about 20 minutes demanding release four of their fellow students, who have been held by police for joining the ongoing student movement for safe roads, from Shahbagh Police Station.
Later, they took position inside the campus in front of Joy Bangla Gate at around 6:00pm while a huge number of police took position outside the gate, reports our JU correspondent.
The students vowed to stay there until the four students are not released.
Shamim Hasan, one of the protesters, later said "Two of the students have been released.  Two more students are still held at Shahbagh Police Station".
Meanwhile, more than 200 students of Rajshahi University (RU) brought out a torch procession at 7:00pm this evening under the banner of "Nipiron Birodhi Shikkharthibrindo (Students against Oppression)" protesting attacks on students amid the ongoing student movement for safe roads.
The procession encompassed the whole campus while the students chanted different slogans demanding removal of Shipping Minister Shajahan Khan and justice into the attacks on students.
They also blamed the authority's silence over the issue and expressed solidarity with the ongoing movement for safe roads across the country.