Safe road demo: Ershad urges PM for release of arrested students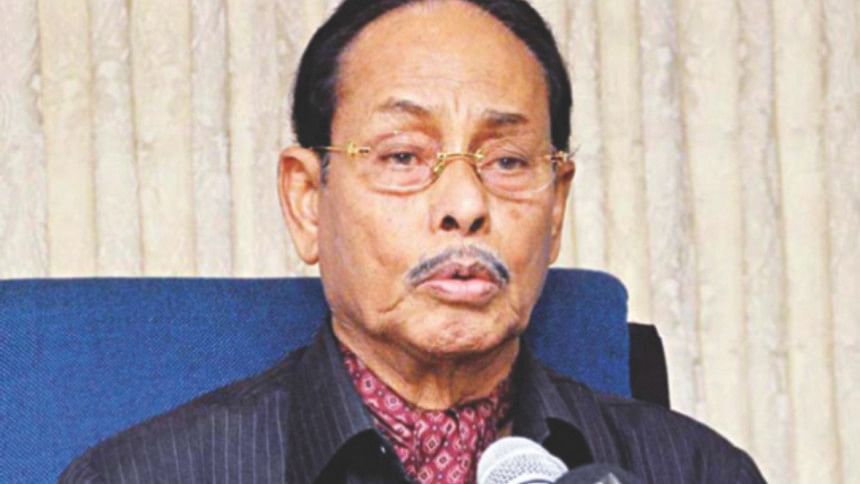 Jatiya Party Chairman HM Ershad has urged Prime Minister Sheikh Hasina to release the students who have been arrested during their recent protests in Dhaka for safe roads.
"Ensure unconditional release of the arrested students considering them your children," Ershad, also special envoy to the PM, came up with the call in a press statement today.
In the statement, Ershad also expressed his hope that the prime minister would uphold her generosity by ensuring release of the innocent student protesters.   
The JP chief also called upon the premier to take legal action against those who wanted to divert the student protest to a different direction to meet their agenda.
"Prime Minister Sheikh Hasina is like a mother for the innocent students and thus she has accepted the students' demand considering them her children," Ershad said.
The arrested students should be released unconditionally in order to show respect to the generosity of the PM," he also said.
Students took to the streets in Dhaka and across the country demanding safe roads and locked into sporadic clashes with the members of law enforcement agencies and armed youths at different places in the capital and elsewhere.
Later, police detained many students and lodged several cases implicating them with the incidents.
Police also arrested 22 students of different private universities in Dhaka and placed them on remand for interrogation.
Meanwhile, different rights bodies and civil society platforms already urged the government to ensure immediate and unconditional release of the arrested students.
On August 8, vice chancellors of the private universities met Education Minister Nahid and pleaded general amnesty for the students, saying "they might have been provoked".
Responding to the call, Nahid told the vice chancellors that the law will take its own course against the students who have spread propaganda and created unstable situation in the name of the student movement.
"I am not anyone to deal with the issue. Rather the law will take its own course in this regard," the minister said.
Ershad said people from all walks of life have welcomed the students for raising their voice demanding safe roads and thus it would not be fair to arrest them in this connection.
Terming the student movement for safe roads as logical and successful, Ershad said the student protesters returned to their houses and classes responding to the government's call.
The prime minister should ensure amnesty even if any student committed any mistake during the street protests, he added.
Students of schools, colleges and universities joined the protests demanding safe roads following death of two college students in an accident due to reckless driving on July 29.
The peaceful movement turned violent when police and alleged ruling party activists flexed muscles against the protesting students in different areas across the capital.