Cops gas, 'goons' charge at EWU students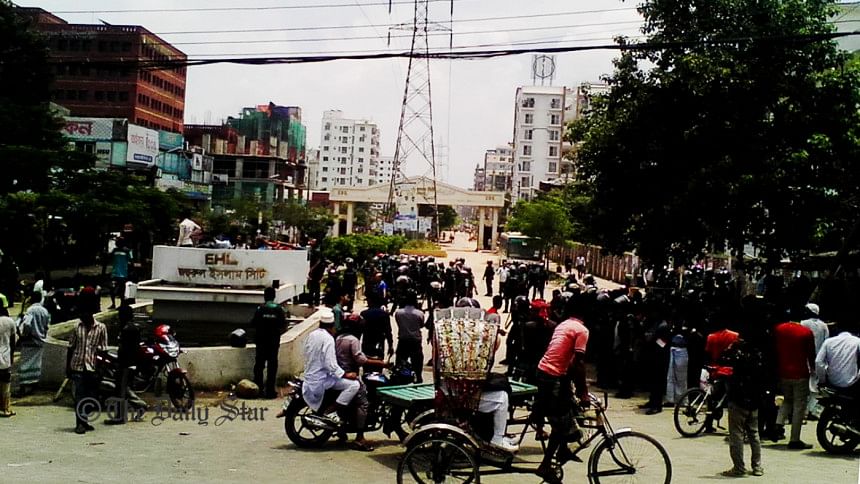 Police and stick-wielding youths ganged up on East West University students at Rampura today, lobbing tear gas and charging batons at them.
A tense situation was prevailing, last reported by our correspondent around 2:20pm. About 200 policemen had forced the students inside Jahurul Islam City, Aftabnagar.
Several canisters of tear gas were lobbed to break the students who had declared agitation at Rampura in solidarity with countrywide protests, over demands of safe roads.
A teacher of East West University sought anonymity to tell The Daily Star, several students have been injured in the "attack carried out by police and ruling party men".
According to him, students and teachers alike were held up inside the campus premises with police and stick-wielding goons parading past their gates.
"Police and men wearing helmets and carrying rods hurled bricks and rocks inside our university campus," a student stuck inside the campus told The Daily Star around 1:30pm.
According to him, one tear gas canister was lobbed inside East West campus and several students were hurt in brick chips hurled from outside the gates.
For the last two days, brute action has been taken against students. Police and stick-wielding forces merged together to flatten the students everywhere.
Yesterday, peak action was seen at Science Lab-Jhigatola where these two forces teamed up and mauled general Dhaka University students demanding justice.
It is all a sequel to students protesting for demand of safe roads after two college students were killed on July 29 – victims of reckless driving – on Airport Road.
Since then, Dhaka and rest of the country have been rocked by wave of protests, which, last Saturday, faced stiff opposition of ruling party men and police.