Pounced again
'BCL activists' and police swoop on students protesting assaults on schoolchildren; at least 30 injured; ruling party men take over streets across the capital
It was apparently a synchronised attack by police and alleged BCL men on the students, mostly from universities, who took to the streets yesterday protesting the assaults on school children in the capital's Jhigatola area on Saturday.
At least 30 students and about a dozen photojournalists and reporters suffered injuries in the attacks that rocked Jhigatola-Dhanmondi neighbourhood yesterday afternoon. At least three were hacked with machetes.
It all began as police fired teargas shells when a several-thousand-strong procession of students that began at Shahbagh was about to take a U-turn at Jhigatola bus stand around 1:00pm.
The fleeing students were caught and beaten up by alleged BCL activists armed with sticks and sharp weapons and wearing helmets. Anyone found taking video on mobile phones was assaulted. 
However, replying to a query, DMP (Ramna) Deputy Commissioner Maruf Hossain Sarder said, "I did not see any sharp weapon."
Asked why they didn't take action during the attack on demonstrators, he said, "We were confused as to who is what."
On assaults on journalists in the presence of police, he said, "No journalist came up with complaint to me."
About firing teargas shells, he said the protesters were headed towards the AL president's office and police had to scatter them.  
It was the eighth day of the unprecedented student movement sparked by the killing of two students -- Dia Khanam Mim and Abdul Karim Rajib -- in a road crash on July 29.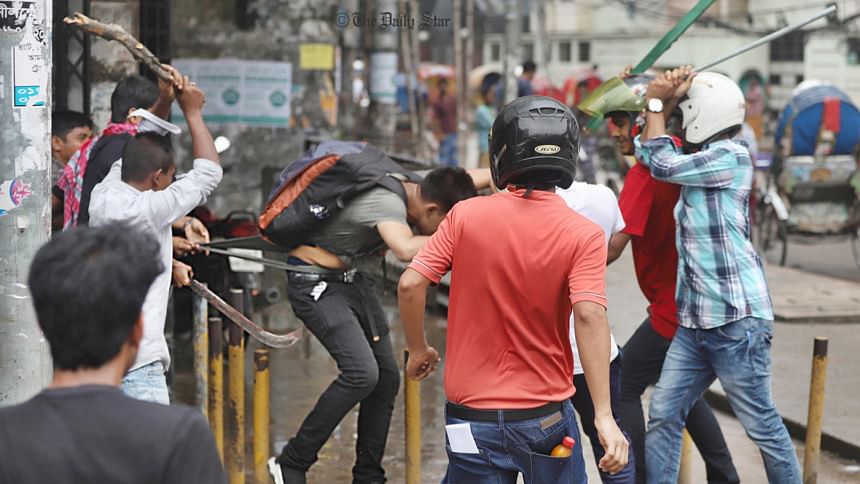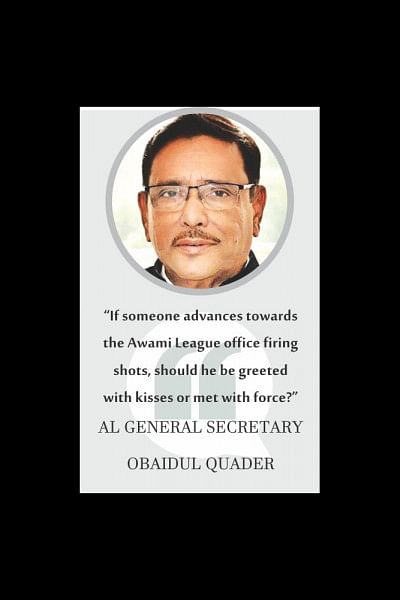 Yesterday, students took position at House Building of Uttara, Khilkhet, Kakoli, Mirpur and Rampura to press home their demand.
Privately-run buses were kept off the city roads. Only a few government-run BRTC buses and CNG-run auto-rickshaws were seen on the streets, and commuters suffered for want of transport services.
Meanwhile, the city police yesterday began "Traffic Week" to conduct drives against unfit vehicles, fake licences and drivers without proper documents amid an undeclared "strike" of bus owners.     
On Saturday, in a dangerous turn of event, at least 150 people including journalists and pedestrians were wounded during a clash triggered by attacks on students campaigning for safe roads. Rumours of death and sexual harassment further aggravated the situation. 
Protesting the attacks, several thousand youths began a march from Shahbagh towards Science Laboratory intersection around noon yesterday. Earlier, they kept Shahbagh intersection blocked for around one and half hours from 11:00am.
They joined other protesters at Science Lab area around 12:40pm and headed for Jhigatola area through Dhanmondi road-2.
Some of the protesters formed a human shield at Jhigatola bus stand as the procession was about to take a U-turn. But some of the protesters were trying to move towards the AL president's office while some sat on the road chanting slogans seeking justice, reported two of our correspondents.
Right at the time, policemen took position near the AL office and lobbed teargas shells to disperse the protesting youths. However, the students retaliated by throwing stones and brick chips at police. Ruling party men were inside the AL office then.
Chased by police, most of the students ran back towards the Science Lab point while several hundred others took shelter in nearby alleys.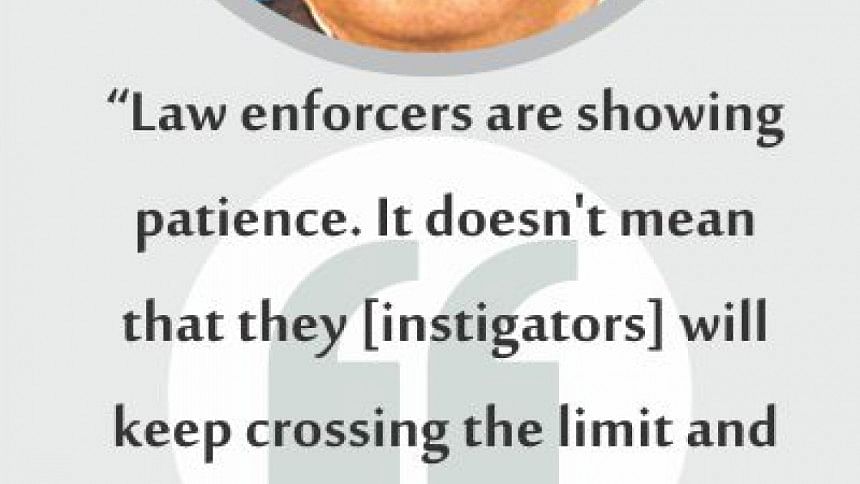 Police chased some of the students and charged batons. Later, requested by some media personnel, the law enforcers allowed the trapped students to walk towards Science Lab. Some members of Border Guard Bangladesh took position near Pilkhana gate No 4.
An eerie calm engulfed the area with business establishments and shops shut down.
Ruling party men, mostly BCL activists, equipped with iron rods, sticks, machetes came out of the party office. They caught several persons passing by the party office and beat them up, thinking them to be protesters.
A youth was slapped and beaten up around 2:00pm though he showed his ID card of Dhaka University and told the BCL men that he lives nearby. He was then allowed to go.
The situation turned worse at Science Lab point and nearby roads leading to Jhigatola. The students had taken position near Star Kabab and some were searching for their friends.
Then a team of around 50 policemen led by Deputy Commissioner Maruf started marching from Pilkhana to Science Lab.
Near Star Kabab point, a group of protesters started chanting slogans when police went on the offensive by lobbing teargas shells.
The policemen came near City College when around 150 supposed BCL men, some with machetes, started shouting at the stranded protesters near Science Lab police box.
Some lower-rank cops looked confused and asked the Ramna DC whether they would take action. Maruf Hossain replied "No". Police remained inactive as the armed men swopped on the protesters.
Around 50 journalists present there were being warned by attackers not to take pictures. They were chased from Science Lab to Happy Arcade shopping mall by ruling party youths brandishing sticks and machetes.
Freelance photographer Rahat Karim and AP photographer AM Ahad were among those beaten up brutally.
In Jhigatola, more and more ruling party men gathered. They also patrolled the area on motorcycles. Police were silent spectators though some of the ruling party men were carrying sharp weapons.
Some BCL activists armed with sharp weapons and sticks chased a nearly 40-year-old man as he tried to capture photos of their procession around 2:15pm. They hurled stones at him, forcing him to take refuge inside Pilkhana.
The BCL men also chased whoever they thought to be protesters.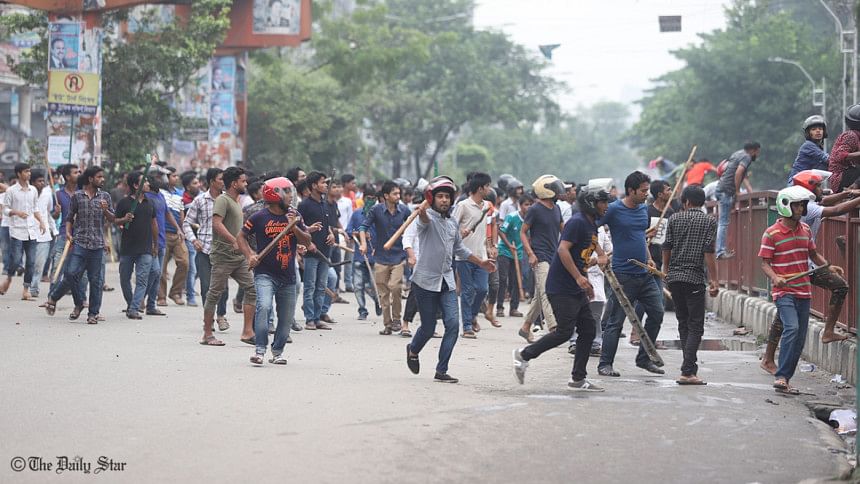 As the ruling party men started beating journalists, a correspondent of this paper, caught by them, escaped assault saying one of his relatives is admitted to the Japan Bangladesh Friendship Hospital.
Around 2:30pm, the ruling party men captured a youth wearing punjabi, and dragged him down from a rickshaw passing by the party office towards Simanto Square.
They beat him up with sticks and iron rods until a police official rescued him. He was later taken to the entrance of the party office and minutes later, the officer called a rickshaw for him.
He was seen crying covering his face with hands when the rickshaw was started moving. A little bit later, a teenager wearing a trouser and white shirt was captured by the party men. They let him go after slapping.
Eight injured students took treatment at Dhaka Medical College Hospital while 13 at Popular Hospital.
A group of youths attacked the students of University of Asia Pacific when the latter took position in front of the campus on Green Road near Farmgate in solidarity with the road safety demonstrators.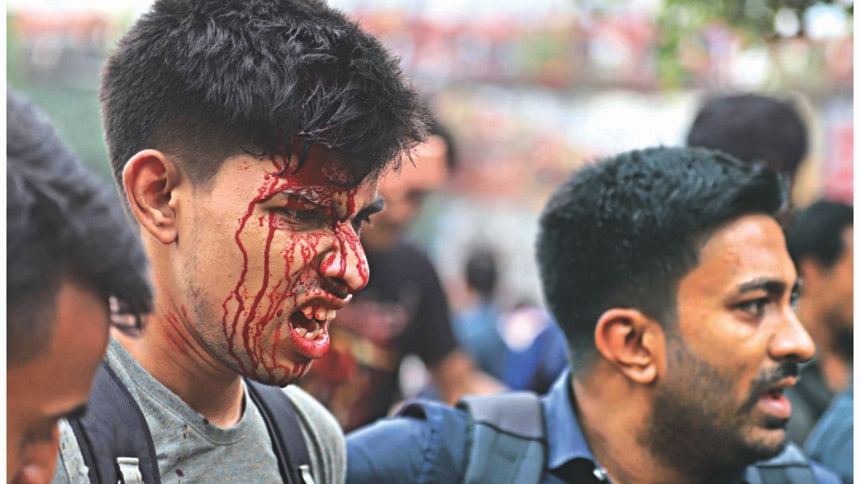 Witnesses said when several hundred students took position there, Shramik League and Chhatra League men attacked them and pelted stones and brickbats.
The students retaliated with brickbats and the exchange continued for around 15 minutes. At one point, the students went back to the campus. Police then rushed to the spot, witnesses said.
Meanwhile, police barred around 200 students who tried to demonstrate at Mirpur-10 roundabout around 12:15pm. They were also chased allegedly by some ruling party men.
They then took position in front of Dhaka Commerce College at Mirpur-2 for three hours.