Journos attacked while on duty
12 injured by 'ruling party men'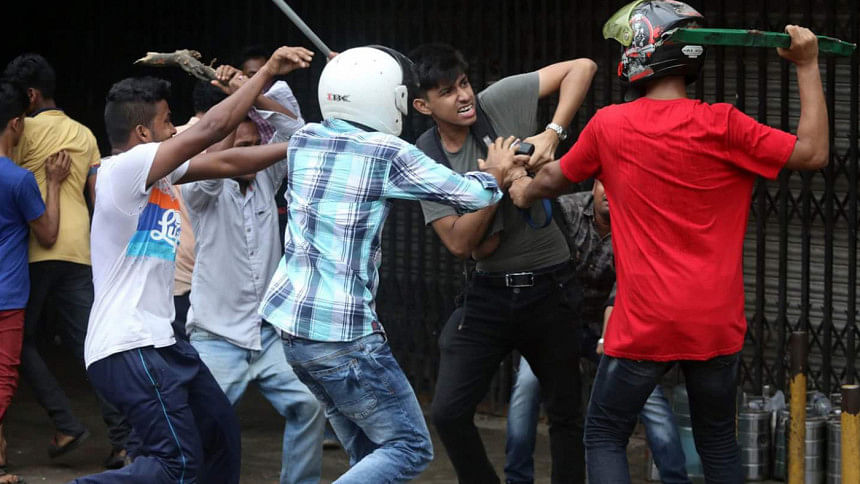 Alleged ruling party men attacked journalists for the second straight day yesterday.
About a dozen photojournalists and reporters came under attack at different places of the capital.
Witnesses said after dispersing student protesters in Jhigatola area around 1:15pm, a group of policemen came near City College. At that time, around 150 supposed BCL men, a few with machetes, started shouting at some  stranded protesters near Science Lab police box.
Many of the "ruling party men" were wearing helmets and carrying sticks and iron rods.
As some photojournalists present there tried to take photographs, some of the "BCL" men got furious and warned the newsmen not to do so. 
At one point, some of them threw brickbats at freelance photographer Rahat Karim who was standing on a nearby footbridge, witnesses said.
Later, the attackers held him by his T-shirt, dragged him down and beat him indiscriminately with rods, sticks and a machete, leaving him wounded.
After they left, Rahat was taken to nearby Popular Hospital, the witnesses said.
The stick-wielding attackers then chased away all the journalists. They also threw brickbats at the newsmen.
Around the same time, AP photographer AM Ahad was beaten mercilessly in the area, said some of the journalists present there, adding that the attackers also broke his cell phone and camera.
He was taken to the emergency unit of Lab Aid Hospital.
A video clip that shows Ahad being beaten by the youths went viral yesterday.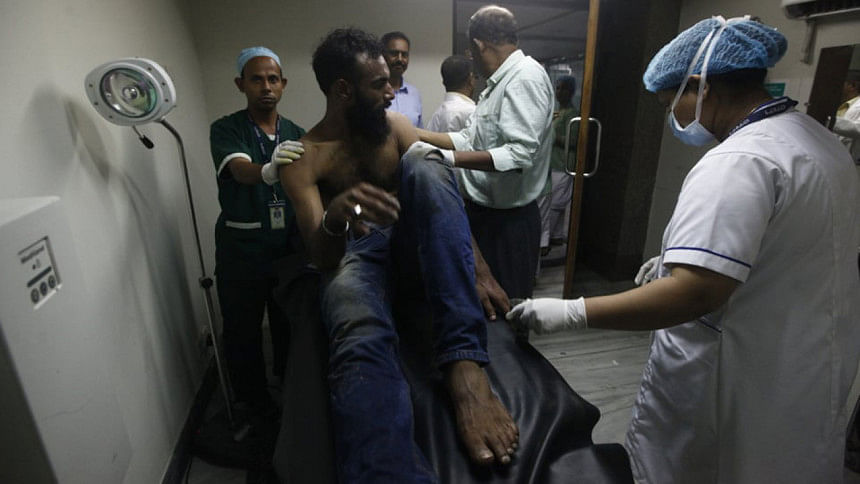 It shows Ahad begging repeatedly to let him go but the youths do not stop. At one point, Ahad falls on the ground but the attack continues.
Witnesses said during the attacks, some policemen were standing nearby, but they did nothing to stop the attackers.
Palash of Daily Bonik Barta, Ibnul Asad Zawad of The Daily Janakantha, Rimon of US-based Zuma Press and Enamul Hasan, a photography student of Pathsala South Asian Media Institute, were also injured in similar attacks.
Ahmed Deepto, a staff reporter of Bangla daily Prothom Alo, also came under attack near Science Lab area. He sustained injuries to his back and left hand.
Those who were assaulted yesterday included Nagorik TV reporter Abdullah Shafi, online news portal Sara Bangla reporter Golam Samdani, Prothom Alo photojournalist Shajid Hossain, Nagorik TV's Kamrul Hassan, news portal bdmorning's Abu Shufian Jewel, Naya Diganta's Sharif Hossain, freelance photographers Marjuk Hasan, Hasan Jubayer and N Kayer Hasim. They were attacked in different parts of the city.
A car of private television channel Nagorik TV was vandalised near Science Lab area.
Many other journalists, including female reporters, were threatened as well, witnesses said, adding the attackers also looked for The Daily Star and Prothom Alo reporters there.
On Saturday, police and alleged BCL men beat up three journalists of The Daily Star and molested another in Jhigatola.
In the same area close to a ruling party office, journalist Faisal Hossain from Channel 24, along with camera person Krishna Sarker, was beaten up around 7:00pm while doing live broadcast.
Meanwhile, police detained two on-duty photo journalists of Counter Foto -- Piyas Biswas and Mashrukh Ahmed -- near Road 4/A yesterday. Another photojournalist of the photo agency -- Nazmul Nahid -- was held the previous day. The three were kept at Dhanmondi Police Station, its OC Abdul Latif told The Daily Star around 9:30pm.
The Daily Star tried to contact BCL President Rezwanul Haque Chowdhury Shovon and General Secretary Golam Rabbani for comments. Rezwanul's cell phone was found switched off while Rabbani did not pick up the call.
Replying to a query, Ramna Deputy Commissioner Maruf Hossain Sorder said, "I did not see any sharp weapon." Asked why they didn't take action during the attack on demonstrators, he said, "We were confused as to who is what." On assaults on journalists in the presence of police, he said, "No journalist came up with any complaint to me."