Don't pay heed to rumours, PM urges countrymen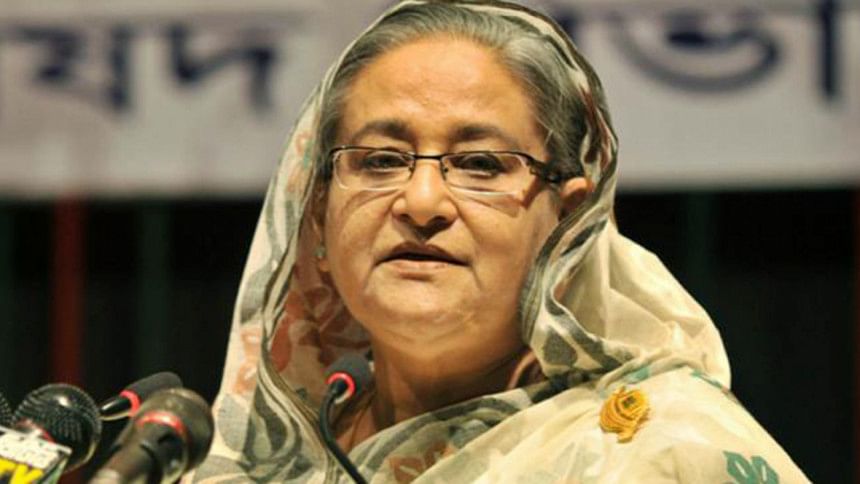 Prime Minister Sheikh Hasina today urged the people of the country not to pay heed to rumours and get confused by propaganda.
"A vested quarter is trying to create an unstable situation in the country through false propaganda. Please don't pay heed to any rumor and don't get confused by any propaganda," she said.
The prime minister said this while inaugurating optical fiber connectivity in 300 unions of ten districts under 'National Information and Communication Technology Infrastructure Development (Info-Sarker Third Phase) through a video conference from her official residence Gono Bhaban.
"Whatever you see or hear, verify those at first, please don't believe anything without verification, especially I will request the school students and youth folks," she said.
The 10 districts where 300 unions were brought under fiber connectivity are Kurigram, Nilphamari, Bagura, Netrakona, Habiganj, Patuakhali, Gazipur, Narayanganj, Rajshahi and Chandpur.
Posts, Telecommunications and Information Technology Minister Mustafa Jabbar and State Minister for Information and Communication Technology Division Zunaid Ahmed Palak also spoke at the programme.
The prime minister exchanged views with beneficiaries in five districts -Kurigram, Nilphamari, Bagura, Patuakhali and Habiganj.
The main goals of the Info-Sarker 3rd Phase project are setting up the optical fibre connectivity in total 2600 unions of the country and Dense Wavelength Division Multiplexing (DWDM) network in 400 upazilas in 64 districts.
Mustafa Jabbar said the government is taking measures to reach internet network to the very remote areas where reaching cable or optical fibre is not possible, by using Bangabandhu Satellite-1.
Palak said some 10 crore people will come under high speed broadband connectivity with the implementation of the project.
Principal Secretary at the prime minister's office Md Nojibur Rahman conducted the function, while ICT Division Secretary Zuena Aziz made a presentation on the project.