Proposed Road Transport Bill a jugglery: BNP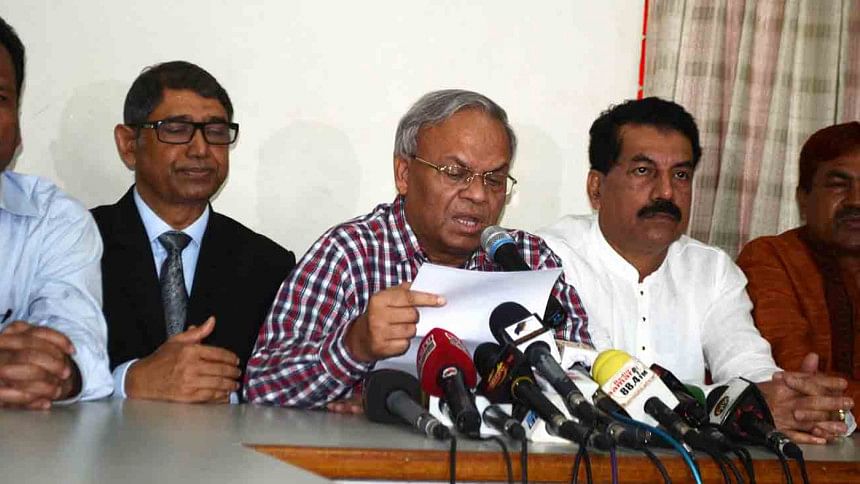 BNP today termed the proposed Road Transport Bill as jugglery saying that it will not be able to ensure safety and security of people on the roads.
"It is not adequate to ensure safe roads. Under the law, godfathers will remain at large. It is nothing but a jugglery," BNP spokesperson Rizvi Ahmed said while addressing a press conference at the party's Nayapaltan central office in Dhaka.
Rizvi, also senior joint secretary general of BNP, came up with the comments a day after the cabinet approved the draft Road Transport Bill with a provision of maximum five years' jail for any death or serious injuries caused by reckless or negligent driving and death penalty for intentional murder by driving.
There is confusion in peoples' minds whether the proposed law will be able to bring discipline on the streets if passed in the parliament, Rizvi said.   
According to the proposed act, if it is proved through investigation that the death in a road accident is deliberate, it will be regarded as a punishable offence under Section 302 of the Penal Code.
The Section 302 stipulates: "Whoever commits murder shall be punished with death, or [imprisonment] for life, and shall also be liable to fine."
Rizvi also expressed his party's strong condemnation to the attacks on the innocent student protesters and said armed terrorists, with the help of police, attacked the students when they were staging peaceful demonstrations demanding safe roads.
Police and leaders and activists of Bangladesh Chhatra League (BCL), student front of ruling Awmi League, collectively carried out the attacks that have been reported in different local and foreign mass media, he said.
He also expressed the party's deep concern as three top BNP leaders were sued for their alleged involvement in "instigating agitating students to wage an anti-government movement."
BNP Secretary General Mirza Fakhrul Islam Alamgir, its Standing Committee Member Amir Khasru Mahmud Chowdhury and Joint Secretary General Rizvi Ahmed were sued in the case filed by AB Siddique, president of Jananetri Parishad, a pro-Awami League organisation, with the court of Dhaka Metropolitan Magistrate AHM Tuah yesterday.
Claiming that BNP extended full support to the students' logical movement, Rizvi said other political parties have done the same on similar ground.
From the very beginning of the movement, several ministers of the government saluted the agitating students claiming that they have become able to find out the government's failure in the transport sector, he said.
"If the government's version is not treated as instigating, then why our leaders would be sued for extending support to the student movement?" Rizvi said.