Send Shahidul to BSMMU for treatment
HC asks govt, police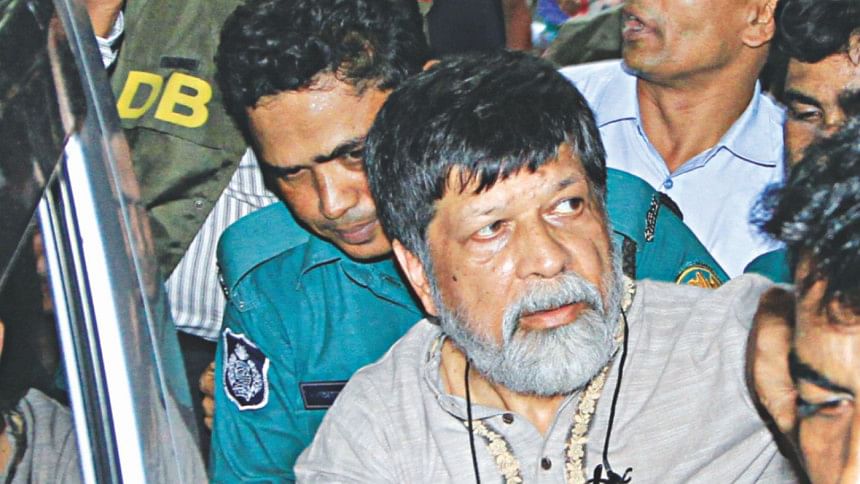 The High Court yesterday directed the authorities concerned of the government and police to immediately send detained photographer Shahidul Alam to Bangabandhu Sheikh Mujib Medical University (BSMMU) for his treatment.
In response to a writ petition, the court also ordered the BSMMU authorities to examine Shahidul's physical condition and submit a report before the court by 10:30am tomorrow.
The HC bench of Justice Syed Muhammad Dastagir Husain and Justice Md Iqbal Kabir also fixed tomorrow for further hearing on the issue.
The bench passed the order following the writ petition, filed by Shahidul's wife Rehnuma Ahmed, challenging a lower court order that placed Shahidul on a seven-day remand in a case filed under section 57 of the ICT Act.
In the petition, Rehnuma prayed to the HC to stay the remand order and pass order on the respondents to send Shahidul to hospital for treatment, saying that he had been tortured after being detained.
However, as of filing of this report at 8:00pm, Shahidul had not yet been sent to hospital.
When contacted by a correspondent of this newspaper regarding the HC order, Deputy Commissioner of Detective Branch (DB) of police Mashiur Rahman said, "I haven't officially received the order yet. Once I get it, I will choose a suitable time during office hours to send him to hospital."
Queried again later, he said, "I left the office at 10:30 or 11:00pm and nobody had given me a court order by then. Plus, they want to go to BSMMU, admission to which requires a reference which needs to be obtained during office hours. It is not like they requested to be sent to DMCH," he said.
However, Kazi Mainul Islam, officer-in-charge of Ramna Police Station, informed that he had sent the court order to the DB but did not disclose who he had sent it to.
In this regard, Deputy Attorney General Amit Talukder said, "The court order says that Shahidul has to be taken to hospital immediately upon receiving the order. I don't know if they received the order but I cannot make the police follow the order either."
When asked whether it was then illegal to keep Shahidul in custody, he said, "I don't know if this is legal or illegal because I don't know whether they have received the order."
Earlier, after the HC passed the order, the petitioner's counsel Dr Kamal Hossain told reporters: "We hope that his [Shahidul] remand will remain stayed as the High Court ordered that he be sent to hospital immediately."
Jyotirmoy Barua and Tanim Hussain Shawon, two other lawyers for the writ petitioner, told The Daily Star that Shahidul cannot be taken on remand for interrogation following the HC order.
Shahidul will be in hospital under police guard until a further HC order, Jyotirmoy said.
Home secretary, inspector general of police, head (deputy inspector general of police) of the detective branch of police, and officer-in-charge of Ramna Police Station will have to take steps to send Shahidul to BSMMU for his treatment and medical tests, Shawon told this newspaper.
During hearing on the petition, Kamal told the HC bench that Shahidul had been tortured after being detained, although the constitution prohibits such torture.     
According to the constitution, nobody can be subjected to torture, he said.
Article 35(5) says, "No person shall be subjected to torture or to cruel, inhuman, or degrading punishment or treatment."
He told the HC that Shahidul, an internationally renowned photographer, had been taken on remand and tortured without being given treatment and therefore Articles 27, 31, 33, 35 and 39 of the constitution had been violated.
Kamal also said Shahidul's statement about his torture was not recorded by the magistrate concerned.
The law enforcers did not provide any logical grounds for taking him on remand for interrogation after detaining him, he said.
Justice Syed Muhammad Dastagir Husain said it had been reported in the media that Shahidul could not walk after being blindfolded, taken away and tortured.
Barrister Sara Hossain, another lawyer for the petitioner, told the HC that she was present in the Dhaka court which had placed Shahidul on remand and she saw that he had sustained injuries to his nose.
Shahidul was picked barefooted and could not walk, she said, praying to the HC to pass an order for his quick treatment.
Opposing the writ petition, Deputy Attorney General Amit Talukder told the HC that there was specific allegation against Shahidul of making provocative statements against the government.  
Shahidul, 63, was picked up by plainclothes men on Sunday night from his Dhanmondi flat.
A Dhaka court on Monday placed him on a seven-day remand in a case filed on charges of spreading propaganda and false information against the government.
Rights bodies demand release of Shahidul
Rights bodies from different parts of the world and Bangladesh yesterday demanded immediate release of Shahidul Alam and an investigation into the allegations of his torture in custody.
New York-based global rights body, Human Rights Watch, urged the Bangladesh authorities to order an immediate investigation into reports that Alam was beaten while in custody.
It said Bangladesh authorities were "arresting students and targeting activists and journalists who are highlighting the abuses, instead of prosecuting those responsible for unlawfully attacking student protesters demanding road safety.
"The authorities should immediately release anyone, including Shahidul Alam, [whom] they have locked up for peaceful criticism. Instead, authorities should prosecute those, including members of the ruling party's youth supporters, who are attacking children with sticks and machetes," it said.
According to numerous witnesses, members of the ruling Awami League student and youth wings, the Bangladesh Chhatra League, and the Awami Jubo League, attacked agitating students with machetes and sticks, HRW claimed.
Meanwhile, National Human Rights Commission Chairman Kazi Reazul Hoque said, "Torture in custody is unexpected. The constitution, instructions of the High Court and customary laws must be followed during the interrogation of the persons arrested based on specific allegations," he said in a statement yesterday.
The commission has already sent a written recommendation to the home ministry to follow such instructions in the case of Shahidul, he said.
Brad Adams, HRW Asia division director, said, "It would be shameful if the Sheikh Hasina government is deploying party hoodlums to target students for demanding safe roads."
He said that Bangladeshi authorities must immediately halt the violence perpetrated by government supporters and respect the rights to freedom of expression and peaceful assembly.
South Asians for Human Rights (SAHR), a regional network of human rights defenders, also condemned the detention and torture of Shahidul Alam and urged the Bangladesh government to cease arbitrary detention and torture, as well as attacks on peaceful protestors.
"We demand that the Government of Bangladesh assure Alam's safety, allow a medical examination, and facilitate his quick release. We also demand a transparent and impartial inquiry into attacks on journalists and protestors and an investigation into the circumstances of Alam's detention and torture," it added.
ARTICLE 19, British human rights organisation, demanded unconditional and immediate release of Shahidul Alam and dropping of all charges against him.
Additionally, noted journalists from Nepal, including Kanak Mani Dixit and Kunda Dixit, also demanded immediate release of Shahidul, whom they consider a pioneering South Asian activist.
"We appeal to the Sheikh Hasina government to understand what Shahidul means to so many people in and outside Bangladesh," they said a statement.
Journalists in the South Asia are also issuing online petitions through Change.org and thepetitionsite.com, drawing global attention demanding release of Shahidul Alam.
Other organisations that demanded release of Alam include Bangladesh Samajtantrik Dal and Gonosanghati Andolon.