The last call
It was lunchtime on Thursday and Polly Begum's phone was ringing. It was her husband Atiqur Rahman.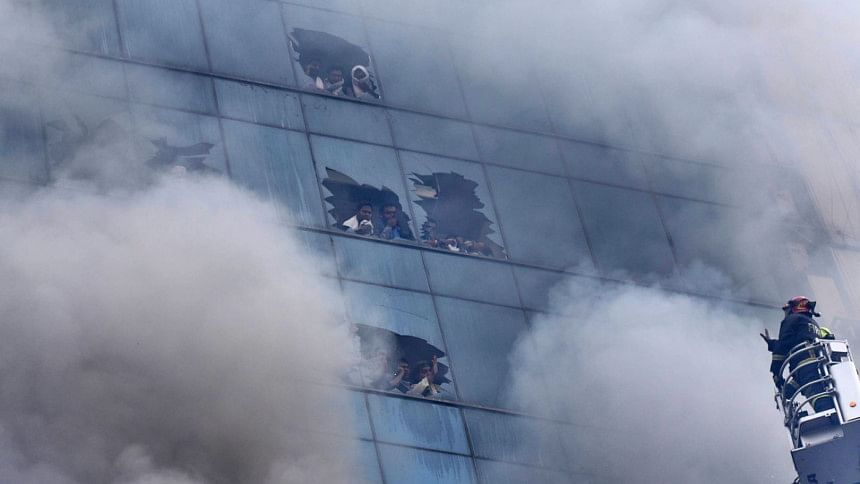 It was lunchtime on Thursday and Polly Begum's phone was ringing. It was her husband Atiqur Rahman.
Seeing her husband's number, she received the call, expecting a casual conversation as couples do.
But her husband's voice sounded different -- shaky with panic. Polly had no idea what was happening on the other end but sensed that something was not right. 
Her husband finally said these words: "I don't think I'll survive. Forgive me, if I have ever done anything to hurt you unknowingly."
Polly's world came to a standstill as her husband tried to describe the horrific situation he was in. He was surrounded by fire and thick smoke, and could not locate any exit to come out of the office on the 10th floor of FR Tower in Banani.
It was the last time she spoke to Atiqur. The call was abruptly cut off. She tried to call him several times but in vain.
Thursday's blaze in Banani took the life of Polly's husband who had been working at FR Tower for the last 15 years.
At 8pm, Polly received that call every family dreads -- informing her of her husband's death, and asking the family to take his body from Dhaka Medical College Morgue.
Polly and Atiqur have two children.
The 25 unfortunate souls who met their end in the fire included spouses, parents and friends.
Monzurul Hasan, who had to walk with the help of a cane, was stuck on the 21st floor. He was an accounts officer of Quasem Industries Ltd.
While other employees of the company managed to climb to the roof and jumped onto adjacent building to save their lives, he could not.
Sumon Karmakar, his colleague, said, "We were panicked; smoke was everywhere. We all ran for our lives. While we managed to climb out of the building, he unfortunately failed to keep up."
Sumon informed that Monzurul has a son and a daughter. His 19-year-old son recently joined the air force. The deceased's body was received by the family at 11pm on Thursday from United Hospital.
Monir Hossain Sardar, 52; Abdullah AL Mamun, 40; and Maksudur Rahman, 32, were colleagues at a travel agency called Heritage Air Express Ltd. They were on the 10th floor and met the same fate.
According to Monir's elder brother Moazzem Hossain, his brother was in Saudi Arabia for a long time and worked in a travel agency. He was a divorcee and came back to Bangladesh in 2008.  He is from Barishal.
"He was shifted to the Banani branch of the agency from Motijheel for one week on a special assignment, and Thursday was supposed to be his last workday at the branch. Who could have thought it would be his last day?'' Moazzem lamented.