10-day remand sought for owners of Wahed Mansion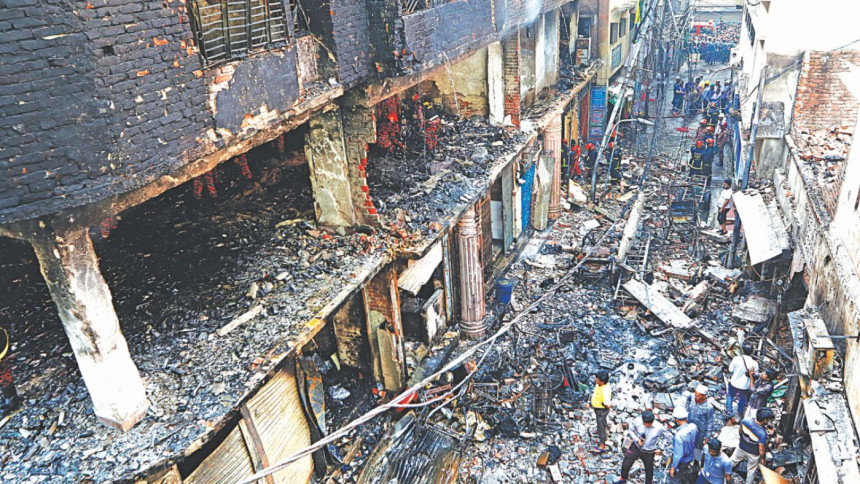 Chawkbazar police today sought a 10-day remand for quizzing two owners of the Wahed Mansion, the centre of deadly Chawkbazar fire, in a case filed over the deaths of 70 people.
Officer-in-Charge (investigation) of Chawkbazar Police Station Md Muradul Islam and also the investigation officer of the case submitted the remand prayer for quizzing-- Md Hasan and Sohel alias Shahid—who are the sons of Haji Abdul Wahed.
The duo was sent to jail on April 2 after their surrender before a Dhaka court seeking bail in the case.    
Additional Chief Metropolitan Magistrate Md Kaisarul Islam fixed April 8 for hearing on the remand prayer in presence of the accused. The court also directed the jail authorities to produce the duo before it on the scheduled date.
The fire that broke out at Chawkbazar in Old Dhaka on February 20 killed at least 70 people.
The old town blaze could have been even more devastating had the flames came into contact with the huge stockpile of chemicals in the basement of Haji Wahed Mansion.
Haji Abdul Wahed, a former commissioner of ward-64 of undivided Dhaka City Corporation, constructed the building 18 to 20 years ago, locals said.
Of his two sons, Hasan lives on the third floor of the four-storey building with his family. Two other tenants live on the floor, which also accommodates a storeroom of perfume and lotion.
Wahed's other son Sohel's family lives on the second floor. 
Following the incidents, Md Asif, son of Md Jummun, filed a case with Chawkbazar Police Station against the two accused of the deaths of 70 including his father in the fire.
His father Jummun was gossiping with his friend, the owner of Madina Decorator, situated on the ground floor of the Wahed Mansion, when the fire broke out.