Families of Chawkbazar fire victims form human chain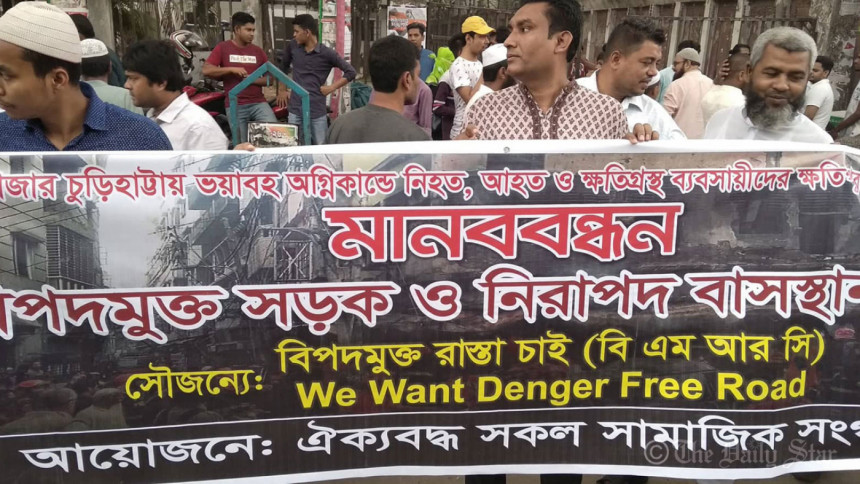 Family members of the victims of Chawkbazar fire formed a human chain in front of Jatiya Press Club in Dhaka today to press home their 11-point demand.
Under the banner "Danger Free Roads and Safe Abodes", they demonstrated for an hour starting from 10:00am.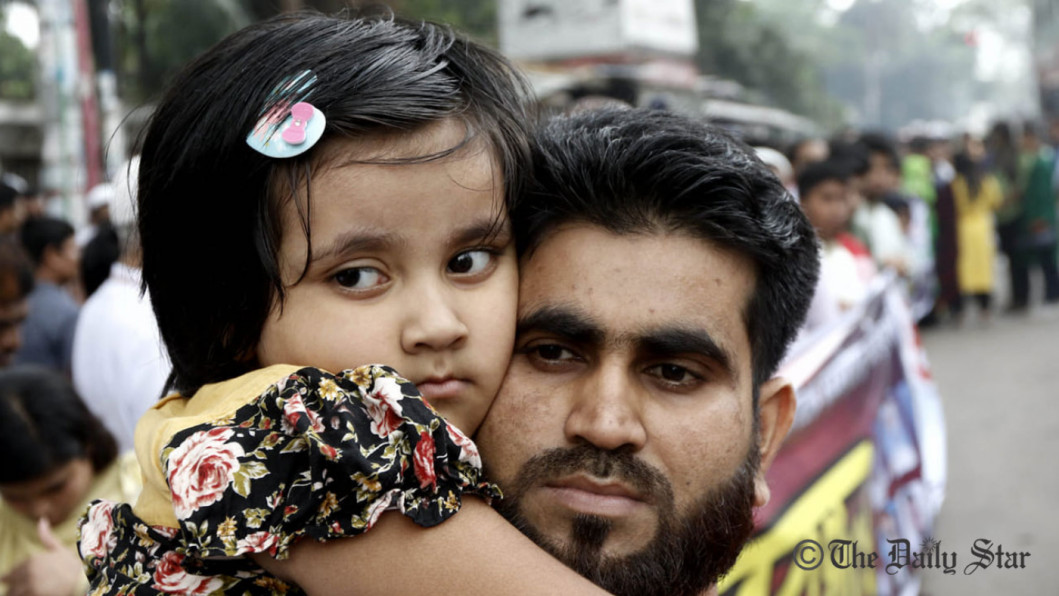 Their 11-point demands are:
- Each family of the victims must get sufficient financial assistance
- Government should bear the educational and medical expenses of the children of the victims
- One of the family members of the victims should be given a government job as per their qualification
- The injured people in the incident should be given free treatment and financial assistance
- The businessmen who suffered losses in the fire should be compensated adequately
- Gas cylinders should have proper expiry dates and use of expired cylinders must be banned
- Chemical and flammable objects should be stored in safe places
- Government should take initiative to train people who live or work in high rise buildings
- Loading and unloading of gas cylinders at random places must be stopped
- Buildings must be build following the rules and regulations of Rajuk
- Ensuring a safe and threat free environment for people.
WHAT HAPPENED AT CHAWKBAZAR?
A devastating fire broke out at Old Dhaka's Chawkbazar area around 10:40pm on February 20, claiming the lives of 70 people.
Autopsies found that all the victims were burned alive.
The victims are mostly pedestrians, people travelling on rickshaws and cars, residents of the buildings as well as owners and staffers of the shops and warehouses at the buildings on the spot.
The Chawkbazar fire, which sparked from a chemical warehouse, is the second deadliest chemical-fuelled fire incident in the country after the Nimtoli fire incident that had killed 124 people and injured many others on June 3, 2010.
Fire incidents at the city's burgeoning skyscrapers are nothing new. Cramped buildings, narrow alleyways, lack of fire security kits, inadequate fire exits in the skyscrapers are often considered a recipe for disasters.