Chawkbazar fire: 2 Wahed Mansion owners remanded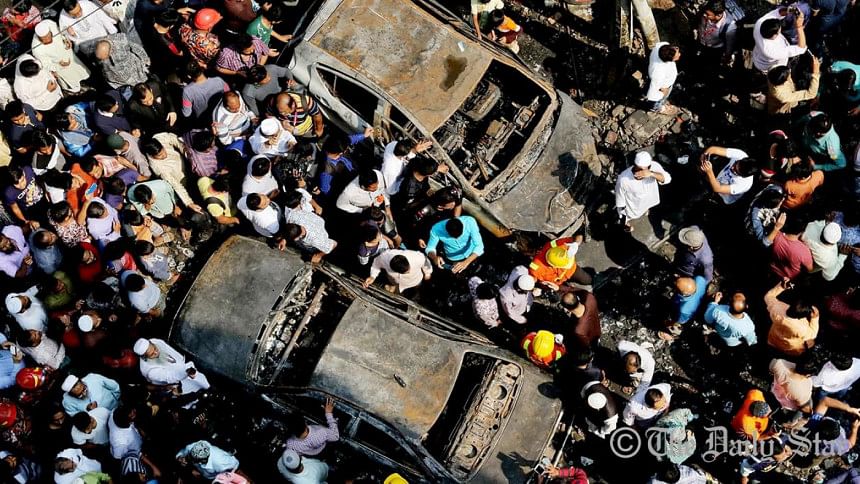 A Dhaka Court today placed the two owners of Wahed Mansion -- from where the deadly Chawkbazar fire originated -- on a seven-day remand each in a case filed over the deaths of 70 people.
Metropolitan Magistrate Rajesh Chowdhury passed the order after Md Muradul Islam, investigation officer of the case, produced the duo -- Md Hasan and Sohel alias Shahid, sons of Haji Abdul Wahed -- before the court seeking a remand order for 10 days.
Defence sought bail for the two accused and cancellation of the remand order.
The duo was sent to jail on April 2 after surrendering before a Dhaka court.
WHAT HAPPENED AT CHAWKBAZAR?
The devastating fire broke out at Old Dhaka's Chawkbazar area around 10:40pm on February 20, claiming the lives of 70 people.
Autopsies found that all the victims were burned alive.
The victims are mostly pedestrians, people travelling on rickshaws and cars, residents of the buildings as well as owners and staffers of the shops and warehouses at the buildings on the spot.
The Chawkbazar fire, which sparked from a chemical warehouse, is the second deadliest chemical-fuelled fire incident in the country after the Nimtoli fire incident that had killed 124 people and injured many others on June 3, 2010.
Fire incidents at the city's burgeoning skyscrapers are nothing new. Cramped buildings, narrow alleyways, lack of fire security kits, inadequate fire exits in the skyscrapers are often considered a recipe for disasters.