Live updates: Smoke still coming out of Annexco Tower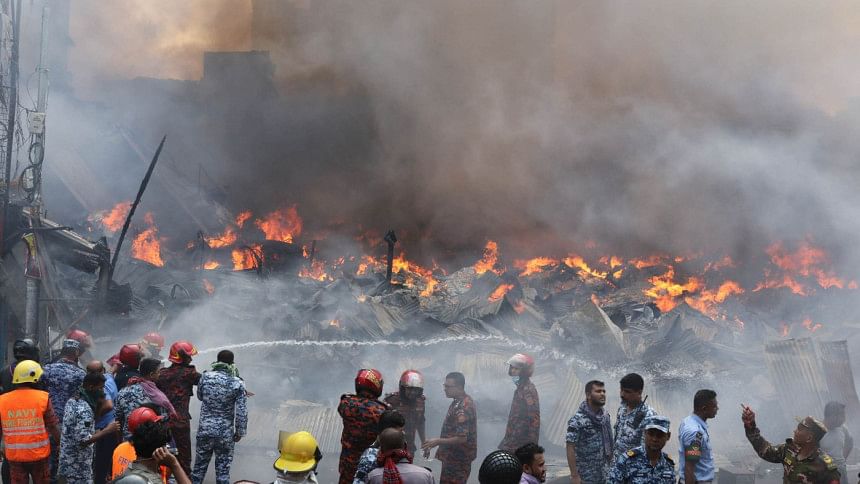 The massive fire that ripped through the Bangabazar Shopping Complex this morning at the capital's iconic clothing market was brought under control at 12:36pm. The fire burnt for more than six hours, burning the market to ashes.
5:40pm - Smoke was seen coming out of the nearby Annexco Tower more than four hours after the fire at Bangabazar Shopping Complex was brought under control.
Our staff reporter, who was at the spot, reported that the fire was still burning. 
Firefighters have been working tirelessly to put out the fire. The traders were seen relocating their valuables from the market to safety.
Despite the ongoing operation, thousands of onlookers have crowded the scene, making it difficult for firefighters to carry out their work effectively.
12:45pm: Lima Khanam, duty officer of Fire Service and Civil Defence, told The Daily Star that the fire was brought under control at 12:36pm. The fire had broken out at 6:10am. 
11:30am - Our correspondent reports from the spot that the entire shopping complex was burnt to ashes.
"There is nothing remaining of the market," said Dipan Nandy, our staff correspondent.
10:45am - At least four firefighters were injured after a mob attacked the Fire Service and Civil Defence Headquarters, which is located close to the Bangabazar Shopping Complex, where a fire continues to rage five hours after breaking out.
Two were rushed to Dhaka Medical College Hospital. Fire officials said the mob attacked because of the delay in dousing the fire.
10:00am - The fire that started in one section of the Bangabazar Shopping Complex started spreading to nearby markets.
"Fire has spread to at least six markets," said BM Habib, office secretary of Bangabazar Shopping Complex Shop Owners Association.
Witnesses said the fire also spread to fire the nearby Annex Tower and Islamica Market.
6:10am - Fire breaks out at the iconic Bangabazar Shopping Complex. Soon, a total of 48 firefighting units started fighting to put out the blaze.