Bangabazar fire: Livelihoods burnt to ashes before Eid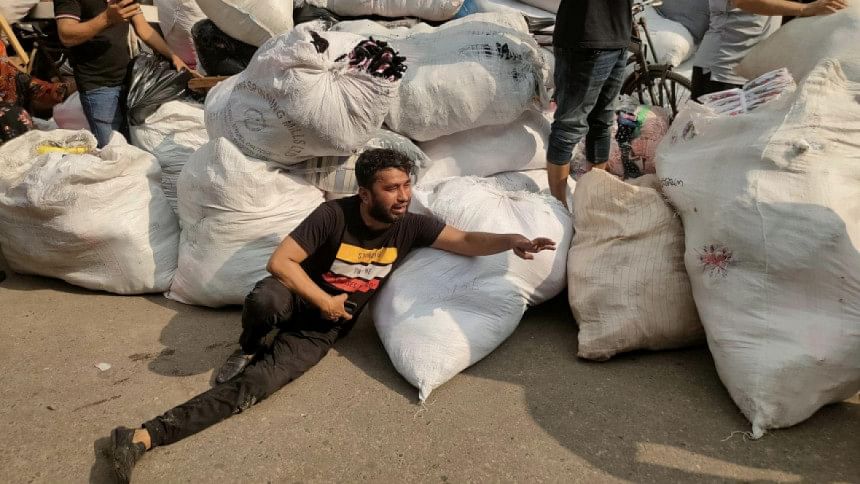 Just two years ago, Md Ibrahim spent Tk 40 lakh to open a shop in Bangabazar in the hopes of a thriving business in the capital's iconic clothing market.
This year, he bought a new collection for Eid and his shop had goods worth more than Tk 20 lakh.
But all of that was burnt to ashes as a fire ripped through the market this morning.
"All is lost now," a sobbing Ibrahim, owner of Eva Fashion, told The Daily Star.
He is one of many to have lost all of their investments in the catastrophic fire. Businessmen said the fire burnt several hundred shops to ashes.
"I have turned into a beggar … How will I maintain my family?" said another shop owner.
Sirajul Islam, another shopkeeper, rushed to the market, hearing news of the fire.
"I have clothes worth Tk 20 lakh in my shop. I could manage to take out almost half of the product but those were destroyed and rendered unsellable due to the water [from the firefighters' hoses]," he said.
Another businessman Rakib said he could not take out a single piece of clothing from his shop.
The fire, which occurred just over two weeks before Eid, has destroyed most of the valuable goods in these stores.
Many people from nearby markets were also seen taking their belongings out of the area, with everyone occupying the street with their possessions.
One of the affected businessmen, Didar Hossain, expressed his heartbreak, saying, "I had a shop with new clothes worth Tk 10 lakh for Eid. Everything has turned to ashes."
Another businessman, Awlad Hossain, said, "We have nothing left. The fire has shattered all our hopes."