Not waste anymore: Maiden shipment of solid tannery soon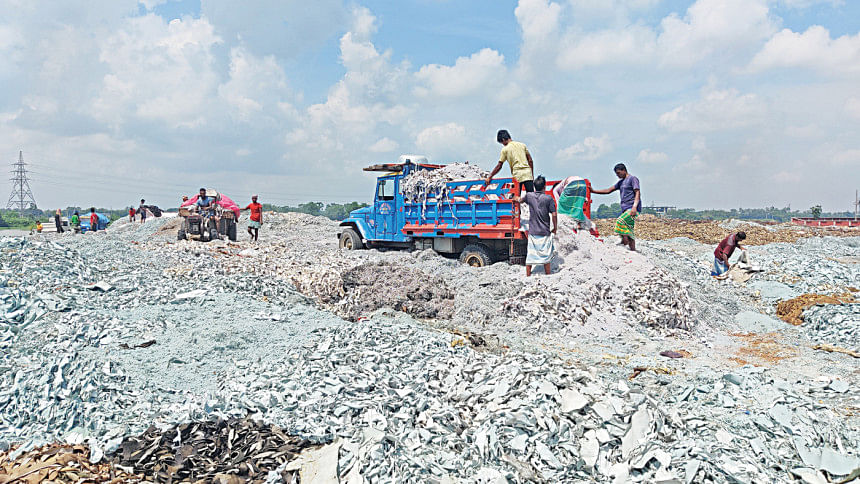 A local company is set to export solid waste generated at the Savar Tannery Industrial Estate (STIE), a move that could show the way for curbing the dumping of polluting materials in open yards and cutting the scope for environmental pollution.
If goes ahead as per plan, it would be the first solid tannery waste shipment from Bangladesh.
Anjuman Trading Corporation Ltd has received permission from the commerce ministry to export 200 tonnes of solid waste and would ship 20 tonnes by the end of this month or early next month, said its managing director Shaheen Ahamed.
The first consignment would be sent to a Cambodian company, and the export will bring $300 per tonne.
The Cambodian company is expected to buy 200 tonnes of solid tannery waste per month from Bangladesh.
Products such as animal feed, biogas, gelatin, glue, compost fertiliser, and leather fibre boards can be produced from solid tannery wastes.
Members of the Bangladesh Tanners Association (BTA) are in talks with some other companies in Vietnam and Indonesia to export tannery waste. Several local firms interested in shipping solid waste have recently applied to the commerce ministry.
About 64,000 tonnes of solid tannery waste is generated annually at the STIE. The amount is increasing day by day.
Mizanur Rahman, vice-president of the BTA and executive director of Samata Leather Complex Ltd, said that commercial gains can be made from the export of solid waste.
"Environmental pollution will also be prevented," he said, adding that the export would provide a solution to the solid waste management problem.
Some 154 tanneries have relocated their factories from the capital's Hazaribagh to the estate, which started its operations in 2017 following a project's inception in 2003.
The project cost was Tk 1,079 crore.
BTA General Secretary Shakawat Ullah said, "Every waste of leather is recycled. Hopefully, we will continue our business with the Cambodian company because we can supply them as per their demand."
Satyendra Nath Paul, chief engineer of the Dhaka Tannery Industrial Estate Waste Treatment Plant Company, said: "It is good news that solid waste export opportunities have been created. All kinds of cooperation will be provided to the BTA from our side."
Bangladesh will have to rely on exports to get rid of the solid waste being generated at the STIE since it does not have any facility to recycle them. This has forced tanneries to throw them in the open yard located on the bank of the Dhaleshwari, threatening to cause environmental pollution and pollute the river.
The STIE's central effluent treatment plant can treat liquid waste. About 25,000 tonnes of liquid waste are generated annually there.
Local residents praised the development since the establishment of the estate has created various problems.
"If the export market is big, it would be good for us since our environment will not be polluted," said one resident.
Sharif Jamil, general secretary of the Bangladesh Poribesh Andolon, a platform of environmentalists, also welcomed the export move. 
He, however, added: "It would have been better if solid wastes could be recycled locally and various products could be made from them."
The environmentalist said how solid waste management would be done should have been in the plan of the STIE project.
"But unfortunately, it wasn't there. As a result, solid wastes are left under the open sky that pollute air."
An Italian company, Ilsa SPA, had proposed to manage the solid waste so that it could recycle it into biogas and fertilisers, under a joint venture with a local company.
Under the plan, a solid waste management factory was supposed to be built in Gazipur. But the proposal did not see the light of the day as it was not in line with the expectations of the Bangladesh Small and Cottage Industries Corporation, which owns the STIE, said a top official earlier. 
In most countries, solid waste management operations are typically a local responsibility, and nearly 70 per cent of countries have established institutions with responsibility for policy development and regulatory oversight in the waste sector, according to the World Bank.
Shaheen Ahamed, however, said: "If you want to recycle solid wastes and make products from them in Bangladesh, you will have to come up with a million-dollar project."
"Since we have not been able to attract a foreign investor for this type of project, we could not set up any factory to manufacture products from solid waste."
"But if some money is earned by exporting solid waste, that is good," he told The Daily Star.
The global solid waste management market size was $285 billion in 2019 and is projected to reach $366 billion by 2027, said Fortune Business Insights, an Indian market research firm.