9 killed in India cops firing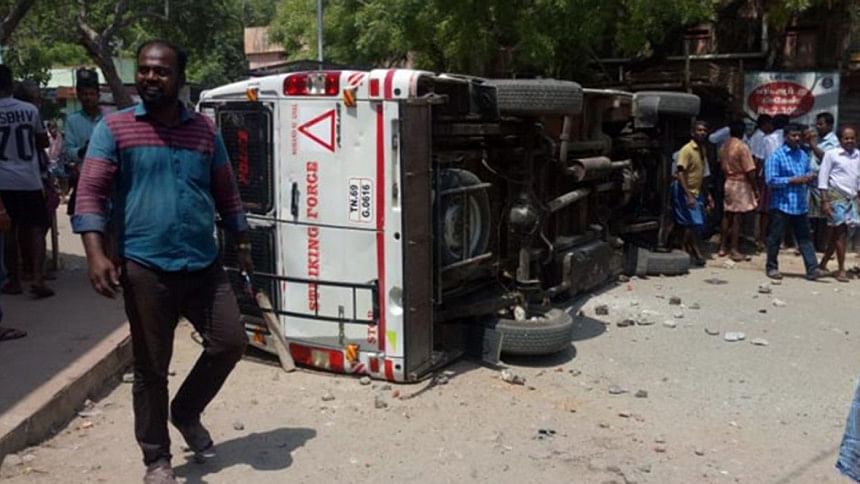 Nine people were killed when police opened fire on protesters demanding the closure of a copper smelting plant over environmental pollution concern in a port city in the southern Indian state of Tamil Nadu today.
Tamil Nadu Chief Minister K Palaniswami said nine people were killed in "police action" against protesters opposing the plant in the port city of Tuticorin, and announced a judicial inquiry into the violence.
Nearly 5,000 people demanding the closure of the Vedanta group-owned plant today went on the rampage clashing with police and setting vehicles and public property on fire.
Detailing the incident, Palaniswami said the protesters took out a procession towards the collectorate defying prohibitory orders in the area.
They not only pelted policemen with stones but also set on fire their vehicles as well as those parked in the Collectorate. They hurled stones at the Collector's office, he said in a statement.
"The police had to take action under unavoidable circumstances to protect public life and property as the protesters resorted to repeated violence... police had to control the violence," Palaniswami said.
The Chief Minister said he has ordered the constitution of a one-man commission under a retired high court judge to go into the incident.
Local residents have been protesting for more than three months against the copper smelting plant and its reported expansion but complained that the state government had not responded to their demands.
The protests were stepped up in the wake of reports the business group was seeking a licence for expansion as the initial 25-year licence comes to an end.