BASIS expo stood out for new tech, youths' optimism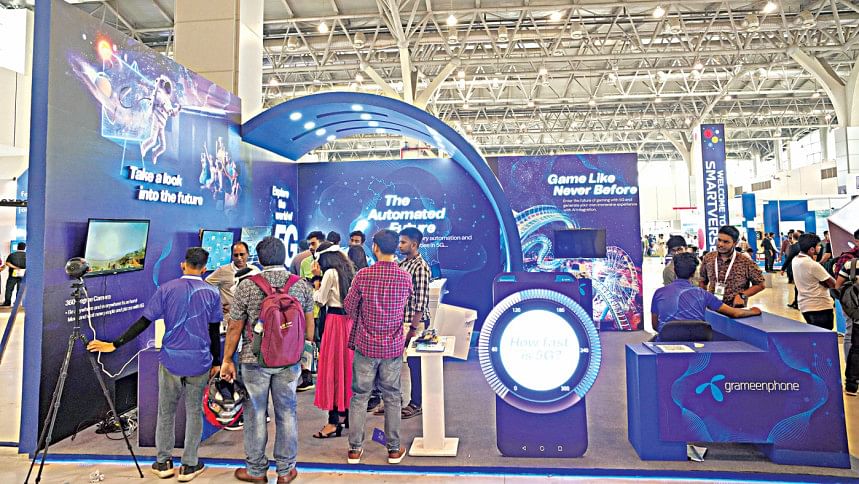 Some youths were experiencing immersive and interactive environments of augmented and virtual reality with headsets, some were amazed to see a simulation that a robot can rescue the people trapped in a collapsed building, while others were competing with each other in virtual tournaments.
This is how the four-day BASIS SoftExpo, which ended yesterday on a high note, enchanted thousands of visitors, especially the youth, with latest technologies and innovations.
Fervour among the visitors was so high that many events organised as part of the annual show couldn't provide opportunities to all of those who wanted to be part of the programmes, making it the country's largest tech fair.
The Bangladesh Association of Software and Information Services (BASIS) organised it at the Bangabandhu Bangladesh China Friendship Exhibition Centre at Purbachal in Dhaka.
"I have never thought that there are so many IT companies in the country. I am really impressed coming here," Sajid Rahman, a student of a private university, told The Daily Star.
"I couldn't be happier since the audience number surpassed our expectation," said Russell T Ahmed, president of the BASIS
"I am learning about software engineering as I want to be a developer. Seeing so many software companies at the fair, I am inspired."
Not only software products and services, exhibitors also displayed their capabilities in automation technologies, showcased 5G-enabled devices such as smartphones and laptops, Internet of Things and artificial intelligence-powered products and services, including chatbots and voice assistants.
More than 200 stalls were set up at the venue where local companies displayed their ICT capabilities.
For example, students of Brac University were displaying rescue robot and drone at a stall.
In situations like earthquakes, the cave-in of buildings or fire incidents, the drone will quickly fly to the affected areas and a 3D map demonstrating the condition of the people in danger will be sent to the rescue robot.
The robot will go there and rescue the trapped individuals weighing less than 50 kilogrammes, according to the students who were present at the stall.
At the Grameenphone's stall, visitors got the idea on what is possible with 5G in the fields of medicine, agriculture, infrastructure, and entertainment through immersive VR experience, robotic arm, 360-degree camera with real-time remote viewing and speed-test.
Visitors also enjoyed gaming with VR headsets, concerts and tech shows, all powered through the 5G network of the country's largest mobile phone operator.
"5G is a game-changer in communication technology. And the increased performance and efficiency are meant to connect new industries as the way forward to Smart Bangladesh," said Yasir Azman, chief executive officer at Grameenphone.
"The expo is proving to be substantial in terms of attracting more people, especially the younger generation, to understand what possibilities the future holds for us and how to align ourselves with such transformation through better digital literacy."
Global telecom infrastructure company Huawei exhibited software and solutions, facilitating learning for other telecom ecosystem players about modern technologies and implementing them for better service delivery.
Ma Liang, chief technology officer of ZTE Bangladesh, visited the fair on Saturday and delivered a speech at a seminar on 5G and loT opportunities for Bangladesh's telecom and software industry.
"For 5G, technological innovation has continuously broken the ceiling, achieved more possibilities, and even prepared for unknown demands in the future," he added.
In the last four days, a huge crowd was seen at the tent of the Esports championship, a form of competitive video gaming where players competed against each other in organised tournaments or matches.
Shadman Sakib Sorbo, the founder of Deimos Force, an eSports firm, said the BASIS SoftExpo was a great opportunity for startups to showcase their innovations and ideas. It provided a platform for the country's burgeoning esports segment as well.
"The inclusion of an esports competition is a testament to the growing interest in competitive gaming in Bangladesh and it's exciting to see the local gaming community thrive."
"Overall, the expo is a fantastic initiative that highlights the potential of Bangladesh's tech industry and the entrepreneurial spirit of its people."
The conferences of developers, freelancers and startups attracted crowds as well.
"I couldn't be happier since the audience number surpassed our expectation," Russell T Ahmed, president of the BASIS, told The Daily Star.
"Our target audiences were business visitors and youth. Attendance in both categories was tremendous."
He said the participating companies were also happy as they got expected responses through business-to-business and business-to-client matchmaking.