Budget: Prices up, prices down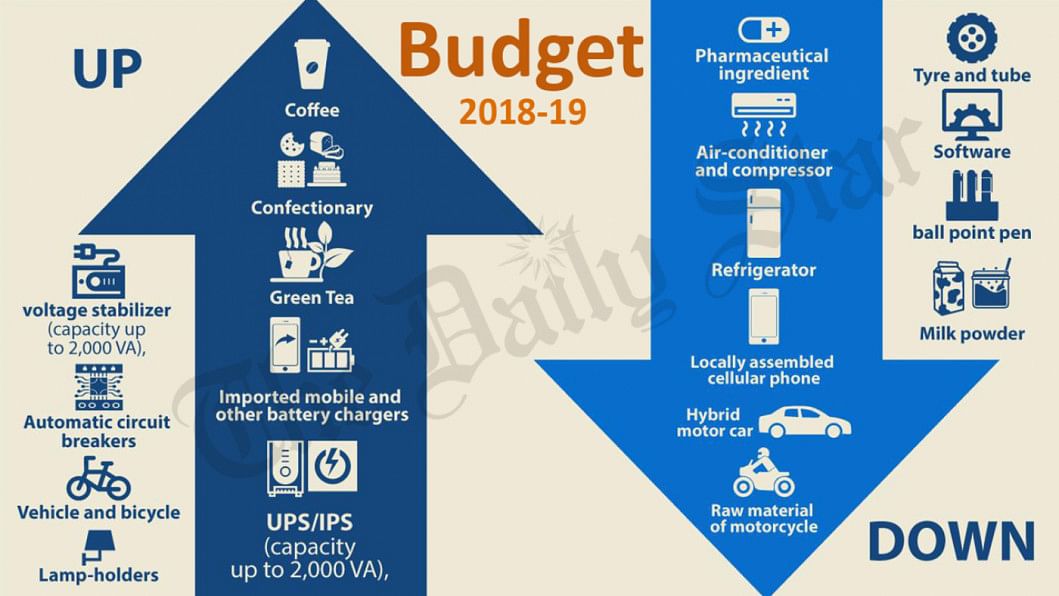 Finance Minister AMA Muhith today proposed changes to duties on different products, which will result in increase and decrease in their prices.
So far, we have got the following items and this list will be updated.
UP
Coffee, Green Tea, sugar confectionary, imported mobile and other battery charger, UPS/IPS (capacity up to 2,000 VA), voltage stabiliser (capacity up to 2,000 VA), automatic circuit breakers, lamp-holders, used/old vehicle and bicycle.
E-commerce, online shopping, energy drinks, cosmetics and beauty product items like lipstick, nail polish, body lotion, toiletries, perfumes (except attar), body sprays and similar items, cigarette and bidi, bathtubs, jacuzzi and shower trays, polythene and plastic bags, small size flat, furniture, garment products. 
Down
Raw material of active pharmaceutical ingredient, refrigerator, air-conditioner and compressor, locally assembled cellular phone, hybrid motor car, raw material of motorcycle, tyre and tube, software, ball point pen, filled milk powder, school bus, medium sized flat, loaf, bread, buns, handmade biscuits and handmade cakes up to Tk 100 per kg, Erythropoietin, medical treatment required for cancer and kidney diseases, sandals and slippers.