Muhith unveils Tk 4,64,573cr budget for FY19 setting 7.8pc growth target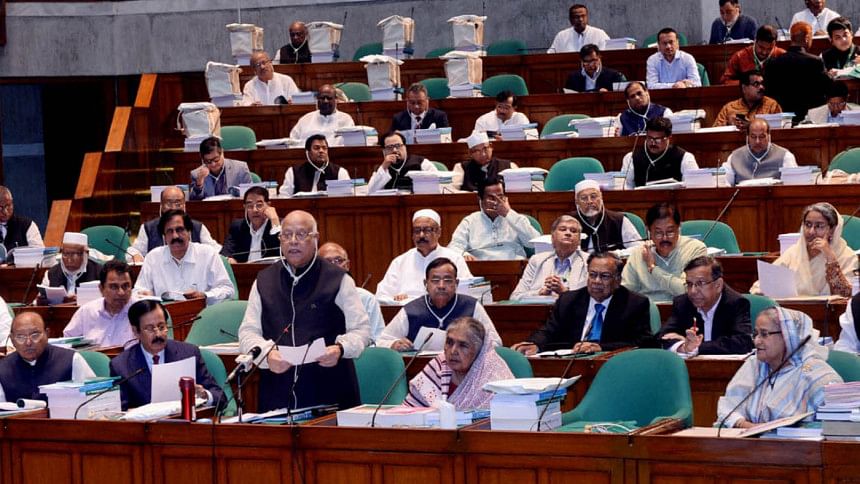 Finance Minister Abul Maal Abdul Muhith today rolled out a Tk 4,64,573 crore national budget for fiscal year 2018-19 setting the GDP growth target at 7.8 percent and outlining a set of plans-strategies to build a prosperous, happy and peaceful country.
"Our main objective of budget preparation is to alleviate poverty, reduce inequalities and bring basic and qualitative changes in people's living standard. Regional parity, human resources development, infrastructure development as well as assuring quality of expenditure are focused in allocation of resources," said the finance minister while placing the proposed budget for FY19 styled 'Bangladesh on a Pathway to Prosperity' at the Jatiya Sangsad (JS).
The size of budget for FY19 is Tk 64,307 crore or 16.07 percent higher than the original budget size of Tk 4,00,266 crore of the outgoing fiscal year (FY18).
According to the 166-page budget speech for FY19 that lasted for nearly 3.10 hours, Tk 2,91,573 crore has been allocation for non-development and other expenditures while the development expenditure has been estimated at Tk 1,73,000 crore.
Besides, Tk 7,869.17 crore has been allocated for projects to be implemented through self-finance of autonomous bodies.
As a result, the total size of the ADP will stand at Tk 1,80,869.17 crore. Out of the overall ADP allocation, Tk 1,19,810.95 crore will come from the local sources while Tk 61,058.22 crore from foreign ones.
The original ADP outlay for the FY19 is 16.59 percent or Tk 24,619 crore higher than that of the revised allocation for the current fiscal year of FY18.
The target for GDP growth has been set at 7.8 percent in the next fiscal while the target for containing inflation in the next fiscal year has been set at 5.6 percent.
The overall budget deficit will be Tk 1,25,293 crore which is 4.9 per cent of GDP. Of the amount, Tk 54,067 crore will be financed from external sources while an amount of Tk 71,226 crore will be financed from domestic sources. Of the domestic sources, Tk 42,029 crore will be borrowed from the banking system while Tk 29,197 crore from National Savings Schemes and other non-bank sources.
"I believe that if we can use the huge external resources in the pipeline, we will be able to largely reduce our dependence on domestic sources and we shall, therefore, persistently make efforts to scale up the use of foreign assistance," said the finance minister.