Utility Services
No coordination among providers
Banani gas explosion shows how people suffer because of it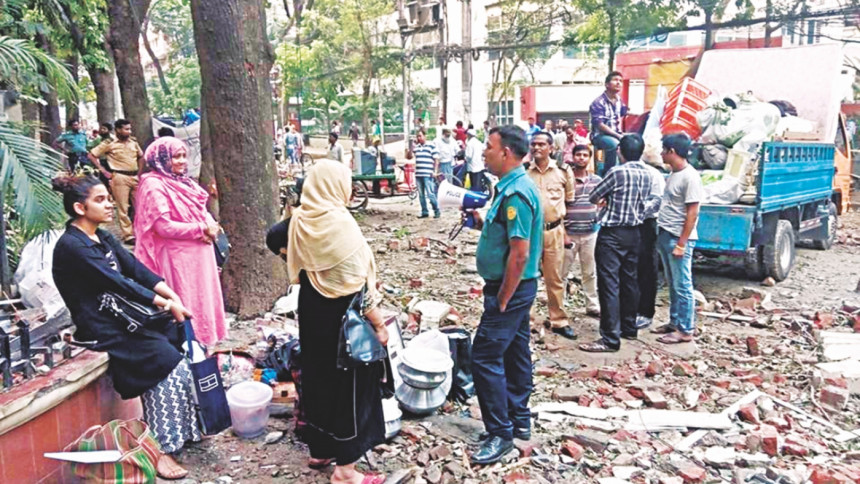 Lack of coordination between utility service providers, coupled with inadequate precautionary measures during the digging of roads for the installation of pipelines and their maintenance, increases the risk of accidents, say urban planning experts.
The issue has drawn attention after Friday's fire at a six-storey building in the capital's Banani, injuring 10 people. Residents of the building and the fire service men who put out the blaze said the fire had resulted from a gas pipe leak.
In many cases, it is seen that while digging, the utilities cut open emergency lines like gas pipelines and electricity lines. But they avoid taking responsibility for the problems, nor do they bother to undo the damage, experts say.  
The residents of the Banani building put the blame on the Titas Gas authorities, as they did not take immediate steps to repair the leaked pipe despite complaints from a contractor of Dhaka North City Corporation (DNCC) and the building's inhabitants.
Urban planning experts suggested bringing all the 54 government organisations responsible for utility services and the city's management under one umbrella for better coordination between them.
If all these are brought under two Dhaka city corporations, the chances of accidents will be reduced by 80 to 90 percent, said architect Mubasshar Hussain, vice-president of Bangladesh Paribesh Andolon (Bapa).
In most of the cities around the world, mayors have authority over service organisations, said Mubasshar, also former president of the Institute of Architects Bangladesh. But the mayors of Dhaka do not have power over vital organisations like Dhaka Water Supply and Sewerage Authority (Wasa), Titas, Dhaka Power Distribution Company Ltd (DPDC) and Rajdhani Unnayan Kartripakkha (Rajuk).
The DNCC was digging at a spot close to the Banani building without any coordination between Titas Gas and it. Titas Gas does not even have layouts of age-old pipelines and so it lacks data about their present status, Mubasshar said. 
Utility service providers should take safety measures before digging, he said, adding that there would otherwise be chances of damaging emergency pipelines.
He also suggested turning off both front and back keys of gas burners and keeping windows of kitchens open even at night.
During the construction of a building, kitchens should be built against the exterior wall so that leaked gas can easily pass out, Mubasshar said, suggesting that pipelines in a building should be installed in a way that all of them can be disconnected with a key when an accident occurs.  
Architect Iqbal Habib, joint secretary of Bapa, said mayors would have to take steps to ensure better coordination between utility service providers.
Everyone from citizens to those organisations should obey rules to avoid this kind of accident, he added.
While Titas is responsible for examining gas connections on a regular basis, the building owners should take necessary steps to ensure safety of the residents, Iqbal said.
DNCC Mayor Annisul Huq told The Daily Star that the city corporation had held meetings with Rajuk and Wasa following the incident and that it had plans to sit with them and other utility service providers in every three months to ensure better coordination.
About the gas explosion at Banani, he said there was negligence on the side of Titas. DNCC contractor filed a written complaint with it in the morning of March 17 but there was no response.
The DNCC has already asked the authorities concerned to take actions against those responsible for the incident, Annisul added.
An official of Titas said a radio operator at the emergency section, Md Alamgir Hossain, had been suspended for negligence of duty.
A five-member probe committee has been formed to submit a report within seven working days and to take action against other officials, if found guilty, he said.
RESIDENTS MOVE THEIR GOODS
Residents of the damaged building were allowed to take away their valuables from the premises yesterday.
They, however, failed to carry heavy furniture out as the main gate was damaged severely.
Shohidul Islam, manager of Asset Developer, the firm that constructed the building, said all 20 flats had been affected by the fire.
Police will look after the building after inhabitants leave the premises, he added.
Naved Imtiaz, son of building owner Shamshul Alam, who suffered 13 percent burns, was shifted to City Hospital from United Hospital Friday night, said Nayer Rahman, a resident of the building.
Meanwhile, Titas in a press release issued yesterday said a team would be present during the ongoing work on roads, drains and footpaths by the DNCC at Banani and Gulshan to ensure safety of the residents.
People are requested to lodge complaints with the team if they find any symptom of gas leaks during the work. The numbers are 01823-632303, 01715-411593 and 01711352877.