India train disaster toll rises amid anger over safety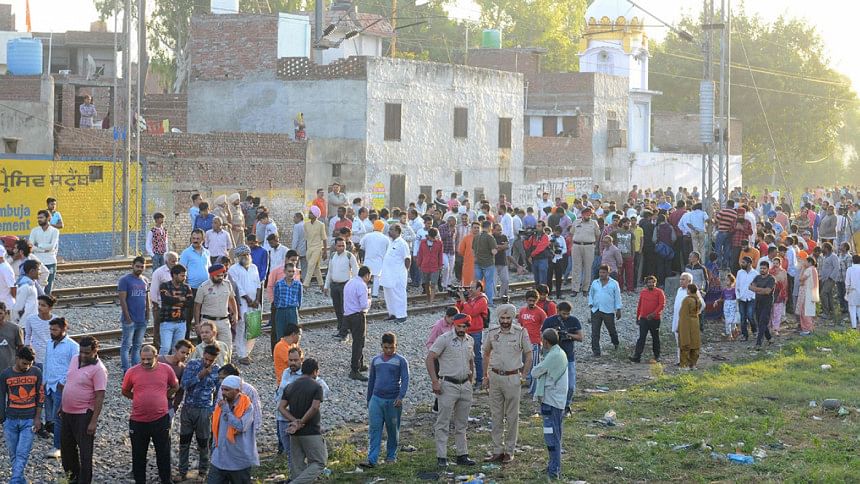 Around 60 people are now known to have died when a train ploughed into a crowd of revellers watching a firework display in India, officials said today.
Dozens more were hurt in the accident, some of them seriously, and overwhelmed local hospitals ran out of space for the dead, forcing them to leave some bodies outside.
The disaster, near Amritsar in the north of the country yesterday, led to new demands for safety reforms to India's accident-plagued railway system, which records thousands of deaths each year.
Reports said the train hit scores of people who had gathered on tracks to watch the burning of a firework-packed effigy of the demon king Ravana for a Hindu festival.
Police said victims did not hear the Jalandhar-Amritsar express arriving because the noise was drowned out by firecrackers.
Another train had narrowly missed the crowds two minutes earlier, officials said.
Many bodies were badly dismembered and police said identification of the victims could take several days, officials said.
Amritsar's main hospital did not have enough space in its morgue, and some corpses were laid outside.
Hardeep Singh, chief medical officer for Amritsar, told AFP 59 deaths had been confirmed and 90 people had been injured.
Singh said only 25 bodies had been identified so far.
Media reports said there were 61 dead.
The funerals of some victims were held Saturday and the accident brought widespread demands for tough action by authorities.
Punjab state governor VP Singh Badnore said: "Those who need to be punished will be punished and accountability will be fixed."
A 2012 government report described the loss of 15,000 passengers to rail accidents every year in India as a "massacre". The government has pledged $137 billion over five years to modernise the crumbling network.
Indian Railway minister Piyush Goyal returned early from a trip to the United States to go to Amritsar today. Punjab chief minister Amarinder Singh called off a trip to Israel to go to the disaster scene.