Exposed to fatal cylinder blasts
Peoples' lives at high risk as thousands of vehicles use faulty, substandard CNG cylinders, mostly without re-test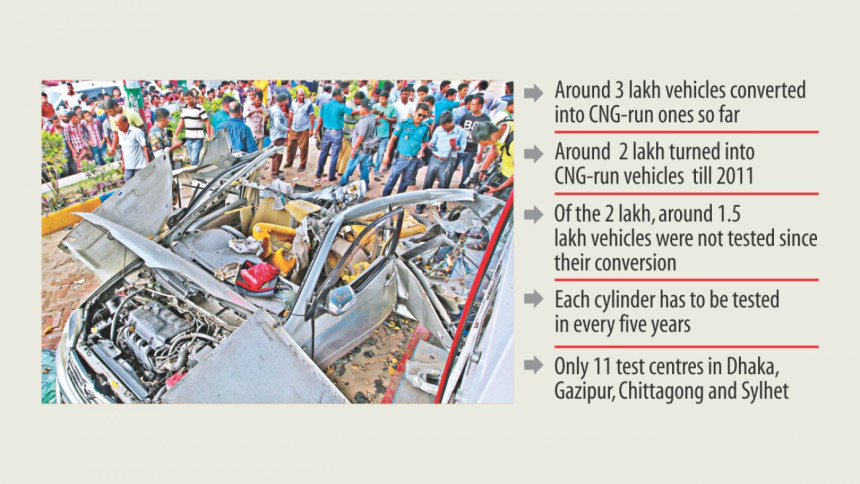 Passengers of a huge number of CNG-run vehicles are exposed to high risks of accidents in the absence of timely fitness verification of the gas cylinders. Further, many of these cylinders are counterfeit and therefore pose even greater threats.
According to international guidelines and a 2002 government circular, gas cylinders must undergo fitness tests every five years. But cylinders of some 1.5 lakh vehicles in the country have not been tested since their conversion into CNG years ago, officials said. 
On the other hand, many unauthorised conversion centres fit vehicles with counterfeit cylinders and even those not designed to contain compressed natural gas (CNG). 
In the absence of a specific law for mandatory periodic test, many vehicle owners are reluctant to have their cylinders examined. Others seem blissfully unaware of the risk of using sub-standard or fake cylinders.
Two recent accidents testify to the damage they can do. The accidents happened, within a week, as a result of using counterfeit and defective gas cylinders, initial government investigations found. 
Two people were killed and several others injured on Thursday as a gas cylinder of a private car exploded when the car was being refilled in Nabinagar. Earlier on Monday, a CNG cylinder explosion at a gas pump in Chittagong hurt two people and ripped apart a car beyond recognition.
In October last year, at least 15 passengers of a bus were injured when the vehicle caught fire after the explosion of its CNG cylinder on Dhaka-Aricha highway in Savar. In September 2014, six people died after suffering severe burns in an explosion of a bus cylinder in Manikganj.
In Bangladesh, the use of CNG as automobile fuel started in the mid-1980s and became popular after 2001. Now there are around 3 lakh vehicles -- bus, truck, private car and, of course, autorickshaw -- that were converted into CNG-run from authorised conversation centres. Hundreds of thousands more are believed to have been converted from unauthorised workshops.
Shamsul Alam, chief inspector of the Department of Explosives, the licencing authority of the test centres, said some 2 lakh vehicles were converted into CNG-run vehicles until 2011.
For safety, gas cylinders should be tested every five years. But only 50,000 cylinders have so far been tested, he said.
"That means some 1.5 lakh vehicles are exposed to risk. The older they get, the greater risk the pose," he noted.
Across the country, there are 11 authorised test centres that submit the test reports to his Department every month. Vehicles converted after 2011 do not require the test until the end of this year.
Sources said though the 11 centres are licenced to do the test, only seven to eight are in operation.
Shamsul said that around four years ago, they sent a proposal to the then communications ministry (now road transport and bridges ministry) that vehicle owners submit the cylinder-test report or the conversion report to the Bangladesh Road Transport Authority (BRTA) along with their vehicles' fitness certificates.
But the proposal was not accepted as the number of test centres was insufficient, he said, adding that as the issue was not incorporated in the law, car owners were having their cylinders examined at will or were using expired cylinders. "You cannot take action against them as there is no specific law."
Meanwhile, as the handful of testing centres in Dhaka remain swamped with work, vehicle owners have to wait for days to have their cylinders examined, said Mamun Hosen, a CNG-run vehicle owner. 
"The testing seems quite a hassle for me. Not only does the test require three to four days, I have to take the heavy cylinder to the centre, leave it there and then get it back after a few days," he said.
Many also do not know that their cylinders need to be tested every five years.
Mohammad Ali Biswas, general manager (CNG) of Rupantarita Prakritik Gas Company Limited (RPGCL), the licencing authority of the CNG conversion centers, told The Daily Star that they sent a proposal, like that by the Department of Explosives, to the road transport and bridges ministry twice.
But the ministry did not accept it citing a lack of test centres. "But accidents will not wait because we don't have enough test centres," he added.
An automobile mechanic and garage owner Sentu Mollah said unauthorised conversion centres were sprouting across the capital as the demand for CNG conversion was rising.
"These conversion shops charge much less than the big, reputed workshops. But vehicle owners should be very careful while buying CNG equipment, especially cylinders, from these shops," he said.
The dates of manufacture and expiry and signs of rust and welding are some of the things to watch out, he said, adding that many cylinders were not specifically designed to contain CNG.
For conversion of private cars, authorised centres charge between Tk 65,000 and 75,000 a piece. The amount is between Tk 40,000 and 45,000 at unauthorised centres.
Manoranjan Bhakta, vice-president of Bangladesh CNG Filling Station and Conversion Owners Association, admitted that counterfeit cylinders, used by unauthorised conversion centres, were "very risky".
He said they had long been demanding the authorities concerned to take action against them in vain.
Both Shamsul and Mohammad Ali said the BRTA had a role to play in this regard.
But Md Nurul Islam, director (Engineering) of BRTA, said they issued fitness certificates of vehicles in line with the Motor Vehicle Ordinance 1983 and Motor Vehicle Rule 1984.
"Since CNG-run vehicles were not around when the Ordinance and the Rule were formulated, these have no mention of CNG," he said, adding that, they could not deal the issues related to CNG.
But talks to amend the law are underway, he said.
Nurul said the RPGCL was responsible for dealing with matters concerning CNG.
However, Mohammad Ali of RPGCL said they were empowered only to give licence to CNG conversation centres and filling stations and to oversee whether these stations and centres were following the government guidelines.
Under its scope of work, the RPGCL had nothing to do with cylinder tests or unauthorised centres, he added.