Hasina to meet Modi, Mamata today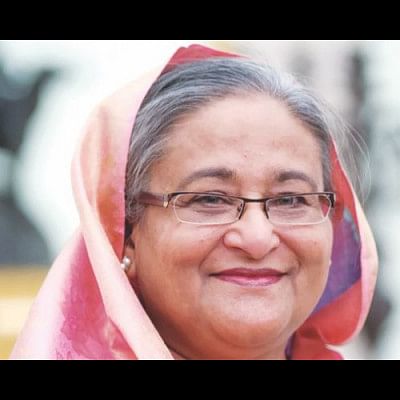 Prime Minister Sheikh Hasina, her Indian counterpart Narendra Modi and West Bengal Chief Minister Mamata Banerjee will meet today at Visva-Bharati in Santiniketan for the inauguration of the Bangladesh Bhaban.
The next day, Hasina will be conferred an honorary Doctor of Literature degree by Kazi Nazrul University at Asansol in West Burdwan district.
Hasina is due to leave Dhaka for Kolkata at 8:45am today for a two-day official visit to India at the invitation of Modi.
She will be accompanied by a delegation of 80 members, including Foreign Minister AH Mahmood Ali, Education Minister Nurul Islam Nahid, Cultural Affairs Minister Asaduzzaman Noor and the PM's four advisers on political, economic, international, and energy affairs.
Hasina along with the Indian PM will open the Bangladesh Bhaban at Visva-Bharati. The building has been constructed with the Bangladesh government's fund.
The building will house a library and an archival centre showcasing Rabindranath Tagore's association with Bangladesh, Liberation War of Bangladesh, and Indo-Bangladesh relations.
It will also have an auditorium with a seating capacity of 453, a modern theatre and a display room.
In addition, two large murals of Father of the Nation Bangabandhu Sheikh Mujibur Rahman and Rabindranath Tagore have been set up at its entrance.
The Bangladesh Bhaban is a resource centre for visiting academicians and researchers of Bangladesh.
A VVIP flight of Biman Bangladesh Airlines carrying the PM and her entourage will take off from Hazrat Shahjalal International Airport for Kolkata and is expected to reach Netaji Subhas Chandra Bose International Airport in Kolkata at 9:15am local time.
After her reception at the airport, Hasina will go to Santiniketan near Bolpur in Birbhum district, approximately 160-km north of Kolkata, by a helicopter.
Visva-Bharati Vice-Chancellor Prof Sabuj Koli Sen will receive Hasina at Santiniketan, while Modi will later welcome her at the Rabindra Bhaban of the university.
Modi will address the convocation of Visva-Bharati -- of which he is the chancellor. Hasina too will be there.
Later, Hasina and Modi will jointly open the newly constructed Bangladesh Bhaban at Visva-Bharati founded by Nobel laureate Rabindranath Tagore. West Bengal Chief Minister Mamata will also be there.
After the inaugural ceremony, Hasina and Modi will hold a bilateral meeting at the Bangladesh Bhaban.
The next day, she will visit Kazi Nazrul University in Asansol where she will receive an honorary D Litt. Hasina will deliver a speech at the convocation of the university.
Besides, veteran Indian actress Sharmila Tagore will also be honoured with D Litt, while renowned physicist SM Yusuf of Bhabha Atomic Research Centre will be conferred an honorary D Sc degree at the programme.
Mamata will be present at the convocation as the chief guest, while West Bengal Governor Keshari Nath Tripathi will address the ceremony as the chancellor.
From there, Hasina will return to Kolkata in the afternoon and will visit Netaji Subhas Chandra Bose Museum at Netaji Bhaban, the ancestral home of Subhas, a great patriot of the freedom movement in India.
The PM will return home tomorrow night.
HASINA-MAMATA MEETING
West Bengal Chief Minister Mamata yesterday said she would hold a meeting with Hasina in Kolkata tomorrow, but the Teesta river water-sharing issue would not be discussed, reports our New Delhi correspondent.
"We will be meeting in Kolkata before she [Hasina] leaves for Bangladesh the day after tomorrow. There is no place for discussion on Teesta river," Mamata told reporters in Santiniketan where she will attend the convocation of Visva-Bharati and inauguration of the Bangladesh Bhaban there by Hasina and Modi. 
Her remarks set at rest speculation if Hasina and Mamata will have a separate meeting during Hasina's visit to India.
Mamata, who has been stridently opposing the Teesta treaty for the last seven years, said she shared a very cordial relationship with Hasina and no geographical or political boundary could create differences between West Bengal and Bangladesh as they have the same culture and language.
"I admire Hasina-di most and she loves me. Our relationship is very honest and everlasting. I hope the relations between India and Bangladesh will grow stronger with time," she said.