No one can stop water flow: Hasina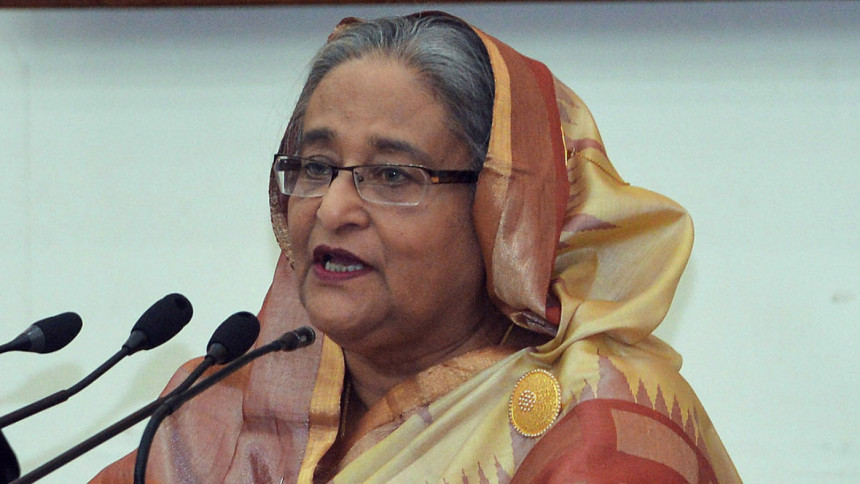 Prime Minister Sheikh Hasina today said nobody could stop water flow towards Bangladesh.
"We are in the downstream and thus water will come down.  No one will be able to stop the flow of water," she said responding to a query over Teesta water sharing between Bangladesh and India.
Read more: $10b business deals signed
The premier was briefing media at her official residence Gono Bhaban in Dhaka about the outcome of her four-day visit to India.
"Indian prime minister has pledged to sign the agreement. We can wait with patience for signing it," she said.
Also read: Region to benefit from our ties
Hasina said India built a barrage at Gazaldoba point on Teesta river when BNP was in power. But the then government did not raise its voice against it, she added.
"Now we are facing the consequence of the barrage," Hasina, also president of the ruling Awami League, said.
Read more: Teesta has no water to share
She also said that details of the agreements and memorandum of understandings signed with India will be available for people.
"There is no hide and seek regarding the agreements and MoUs," the prime minister said.
Also read: Another golden era in friendship
When asked about the defence deal, Hasina said there is no scope to raise a question over the deal signed with India.
"I myself minister of the defence ministry and Bangladesh will bring military equipment at its will. No anti-state agreement will be signed as long as I am alive," she said.
She also urged people not to be frustrated over her India visit where a total of 11 agreements and 24 MoUs signed upholding the national interest.
Slamming BNP for its allegation that the country is being sold out to India through her visit, Hasina said, "I am a daughter of Bangabandhu Sheikh Mujibur Rahman.  All will have to understand that I am not a person who can sell out the country to anyone."
Hasina returned home after her four-day state visit to the neighbouring country last evening. On Friday, Hasina along with her entourage left Dhaka for New Delhi.