Nature Quest: Grey peacock-pheasant of our hill forest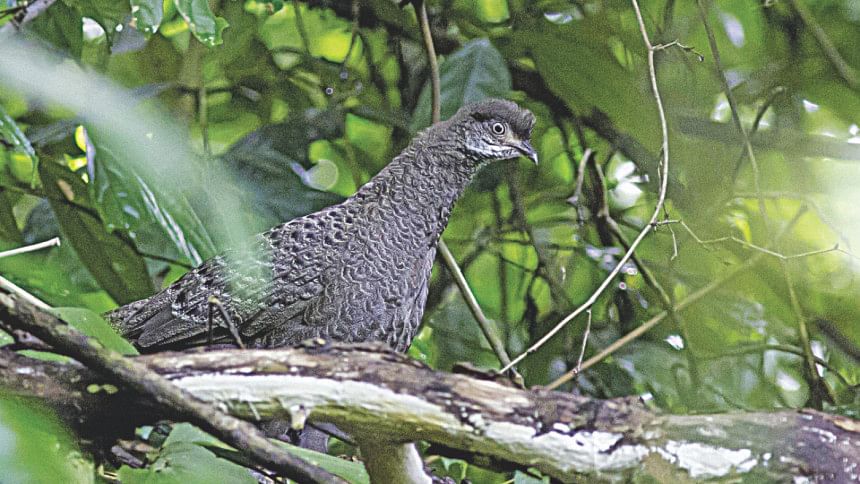 The Pablakhali Wildlife Sanctuary in Rangamati, rarely visited by tourists or researchers, is beautiful with mighty garjan and civit trees and home to hundreds of Hill Mynahs and families of Hoolock Gibbons.
The forest has tranquil streams meandering through large boulder-filled valleys. Deep inside the forest, the presence of a hermit, a Buddhist monk who has made his home there, gives the whole place a surreal and mystical vibe.
We were conducting biodiversity surveys and our daily routine was to start early before sunrise, head into the forest, walk the forest trails used by local tribes, go deeper into the forest, recording every bird and animal species and checking the camera traps we had earlier set up. The days were magical, miles away from the reach of any cellular network and connections to the modern way of life. Here, our friends were the local indigenous community. It was on the last day of our work in the remote hill-forest of the Pablakhali Wildlife Sanctuary that presented me with one of the most memorable experiences of my life.
After finishing the day's work, we were returning with heavy hearts to catch the boat that would take us back to the monstrous city. The forest was sombre, as if it was feeling our melancholy. But it had one last surprise in store for us.
When a curious sound caught our attention, which oddly resembled a Tokay Gecko's call, we paid little heed to it. But the sound made one of our team members stop in his tracks. He was certain it was anything but a gecko. He took out a small amplifier and played back a similar call. In the dense undergrowth, there was a slight disturbance, a sound of ruffling. We peered forward, trying to locate the animal that was still invisible. The rustling in the undergrowth grew louder and the calls got closer. We held our breaths, bracing ourselves for facing the creature that might charge towards us. Adrenaline rushed through our veins, but with remarkable determination and calmness we crouched forward.
After a while, we finally saw it. Its inquisitive eyes bore down on us, with its head stretched forward, a genuine look of surprise on its face as it stared at us, the weird animals calling back to it. It was a grey peacock-pheasant, one of the most secretive ground dwelling birds of our forests! Its stunning features, with a grey body and light purple and green spots (ocelli), etched permanently in my memory.
With the shutter sound of the camera, the elusive bird vanished into the undergrowth with a flutter of feathers, leaving us in a state of awe and disbelief.
Special thanks to the project, "Biodiversity Conservation through protection of streams of Pablakhali area" implemented by the Department of Environmental Science and Management of North South University, spearheaded by Md Jakariya.
The author is an aspiring conservationist with a great liking for life in the wilderness. He studied Environmental Science.